After a summer internship with Lindsay Corporation, fourth-year Lincoln University student Jack Taggart knows quite a bit about irrigation.
Through friends he heard about the position, had the interview a week after exams ended and got the job.
It finished the week before uni started again mid-February although at the beginning of March he was still in the midst of writing up the final reports.
Multi-national company Lindsay is introducing FieldNET Advisor, remote irrigation scheduling technology to New Zealand, and it was Jack's job to make sure it was doing what it was supposed to.
FieldNET Advisor automatically combines crop type, hybrid and planting dates with soil maps, hyper-local weather information and historical paddock data.
Through crop growth and water usage modelling, the algorithms set a new plan every day for the irrigator so the farmer doesn't have to do anything.
The irrigation recommendations help improve crop performance by reducing water stress and nutrient leaching, without the cost of installing additional sensors or probes in the field or the need to visually inspect every crop.
Water is conserved by reducing the likelihood of overwatering and loss of key nutrients.
The system can optimise irrigation at the scale each farm requires, however unique it is, based on operational objectives such as priorities of conserving water and energy and at the same time boosting yield production.
"It's really an impressive setup. It's already being used successfully in Australia and the United States but with our different pastoral systems and climate it still needed to be validated here," Jack said.
On cereals, potatoes, onions, potatoes as well as grass and winter crops on dairy country, the farms Jack was involved with were dotted from the coast to the mountains in Canterbury.
"My boss was in Australia so we would video call once or twice a week but otherwise I was on my own. I had to do my own self-motivating which was new to me."
He stayed the summer in his Lincoln flat and a desk at the campus library became an extension of Lindsay Corporation's vast global spread.
And of course, on the way to visit the irrigators, Jack could stop by at the family farm between Ashburton and Methven.
"I'd stop in for lunch or tea. Say gidday to my dog."
His family milk 1200 crossbred cows on two properties next to each other with 36-aside herringbone dairies.
There's also a runoff close by the farms so the operation is fully self-contained except for inputs of barley straw and palm kernel.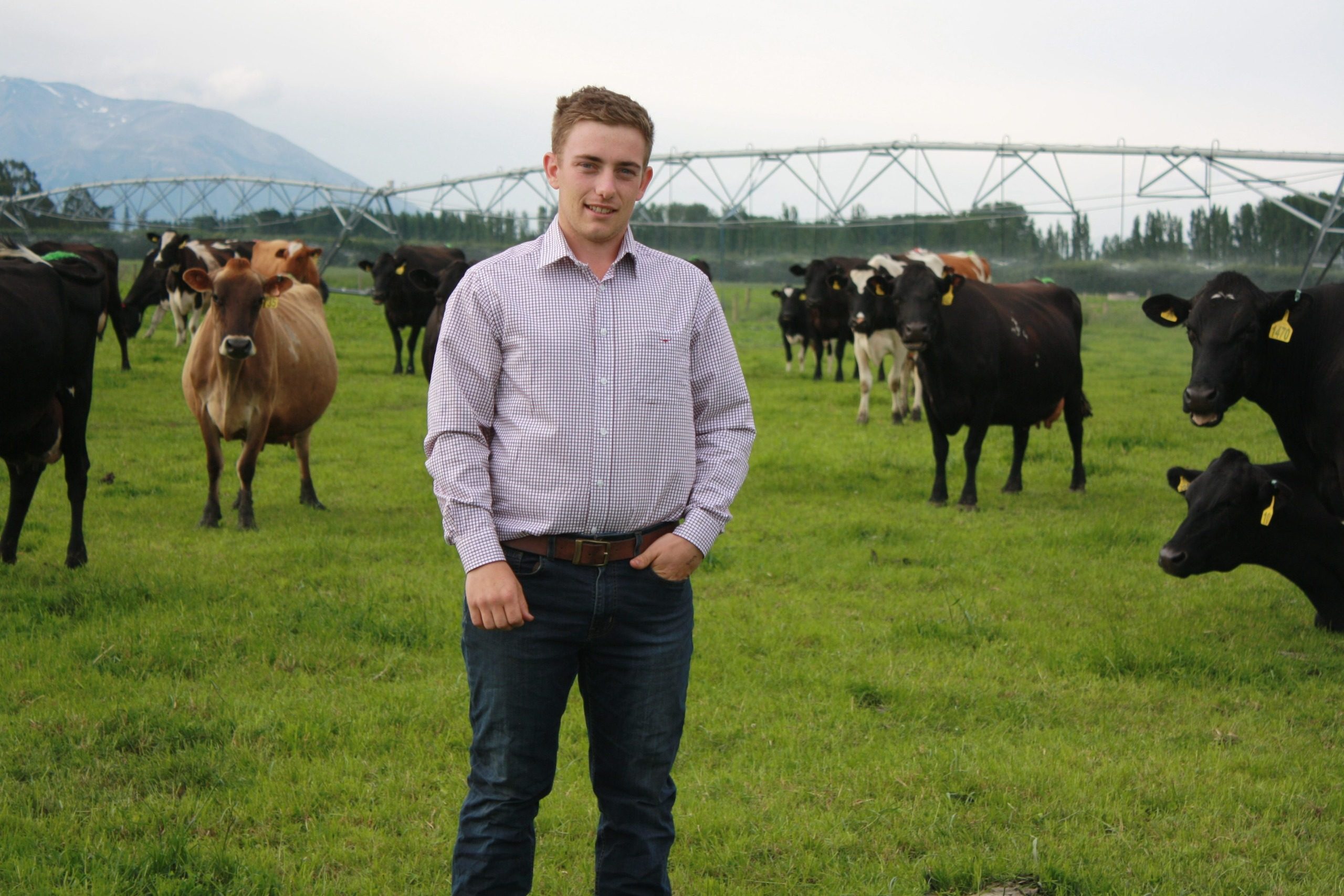 Jack started at Lincoln University in 2018 completing a one-year Diploma of Agriculture and decided to stay another year for the Diploma of Farm Management.
"By then I was starting to get really interested in the financial and management side of farming so I decided to do the BComAg degree," he said.
"It's a three-year degree but the university allowed me to cross credit from the two diplomas I had already done so I can do it in two so I'll be finished at the end of this year.
"In four years I will have attained three qualifications, the same time it takes to get a Bachelor of Agricultural Science degree at Lincoln. It's a bit unusual, but for me it was a no-brainer really."
Although the goal is farm ownership in 10 or 15 years' time, for the moment he is happy to sit on the sidelines for the next few years and will be looking for a position as a rural professional after graduation.
"I think with the uncertainty of farming at the moment, I'd rather be helping to deal with the situation than be on the farmer's end," Jack said.
"With the changes in regulations and the reforms that are happening no one really knows what farming is going to be like when it settles down."
Not that he's not at the farmer's end of it now.
Although managers run the family farm, and Jack is no longer living at home, he is still very much part of farming management discussions and working through family business strategies.
He also knows the operation from the bottom end. He and his younger sister, now also a Lincoln student, spent holiday periods and before and after school getting cows in and milking.
And with a bit of irrigation knowledge behind him after his summer internship, he's now also involved in upgrading the farm's irrigation systems.
"We've got one pivot which covers only about 90 hectares and then two guns and an awful lot of k-lines and there is still some border dykes on the runoff with roto rainers as well," Jack said.
Along with dealing with the mix of different systems, they've also had to stop using their shallow wells through changing regional council and local water schemes regulations and the water bores now go down 120m.
When he's not at lectures or studying, Jack is playing squash as well as skiing in the winter.
He also has a group of friends keen on mountain biking and they often take their bikes out in the hills around Christchurch.
"We do a bit of hunting as well, although hunting and being a student don't go so well together, pouring all of our money into 4-wheel drive utes."
They are looking for "any animal with four legs".
"We go out into the Canterbury foot hills after deer, tahr and chamois mostly.
"Although we won't say no if we spot a pig."