A new generation of dairy farmers is adopting new business models to succeed in red-tape Britain. By Tim Price.
Britain's dairy farmers dream of a future without the red tape which governs their lives.
It's why so many farmers voted for Britain to leave the European Union six years ago and now blindly support politicians who promise 'a bonfire' of red tape.
It's also why motoring-journalist-turned-farmer Jeremy Clarkson has become the farmers' guardian angel. His forthright style and cavalier attitude to rules has made Clarkson's Farm a huge hit on Amazon Prime and earned the heart-felt thanks of farmers for 'telling it like it is'.
Now Clarkson's latest gimmick, a pop-up restaurant in a redundant farm building, has been closed by the local council for breaking planning laws.
Farmers' dismay at their hero's failure to beat the bureaucrats coincides with the disastrous attempt by recent Prime Minister Liz Truss to transform Britain into a low-tax, light-regulation state.
For a nation with a large ageing population facing massive hikes in energy costs, betting the country's economy on one throw of the dice was doomed to fail. The Chancellor of the Exchequer (Finance Minister), only in post for days, was sacked and Truss's raft of policies and tax cuts reversed, following massive falls in the financial markets. Within days, Truss was also out the door.
The message for dairy farmers is that you can't beat the system. Rules and regulations will continue to multiply.
Get out or adapt to constant change and ever-tighter regulation are the stark options.
However, it's not all doom and gloom. A new generation of dairy farmers is springing up, ready to take up the slack from an increasing number of traditionally run units exiting the industry.
Farming in England's Midland dairy belt, Jimmy Pritt of JWP Farming is one of these, using a flexible business model to help JWP survive in today's fast-changing marketplace. Jimmy, who graduated from Harper Adams University in Shropshire in 2006, contract-farms Whetstone Pastures supplying milk to a local Stilton cheese manufacturer from a 370-head herd run on 107 hectares. The herd is run on a flying herd basis with in-calf heifers and some cows purchased as replacements (no replacements reared).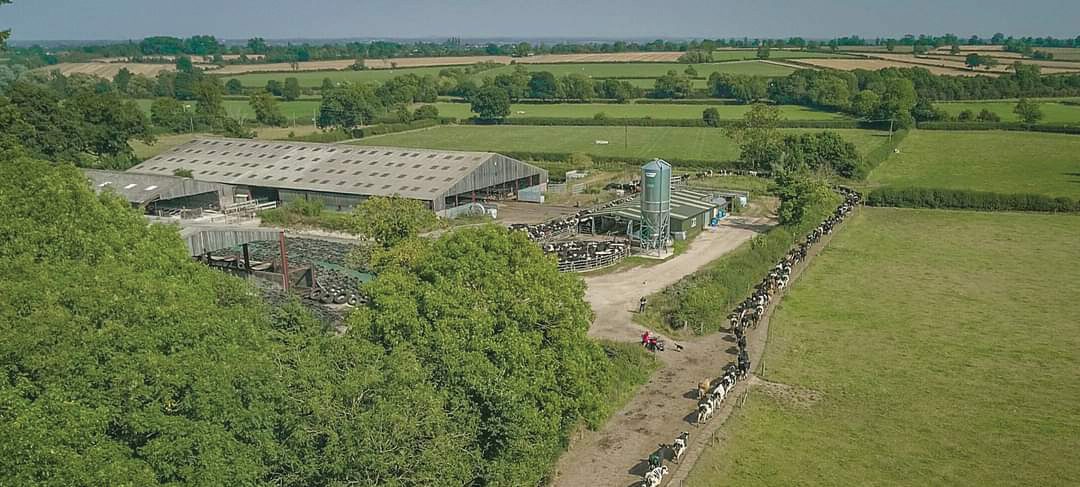 Yields average 6163 litres with 3927 litres from forage, at 4.5% butterfat and 3.7% protein. In 2017, a New Zealand-style 24-aside herringbone parlour complex was built to replace the old parlour, along with a slurry lagoon and limestone cow tracks. Furthermore, two buildings were converted to increase cubicle numbers to a total of 346. Maize and grass silage is grown on contract with a nearby arable farm. Regular soil sampling enables them to tailor fertiliser use, and slurry is spread after grazing to reduce input costs.
Cows calve from the end of February to the end of May, with all animals put to short-gestation beef sires.
Boldly, Jimmy has just taken over another 405ha unit nearby with 650 autumn-calving cows. Their milk is sold to Tesco and Mueller.
"Our goal is to produce milk profitably, achieved through good management and utilisation of the grassland, 70% of which was reseeded using cultivars suited to our system.
"Britain's dairy farmers face labour shortages, huge feed and energy costs. With farmers' average age now reaching 68, and many dairy units urgently requiring major investment, the pace of farmers going out of dairy is increasing.
"This offers great opportunities for my generation who have the enthusiasm and resources to meet future challenges while farming in an environmentally safe way.
"Our business model is designed to cope with challenges – we just didn't expect to be facing them all at once. We're rising to the challenges and finding alternative ways to stay in profit in our dairy units.
"With fertiliser costing £1000 a tonne we've got to use it well and make slurry work more effectively to maximise our grass and clover mixes and maize crops. It's now possible to measure slurry nitrogen content as it is applied, which helps us to fine-tune how we balance fertiliser use.
"Finding and keeping good staff is a huge problem for many farms. Today's farm staff live amongst people whose jobs provide good pay and conditions with regular time off and decent holiday provision. People will no longer accept that farm work means the low wages and very long hours.
"It's a challenge to find and retain good staff, but by offering good remuneration, working conditions and training we've got a settled team with good quality housing provided."
Despite anti-dairy pressures and group XR (Extinction Rebellion) targeting British dairies, Jimmy maintains a social media presence to promote what he sees as a sustainable farm business producing healthy food while working towards carbon net zero. While fully committed to achieving net zero in the future, Jimmy is pleased to see that the Government's policy of future subsidy payments only rewarding farmers' environmental improvements is softening.
Following Eco Zealot Boris Johnson's dismissal as Prime Minister, the new regime has announced a review of its Environmental Land Management Schemes (ELMS) – but following multiple false starts and 'U' turns, farmers aren't letting hopes get too high.
Jimmy's experience and knowledge has been gained through previous positions, such as managing and driving improvements on a high-yielding herd and driving system changes as a partner in a mixed-family farming business.
His next move was to join his family partnership, where he learned more about business finances and managing a grass-based system. He also got involved in First Milk's development group, giving him a greater understanding of the industry, and introducing him to a network of farmers and contacts. As chairman and member of the local Profiteers discussion group he shares experiences and ideas with a group of forward-looking dairy farmers, including new starters and herdsmen.
Alongside carrying on a small amount of dairy consultancy, Jimmy plans to continue to grow JWP Farming by taking on more opportunities.
"In the future I hope to achieve the dream of farming in my own right, to own a dairy herd and to be proud of a profitable business."