Big ideas to reduce the risk of strains
An innovative project is working with farmers to design gear that reduces the risk of strain and injury. Anne Lee reports.

A one-way, saloon-door style gate for a calf trailer already has farmers clamouring to buy it even though it's still in the prototype stage.
The spring-loaded Easy Entry Calf Trailer is one of several practical designs to come out of a collaborative design project involving farmers that aims to reduce the risk of sprains and strains.
Other innovations, all at the prototype stage, designed through the project include –
An easy-entry gate for calf pens
A light milking cluster
A test-bucket trolley for lifting and moving calf milk buckets
A flexible breast rail to keep smaller cows towards the back of the bail and reduce the reach distance for milkers
Stackable mats to lift milkers up safely so they can better reach cows during milking in a rotary dairy.
The three-year project, run by DairyNZ with help from QCONZ has received $900,000 of funding from ACC with $150,000 coming from DairyNZ. Project leader and DairyNZ senior scientist Callum Eastwood says having farmers help identify where the sprains and strain injuries are occurring and then help co-design the solutions has been a winning formula. Six product designs coming out of the project were included in this year's Innovation Awards at Fieldays and were on display for farmers to see.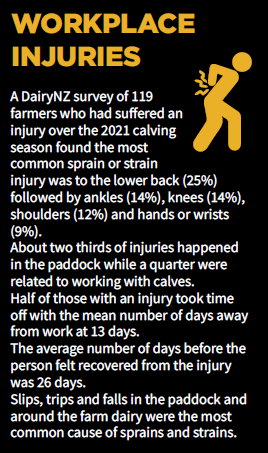 Exosuits have also been identified as possible solutions to reduce injury but, because they are commercially already available in some instances, they haven't been included in the Innovation Awards.
Exosuits with relevance in reducing sprains and strains onfarm include supports to protect the back when lifting and bending during calf-rearing, for example.
Exosuits designed to support people's arms could also be relevant for milking in rotary dairies.
They're already used in sectors such as building or warehousing where people work with their arms extended for long periods.
The suits resemble a climbing harness and have elastic supports for the back or over the shoulder flexible rods attaching to sleeves or wrist bands to take weight off the arms. Callum says the aim of the sprains and strains project, now entering its third year, is to find tangible products and solutions that can save time, make the job easier and at the same time make the workplace safer. The first step was to identify where the major risks for sprains and strains came from during the spring calving period.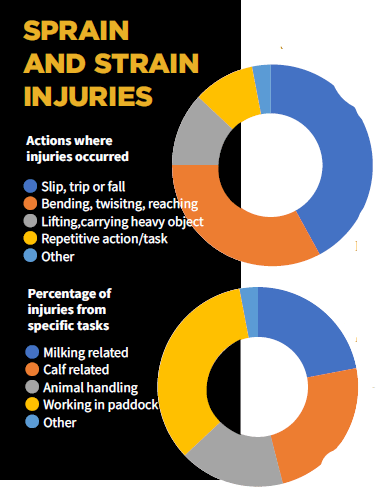 Callum says they worked with QCONZ and connected with 50 farms throughout the country, talking with them during winter and then again after calving when they surveyed the farmers to find out what injuries had occurred.
"Then we carried out a phone survey of 119 farmers including employees who had recorded injuries over spring and 250 farmers who said they had no injuries, so we could get a better understanding of injury risk tasks and differences in practices."
Three co-design workshops including farmers, engineering experts and farm systems specialists used the data and their own experiences to come up with concept solutions to the major issues. Concepts that potentially had high impact in reducing injuries and could be developed to a solution for farmers within the project time frame were selected for design and testing on farm.
Callum says they wanted to use a design thinking approach to come up with practical, tangible innovations rather than just identifying behavioural changes as a solution.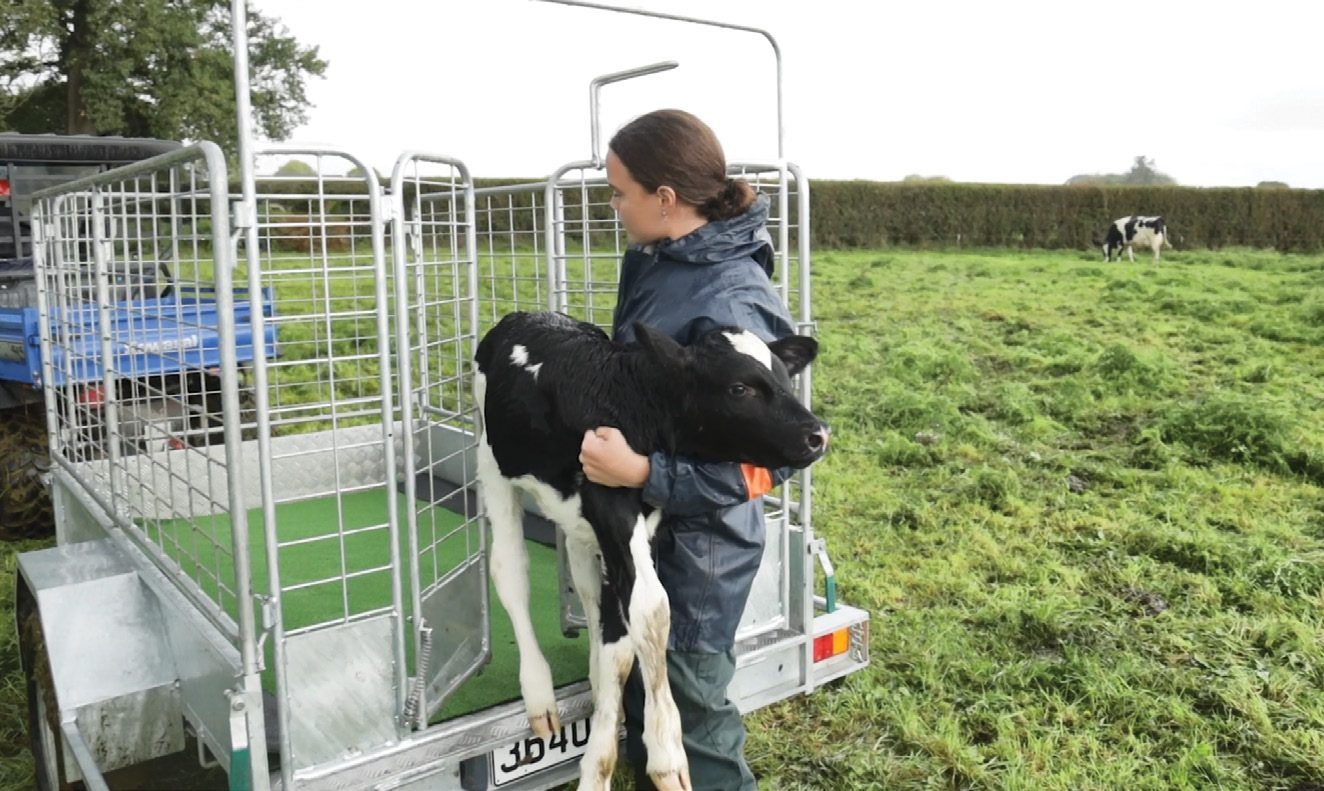 The Easy Entry calf trailer was developed alongside Kea Trailers and is the most advanced of the innovations in terms of coming to market. It's been tested onfarm with Pamu and several Waikato farmers.
Callum says the current version is the third prototype with feedback from farmers in the workshops and onfarm resulting in tweaks.
The trailer was on display at the DairyNZ Farmers' Forums and Fieldays and farmers have been very keen to buy them. The spring-loaded gate is a saloon-style and only opens inwards allowing hands-free loading of calves into the trailer, helping to reduce the risk of strains from struggling to hold the calf with one hand and open a gate with the other.
The design makes it safer for people and the young calf and should also help make loading calves more efficient.
Callum says they'd like to do more testing this spring before they're released on to the market.
Like the calf trailer, other products are being developed with commercial partners so they have a ready route to market.
Gallagher is helping develop the spring-loaded, saloon-style, one-way gate for calf pens.
But there are no patents or commercial rights restrictions.
"The project is being funded largely by public money and we want to get the products into farmers' hands – get them to market quickly so we can achieve the ultimate goal of helping to reduce injuries," Callum says.
The lighter, bowl-less cluster prototype is an investigation aimed at improving milking ergonomics and comfort for milkers to help reduce sprain injuries.
While modern clusters have improved milking efficiency, more design consideration should be given to the person cupping. Many are comparatively heavy and bowl large for people with smaller hands.
"If you multiply the weight of each milking cluster over the number of cows it can mean tonnes of weight," Callum says.
If you're holding the cluster in one hand while cupping cows that's a lot of strain on forearms, shoulders, hands and wrists.
The prototype under investigation borrows from the original bar claw cluster but with benefits of modern vacuum and pulsation systems.
If successful, it's hoped to influence cluster design towards an improved balance between milking efficiency and ergonomics, resulting in less fatigue and fewer injuries.
Pamu farm business manager Brendon Stent was involved in the workshops and says having farmers and engineers in the room together created a great feedback loop.
"We had the practicality of farmers who could pick up on where issues could come up with some designs and then the engineers, who were really engaged. "They looked at things through a different lens. Together we could come up with something that looked like it would work.
"We were all focused on coming up with things that would reduce the strain on the body and help lower the risk of injury but also just cut down the stress on the body too so people can last longer in the industry."
The trailer and calf rearing gates should save "a lot of backs" and the rubber mats and flexible breast rail could be simple but very effective at making the job easier and safer, Brendon says.
Rotary platforms are set up for the "average person" but milkers come in a range of heights and body forms.
He is keen to see how the milking cluster prototype works in terms of overall milking function and animal health.
It's been a good project to be involved with and he's hopeful the designs achieve their goals.