By KAREN TREBILCOCK
Farmers are showing they're keen to mate their cows with CRV's offering of Black Origin Wagyu semen.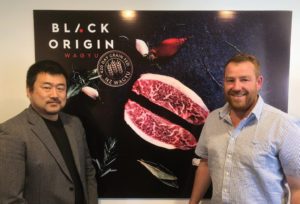 The genetics company is the only supplier of Black Origin Wagyu and with the straws come contracts for either five-to-10-day-old calves or 100kg weaned calves.
CRV product development manager Peter van Elzakker said it's not too late for farmers to use Black Wagyu this season.
"Many farmers order their dairy beef later after seeing how the season is going," he said.
"The introduction of Black Origin Wagyu this spring is a good opportunity for our people to have the conversation with farmers about their dairy beef options. Even if they don't use any this spring there is always next autumn and spring."
Black Origin Wagyu will pay $180 for a five-to-10-day-old Wagyu-cross calf and $350 for a 100kg weaned calf plus $2/kg liveweight over 100kg, whether they are heifers or bulls. Costs for debudding, castration and vaccination are covered by Black Origin Wagyu.
Payment is 14 days after pickup on invoice. Further contracts are available for farmers rearing the weaned calves to 400kg and 520kg liveweight.
Only F12 or above cows can be mated for the contracts, NZ Wagyu director Arato Tsujino, who is behind Black Origin Wagyu, says.
"We put a lot of emphasis on growing true Wagyu beef with true Japanese techniques in New Zealand."
In Japan it is sold under the name Black Jade Washu – translated as "Wagyu-ish".
"Wagyu means Japanese cattle so Japanese cattle don't come from New Zealand or any other country," he says.
"It is a culturally significant name so everyone is unhappy that the name Wagyu is used outside of Japan," he says.
The company sells the beef to other countries and domestically to top restaurants as Black Origin Wagyu, New Zealand Wagyu and Shiwase Beef.
From Kobe in Japan, Arato came to NZ in 2015 to grow the famed cattle, selling the first NZ carcases back to his homeland in 2018. The beef animals are finished on grain for between 200 and 600 days which gives it the Wagyu flavour, scent and marbling. Black Origin Wagyu originally sourced semen from Wagyu bulls in Australia but CRV would be supplying NZ full-blood semen for the dairy beef calf contracts.
Wagyu semen and embryos cannot be exported from Japan.
"The Japanese market doesn't recognise any Wagyu from outside of Japan. Therefore it is irrelevant whether the animals are full blood or cross, it is always going to be an imported beef which positions at the bottom tier, however it is still premium beef compared to other imported beef." Arato says.
Western Southland dairy farmer Scotty Cochrane has been using the semen over his Friesian herd and says he'd had no calving problems even with first calvers.
Contrary to popular belief the Wagyu cross calves are just as easy to rear as other calves, he says.
"They're competitive just like anything else, they sulk just like anything else.
"They do have a longer gestation period, about five days, and we just have to be aware of it and build it into the system. It's not a big deal for me."
The calves are easy to identify once you know what you are looking for.
"There is a distinctive difference in the shape of the head. They're narrower in the polls, longer in the legs and bigger in the ears. They're pretty distinctive.
"After five to 10 days of feeding them they stick out like a sore toe."
Peter says using the Wagyu option would lower bobby numbers on farms.
"We want farmers to mate their top cows with our frozen sexed dairy semen and then use the Wagyu option for the rest of their herd."
Although frozen sexed semen conception rates are lower than nonsexed frozen semen, he says the positives outweigh the negatives.
"Assuming a 10% lower conception rate for sexed semen and only using sexed on 20% of the cows in the first three weeks of mating for a six-week mating period, it would result in a -1.13% conception rate overall.
"However, it does result in more female replacements from your best cows and the option to put more cows to beef.
"Being careful what cows you use the sexed semen on will further help mitigate the conception rate impact."