Shawn and Nells Nicholas wanted to recreate the nostalgic experience of having a relationship with your local butcher. The contract milkers have dusted themselves off after a difficult couple of years and have diversified their business portfolio by opening their own butchery in Te Awamutu. Sheryl Brown reports.
Walking into Expleo Butchery you're immediately enveloped into a family atmosphere. Shawn and Nells are working behind the counter, alongside Shawn's mother Christine, and their two teenage children Will, 17, and Missy, 16.
There are several customers chatting away to the Nicholas family members as well as their fulltime butcher Lewis Johnson while ordering their meat for the week, which is being wrapped in brown paper, or placed into the customers' own containers.
The shelves are stocked with a selection of free-range and some organic premium cuts, from their specialised aged-dried meat, to Wagyu for $150/kg, to Shawn's delicious homemade black pudding, and Christine's famous duck and orange pate.
'It's harking back to the traditional butchery where you could buy one or two sausages, not bulk buying, get the cut of meat you want, and you get to know the butcher.'
Shawn and Nells opened the butchery in March this year as a side venture to their 920-cow contract milking position.
Their vision for the butchery was to offer a traditional service, where the focus is on great food and a great customer experience.
"It's harking back to the traditional butchery where you could buy one or two sausages, not bulk buying, get the cut of meat you want, and you get to know the butcher," Shawn says.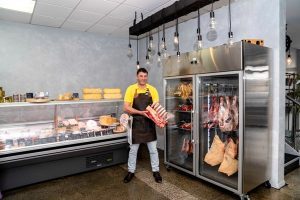 "And you can buy Wagyu in little old Te Awamutu."
Shawn grew up on his parents' dairy farm in Taranaki. One of his grandfathers was a dairy farmer and the other grandfather worked in the meat industry. Shawn has always held a passion for both industries and has worked in various roles in both sectors throughout the years.
He was working as a supervisor at Riverlands freezing works in the Manawatu when he first met Nells, 18 years ago.
Soon afterward, the couple made the move back to Taranaki to lease the family dairy farm and milk 180 cows.
Nells, whose parents were market gardeners in Bulls, didn't know what she was in for going dairy farming.
The couple also had an agricultural contracting business on the side so along with starting a family, they had their hands full.
They've always had plenty on their plate and put in the hours to try and get ahead, Shawn says.
They progressed to a lower order-share milking position with 415 cows, then travelled down to Balclutha for a lower-order job milking 700 cows. They were then approached by their former farm consultant to go into an equity partnership.
The couple had a 6% share and were lower order sharemilking the 680 cows. Unfortunately, some discrepancies in the arrangement led to the couple being burnt on their investment.
"We came out with the shirts on our backs and had to start from scratch," Shawn says.
They moved north to their current position, contract milking 920 cows just outside Te Awamutu and started again. They have stayed in that role for the last seven seasons.
They opened the butchery at Te Awamutu in March this year, which has been something Shawn has wanted to do for the last few years.
Shawn had the idea of opening the butchery and knew there was nothing in Te Awamutu that was offering that old-school customer service.
"I've always had a passion for the meat industry and food. I like good food and eating well. I had noticed the growth in the town and there wasn't anyone offering that service."
The couple took a risk earlier this year to invest almost $200,000.
"We've rolled our sleeves up and have had true determination. You've got to have a go, part of the risk," he says.
"This is a whole new industry, it was really scary (for me), but I'm less of a risk taker than Shawn. This is Shawn's goal and I back him 100%."
The concept has landed on its feet, and their customer base is growing steadily. Their clientele is growing through word-of-mouth and some social media with customers coming from Cambridge and Hamilton.
"I know it's going to work, it's going to take time," Shawn says.
"It's certainly being welcomed, we have hit the nail on the head, places like this are popping up everywhere," he says.
"I think people's mindset in a really short time has changed when it comes to eating and eating well.
"There has been a definite swing, people are looking for a more natural product, they want to know what's going into their meat and food."
Expleo (pronounced explay-oh) is the Latin for fulfilment. Their aim is to offer that fulfilling experience through great produce and excellent customer service.
"People like a certain size or specific cut of meat. That's what we can create. That's part of the experience of coming in."
They offer aged-dried meat, which is a traditional meat preparation, additionally they have the deli section with pate etc, which compliments what they do. They stock beef, lamb, pork, venison, chicken, duck, goat, hopefully rabbit soon. The try to keep as local as they can with suppliers.
The tongues, tails, cheeks, livers and kidneys are all sold in-store and there has been a request for tripe which Shawn is looking into offering.
There is close to zero wastage – with bones used to make broth to sell to customers and suitable left-over bones sold as dog food.
"We run a pretty tight ship."
They also sell free range eggs and some dairy products including various cheese, Lewis makes garlic butter. They will shortly start selling spray-free vegetables and Shawn is investigating selling milk in glass bottles.
Their butcher Lewis Johnson has 20 years' experience in the industry, previously working for supermarkets.
He has enjoyed the shift to a family-owned business where he can spend the time on the floor talking to customers.
A big part of their role is education, and bridging the gap between the farmer and the customer, Shawn says.
They can share their knowledge of farming systems through to advice on how to prepare and cook a cut of meat.
As the proprietors Shawn and Nells think it's important for them to be the face of contact, alongside their butcher Lewis.
Shawn loves the customer interaction and being at the coal face. It's great to get off farm and have that socialisation, he says.
"Shawn is a natural. Customer service has to be first – you're in the wrong place if you can't serve with a smile," Nells says.
The pair view their customers and their staff, both in the butchery and on the farm as their extended family.
"We are very giving. Our parents and whanau have influenced that. The culture is all about the whanau and giving where you can."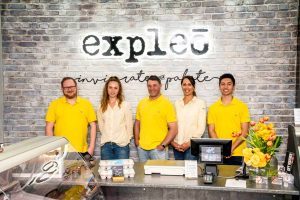 Working with people is definitely one of their skills and why they've had a good run with employing staff.
"They are your number one asset, if you look after them, they look after you," Nells says.
"The kids have been great helping us out – they know what we are trying to do for them – they get it. William has been here every night after school, he has been selfless."
If you can't help your children into a farm or a business, a good work ethic is one of the best skills you can teach your children, Shawn says.
"Our quality time is also them working alongside us. It's given them a great work ethic," he says.
The future is still yet to be written for Shawn and Nells. At the moment, the farming and the butchery feel like a nice mix and it feels good to not have all their eggs in one basket and have more diversification.
They are enjoying the social element of working in the butchery, but also relish going home at night to the beautiful and quiet countryside.
The butchery is steadily growing, but it's not self-supporting as a business yet.
"We can't envision being off the farm either. We have the best of both worlds."
Shawn, now 46, and Nells, 41, have been in the dairy farming game for a while, and they have started to reconsider what their end game is.
"Sometimes I think we are failing," Nells says.
"We are still working seven days a week, and it's always a struggle. We don't take holidays, our time out is Saturday night relaxing with the family at home."
Dairy farming has certainly become difficult with increasing compliance costs and volatility, Shawn says.
"Since we've been on this farm there has been two droughts, two low-payout years where we couldn't control our costs. It's really started to make me think it's not happening for us."
The goal has always been land ownership and it still is, however the goal may no longer be their own dairy farm.
A drystock block which they could use to rear animals and supply the butchery could be the better option.
The couple have had a grief-stricken few years, losing three parents and Shawn's 19-year-old son Kalam, who sadly took his life on Christmas Day in 2015. That tragedy is forever pushing Shawn and Nells to make a better life for their three children, William, Missy and Sarah-Kate, 9.
"It's made me determined to set something up for our kids, and it's made me realise that there is life outside of farming," Shawn says.
When grief strikes it makes you have to change your plans, and adapt, but ultimately life carries on and the jobs pile up and you have to play catch up, Nells says.
It has been a particularly tough year, opening up the butchery in March, then became short-staffed through calving. Then  Nells' mother passed away in early November.
"This year has been the ultimate juggling act. It's been a struggle to keep our head above water, Nells says.
"The cows still have to be fed, they still have to be milked. It's a testament to our staff in both businesses. We couldn't have done it without them. We couldn't have got through without my mother-in-law, she's been great and cares about the business and our customers."
Christine came up from Taranaki to help in the shop when it opened in March, and has stayed on since then.
Shawn has been working 14-16-hour days, spending the mornings onfarm and then the afternoons in the shop.
The farm they are on is a pristine property with excellent infrastructure and they take a lot of pride in the farm.
"It's an idyllic farm that we are on and it's a real privilege to be on that farm. We have maintained the standards," Nells says.
"We get a lot of compliments, we have tried to keep it beautified."
She has gardens at the farm dairy and the tanker track is always kept tidy and mowed. There is an extra cost involved and it takes time, but it comes down to taking pride in their job and keeping a high standard, she says.
There was some push back from their farm owners when they first mentioned they wanted to open the butchery. But many contract milkers and share milkers have other farm businesses they are running or managing, Shawn says. This was no different.
Farm ownership has become more difficult and the pathway there looks a lot different and people have to realise that.
They want to grow both businesses, Shawn says.
"You've got to keep planning and building, you can't be idle."
Key facts
Contract milkers: Shawn and Nells Nicholas
Farm owners: McGovern family
Location: Wharepapa South, Waikato
Area: 285ha effective
Cows: 920 crossbreds
Production: 310,000kg milksolids
System: DairyNZ System 3
Farm dairy: 60-bail Waikato rotary, Afifarm milk metres, auto drafting, ACR