Growing up with a menagerie on the family smallholding, it wasn't a great leap for a young Southlander to transition to life on a dairy farm. Photos and story by Karen Trebilcock.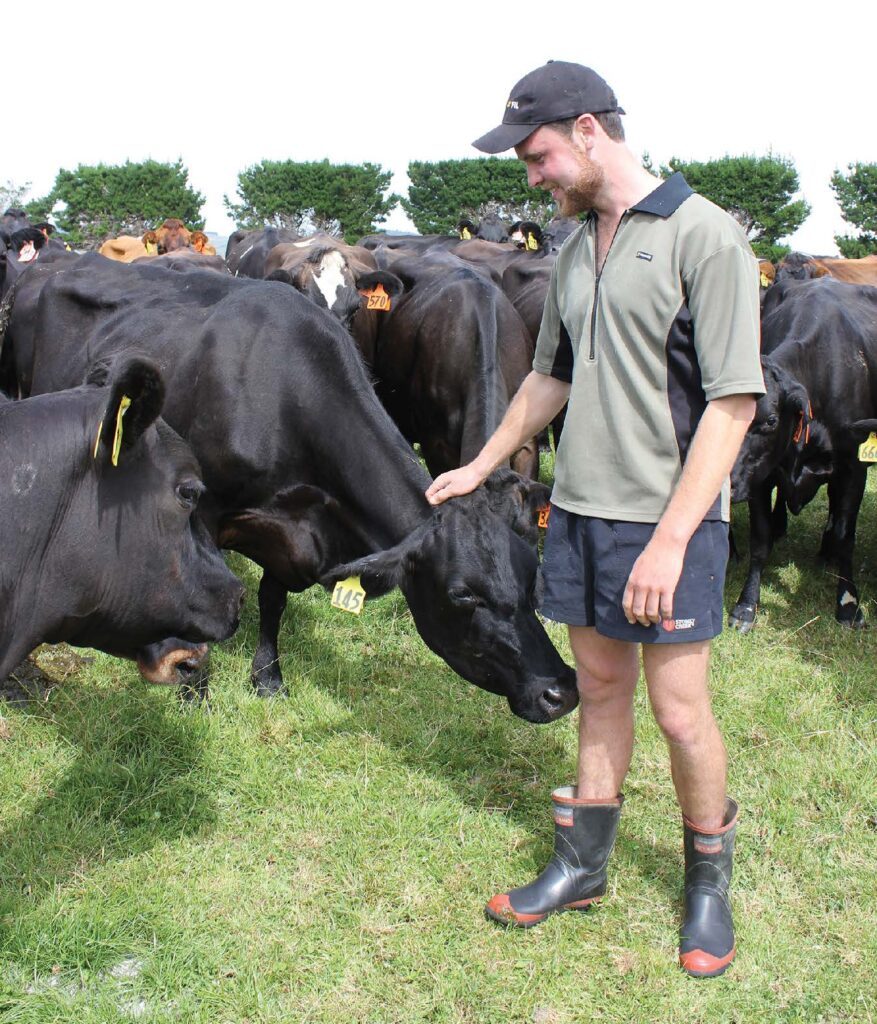 Although Aidan Roe didn't grow up on a farm, throughout his young life he got nudged towards dairying.
He now milks within sight of the lifestyle block he grew up on at Springhills near Winton in Southland and also has in his sights a future of sharemilking and farm ownership.
"My dad is a vet and we had a zoo when I was young – sheep, two cows, a donkey, I could keep going," Aidan says.
"We would get taken along with him on the weekends and after school. He made sure my sisters and I all fell in love with animals."
Aidan went to a country primary school at Browns and then was a boarder at Southland Boys High School in Invercargill.
"Most of the boys in the hostel were off farms and there was a strong agricultural course at the school.
"Almost everyone had older brothers or sisters who were working on farms."
So it wasn't a giant leap for him to choose Lincoln University and its four-year Agricultural Science degree.
Helping him to make the decision was winning a DairyNZ scholarship and meeting its organiser Susan Stokes who was to mentor him for the next four years and onwards.
"I spent two summers working on sheep farms as part of the degree which I really enjoyed, but Susan made sure I went dairying.
"Sheep farmers are tired because they're working really full-on days during summer drafting and weaning. Dairy farmers are just tired because they get up at 4am every morning."
Finishing his degree in the midst of Covid-19, when most of the graduate employment programmes were shut down and many agricultural businesses switched to a no-hiring policy, he found himself after exams in November 2020 back on the dairy farm he'd worked on through school and university.
"I could have had a crack at a few more jobs but after four years of sitting in lectures or facing a laptop, I was pretty keen to get outside again."
And now he wouldn't have it any other way.
"I know I could have gone straight into a job milking here without going to university but I wouldn't have missed Lincoln for the world.
"I went with quite a large group from high school but we met a whole new group of people there. They're mates for life."
In his fourth year he got to work alongside DairyNZ research scientists which opened his eyes.
"It's amazing to see just how full-on their research is."
As part of the scholarship, he went back to talk to students at Southland Boys about dairying and Lincoln.
"It was good to go back, to have that opportunity. I'd like to think I inspired some of them."
And as well, as part of the scholarship, he got to meet dairy farmers and industry leaders who continually gave him ideas and a pathway forward.
"I know the university fees just go on your student loan but I don't think enough people realise how important it is to have them paid for through the DairyNZ Scholarship.
"Over four years it's a lot of money. And the mentorship and meeting so many people has been invaluable."
He's a farm assistant for sharemilkers Michael and Kathryn Farmer who milk 560 Friesian cross cows on 200ha effective with the farm owners living just down the road.
Aidan's up at 4am with cups on in the 40-aside herringbone at 5am.
"We run the cows in two herds and the second herd usually has a way to walk. It's worth it to see the sun rise."
Cups are back on at 2.45 in the afternoon and he's usually home at 4.45, the day finished.
In-between milking he'll shift effluent pods, top, feed out if needed and shift break fences plus once a week he does the farm walk with a platemeter.
"For the past few months I've been in charge of the red herd, the antibiotic herd, so that's been fun. My own wee herd to look after.
"And it's good helping to meet the targets on the farm – somatic cell counts and milk solids."
Michael and Kathryn are moving to an 800-cow farm as equity partners about half an hour away between Otautau and Drummond this coming season and Aidan is going with them, looking forward to milking in a rotary dairy.
"I want to step up into a manager's role eventually and then go sharemilking and farm ownership in some form.
"It's been good watching Michael and Kathryn do it. It shows it's possible.
"Michael started out in banking and then went dairying but I think working on a dairy farm gives you a head start. You're learning so much all the time.
"And the pay is better on farm than in many grad roles plus you get a house as part of the package so all your savings are going towards that end goal of going farming, not on rent or trying to buy a house."
He was thinking of investing in a rental property but the 20% deposit banks rules have killed it.
"I would like to go overseas. It's just fitting it in with everything else."
Even though he spent most of the first semester of his last year at Lincoln in lockdown due to Covid, he said he's been luckier than others.
"I came down here and milked on this farm during lockdown, earned some money which was good, and then we all went back for exams at the end of the semester.
"We got graduation in and all the garden parties. I feel sorry for the people since who haven't got to do all of that."
After continuing seeing the Dairy Industry Awards trainee competition popping up on his Facebook feed, he finally decided to enter and won the Southland/Otago final.
"The skills day was a lot of fun. We got to meet a lot of people who were past winners in the manager or sharefarmer competition.
"They were running each module and that was the best part of it – getting to talk to them."
Skills tested included changing a quad bike tyre, fencing and naming parts of the dairy.
With Te Anau and Fiordland on his doorstep, he's done a fair bit of tramping plus does trail rides on his motorbike.
"One of my mates has a place in Te Anau so we've been there a bit this summer water-skiing on the lake. And the Remarkables are only a couple of hours away for skiing in the winter. You don't even have to drive through Queenstown."
His parents have supported his choice to go farming and both enjoy getting out on the farm with Aidan, especially as it brings them back to where they used to live.
"Dad's a vet in Clydevale now and he thinks it's pretty cool that I'm dairying back here."