Women are increasingly taking on managerial roles on dairy farms. Anne Hardie profiles one who revels in her life as dairy manager.
Rachael Lind wants to drive the "wahine waka" to lead more women into management roles in dairying, and she is living that goal as dairy manager on one of Pamu Farms' West Coast dairy units.
The 36-year-old mother of two is in charge of the 1,080-cow herd on the Bassets unit at Cape Foulwind; an aptly-named location that has to deal with more than 2m of rain a year as well. She's been there two seasons and during that time has twice placed second in the Dairy Industry Awards for the West Coast-Top of the South – which means she will be back next year to seek the top honour and "prove a point". Both times she entered she was awarded the leadership merit award and this year she scooped the livestock merit award as well.
When she left school about 20 years ago, after a childhood on an Arapawa Island sheep farm, she hadn't even contemplated dairying. Instead, she had planned a career surrounded by grapes and wine. But during a stint on a dairy farm while waiting to begin her polytech course, she fell in love with cows.
Along the way she has been an artificial insemination technician while she was a dairy assistant, then a herd manager of herds between 400 and 1,500 cows, before taking on the challenge to step up to farm manager.
She admits she got a push from her husband, Murray, to apply for the job and puts her hesitation down to a lack of confidence that she often sees in other women in agriculture. It's one of the reasons she wants to do her bit to encourage women into management roles in the dairy industry.
"I've never had huge confidence and often struggled to back myself, even though I know I'm good at what I do."
Yet now she is speaking via webinars, to 60 or so viewers, from Pamu farms from the middle of a paddock with a selfie stick as she describes the farm's performance. At a Pamu roadshow, where she spoke about her journey and role at the Basset unit, she discovered she could give other women confidence to head to management roles in dairying.
"A young woman came up and said thank you for telling my story because it gave her confidence to show where she could go."

Recognising she now has an opportunity to lead other women, she is looking at creating discussion groups within Pamu Farms for women to encourage and guide them toward management roles.
Moving from private farming to a corporate farm has been a big shift for her. From roles focused on cows and grass, she has her sights set on lifting the farm's EBIT (earnings before interest and taxes) and reducing cost of production, while carrying out more recording and reporting to a chain of command.
"My first season was about finding my feet. Learning how the farm worked, staff and the ropes of the corporate world. The second season, I knew what needed to be done differently. These days you can't farm for an average season; you have to farm smarter than we ever had to."
The farm spans 460 effective hectares and produced 393,000kg MS for the 2019-2020 season on a DairyNZ system two. The crucial figure is an EBIT of $2,316/ha, which makes it a high performer on the West Coast.
Nudging out as it does into the Tasman Sea, Cape Foulwind is vulnerable to the drying winds as well as rain, creating a range of challenges through the year for a largely grass-based system. To overcome some of those challenges the farm grows 50ha of crops including raphno for summer and winter plus swedes for winter.
The 30ha of raphno has been trialled on the farm for its ability to be grazed as a summer crop and then locked up for a second grazing in winter for the 550 cows wintered on.
"It's really versatile. You can graze it at 90 days or wait until 120 days and you can feed it as a high-energy feed during dry periods or as a supplement feed to extend your round. Your paddock is out of the round for a long time because we put poor-performing pastures into swedes and then into raphno and then regrassed. But it's worth it and the cows love it.
"I love my cows. Having content, relaxed cows is very rewarding. When you have happy cows you have happy staff."
Rachael says it is not possible to achieve good results without team support and that makes her passionate about her leadership role.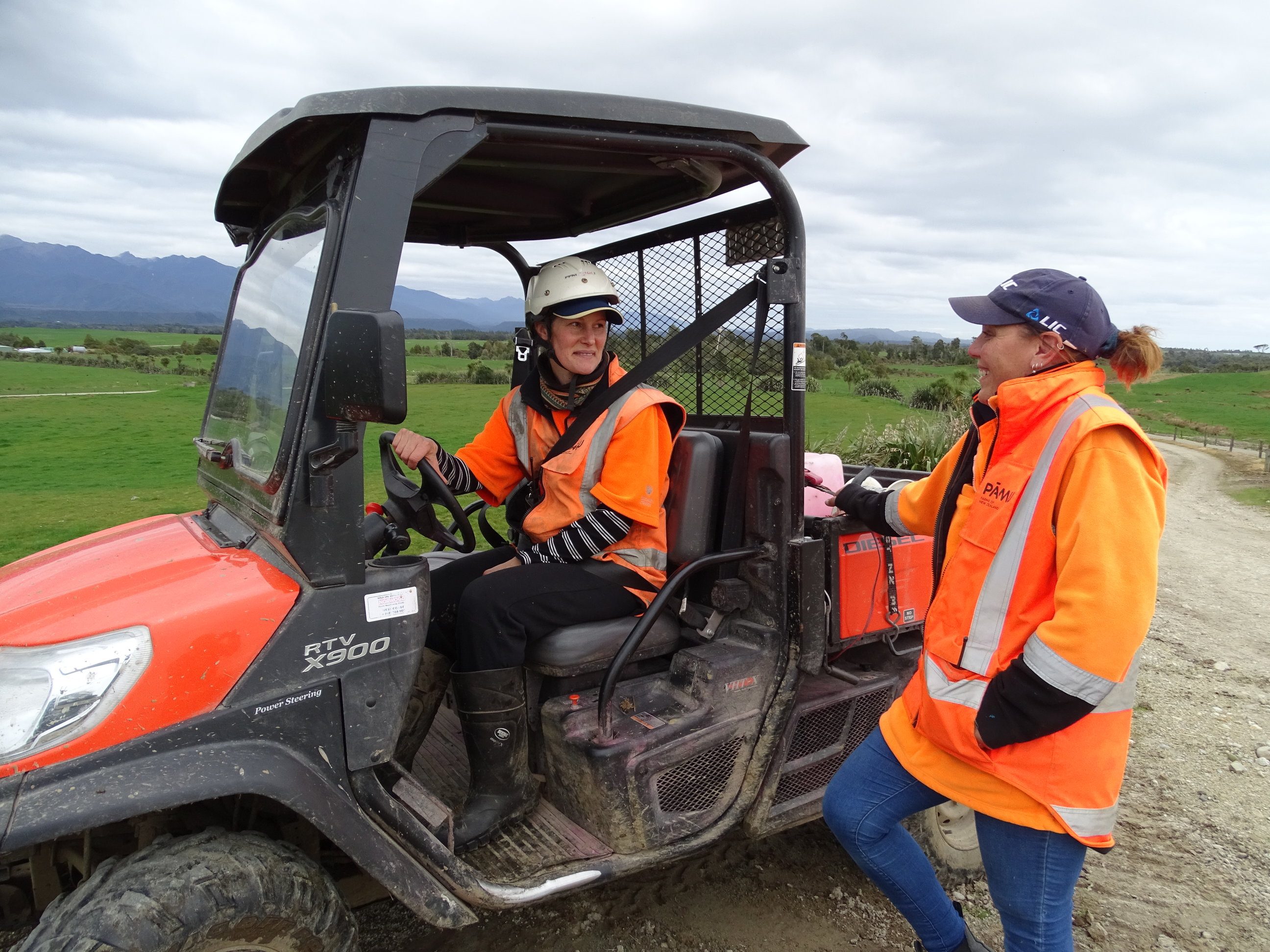 "You have to have your team involved in every aspect of your business. These guys don't turn up just to put cups on and go home. They know why we do what we do and the more they're involved the more motivated they are.
"To be a good leader you need the engagement of your staff – you have to show them at the coalface what drives you, and when they see that they become more involved as well.
"I get in the cowshed with them and help train heifers or get out in shitty weather to help with fencing. I think you're more respected for that. Having a younger female boss can't be easy for everyone so you have to earn their respect. Quite often we'll sit and chat after work and it's good to get to know what makes your team tick."
Like many, family is at the heart of what makes her tick and she says she has been fortunate to have plenty of support. "Understanding" employers have enabled her to take maternity leave as she worked her way up the ladder, with invaluable childcare help from her husband's parents. During Covid-19 lockdown both Rachael and Murray were essential workers, and their children, Ayla, 10, and Brayden, three, were cared for by Rachael's parents on the island for the entire lockdown period. It was tough seeing your kids only through video chats, but she says she was privileged to be working in a job she loved.
"I love seeing the young ones grow and taking them under my wing. I was there 20 years or so ago and it's great seeing their confidence grow as well."
Lockdown ramped up the use of technology on the farms such as the webinars, which continue to be a good method for connecting people. While technology has been useful onfarm, Rachael says it has created challenges across the agriculture sector in the past five years or so through the increased exposure to the public. It is now up to the industry more than ever to showcase to the public that it is both sustainable and responsible, she says.
"Public perception of dairying hasn't always been great. But the more positively we can get out in the community, the more agriculture will be accepted."
One way of achieving that is through the schools, and several students from the Gateway programme have gained work experience on the Cape Foulwind farms in recent years. Students head out to the farm once a week for work experience and for Rachael, it's a nurturing role that she enjoys.
"I love seeing the young ones grow and taking them under my wing. I was there 20 years or so ago and it's great seeing their confidence grow as well."
Her own confidence has risen significantly since she took on the challenge of dairy farm manager at Bassets and also since her success at the Dairy Industry Awards. Next year she will be competing for the dairy manager award again. On the farm, if the weather plays ball, she reckons her third season will enable her to lift performance further. It will entail cutting more pasture supplements to better manage the grass – if weather allows – lowering nitrogen use to 200kg/ha as part of the sustainability goals, plus cutting costs, especially through repairs and maintenance where possible. Along the way, she hopes she can encourage more women to seek out opportunities towards management in the dairy industry.