Emma Poole wins 2023 FMG Young Farmer of the Year
Waikato Bay of Plenty Young Farmer Emma Poole is "absolutely buzzing" after being named the 55th FMG Young Farmer of the Year and making history as the contest's first-ever female champion.
Emma will bring the trophy home to her region after being announced the winner of the annual FMG Young Farmer of the Year grand final event at an awards ceremony in Timaru on Saturday night.
Emma secured the win following three days of challenges against six other finalists.
Contestants' farming skills and general knowledge were put to the test with tasks that included repairing farm machinery, creating a hydroponic system and an intense race-style challenge with multiple tasks that saw points awarded for both skill and speed.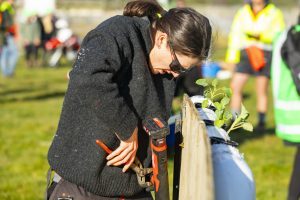 "I'm totally overwhelmed, I really wasn't sure where I was going to sit. All the finalists have been so great throughout the competition and these last three days have been really tough so I wouldn't say I was feeling confident, but I knew I'd put in my best effort and that's all you can hope for."
As Emma accepted the award, Tim Dangen, her brother, mentor and last season's FMG Young Farmer of the Year was there to congratulate her as she expressed "we've finally knocked the grass ceiling off the roof".
"There's a long chain of women that have worked really hard to display the important role we play in agriculture. All those women have given me the confidence to stand up and give it a go. I'm just a product of what they've all achieved."
More than 600 spectators poured into Winchester Showgrounds to watch the action unfold during Friday's practical day. Many were visibly on edge as contestants worked with quad bikes, power tools and tractors to show off their practical skills. Points added up with every challenge, though the race continued to play out neck and neck right up until the final buzzer quiz on Saturday evening.
In the end, Aorangi representative Peter O'Connor missed out on the title by a small margin, and Otago Southland Young Farmer Hugh Jackson finished third.
Emma is no stranger to the contest. Having qualified for the grand final previously in 2019 she was more determined than ever to take out the win this time.
"The most challenging was definitely the Agri-Sports, I had a pretty frustrating start with the baler and the tractor and that comes down to stress, but it's no different to what we're doing every day. Farming is tough when stress comes on and you've got to find a way to adapt and carry on."
Alongside the title, trophy and Cloak of Knowledge, Emma also claimed $90,000 in prizes thanks to the contest's sponsors.
Runner-up, Peter, also took home the Agri-Skills and Agri-Knowledge challenges and said his favourite part of the contest was racing the tractor down the home straight of the Agri-Sports, a skill that is second nature to him.
"It's a great feeling to be awarded second place. The competition was really challenging, it put us through our paces, with lots of unknowns and things I hadn't done before. I'm a competitive person and I like to get out there and challenge myself, so I'll definitely be back at some stage," he said.
New Zealand Young Farmers chief executive Lynda Coppersmith said Emma impressed judges with her resilience, broad stroke of skills and knowledge and sheer determination.
"I'm thrilled for Emma – it's the most prestigious farming award in the country and it's incredible to see it go to someone who will be such a strong ambassador for not only the contest but for the entire food and fibre sector as a whole."
Coppersmith said the talent demonstrated by contestants across the three-day final is proof that the future of the sector is in safe hands.
She also paid special tribute to the hundreds of volunteers who ensured that everything went according to plan.
"There are so many people who have worked tirelessly for months in the lead-up to the Grand Final – donating their time to ensure the event was a resounding success. It is a testament to their dedication that farming continues to thrive in Aotearoa and will for many years to come."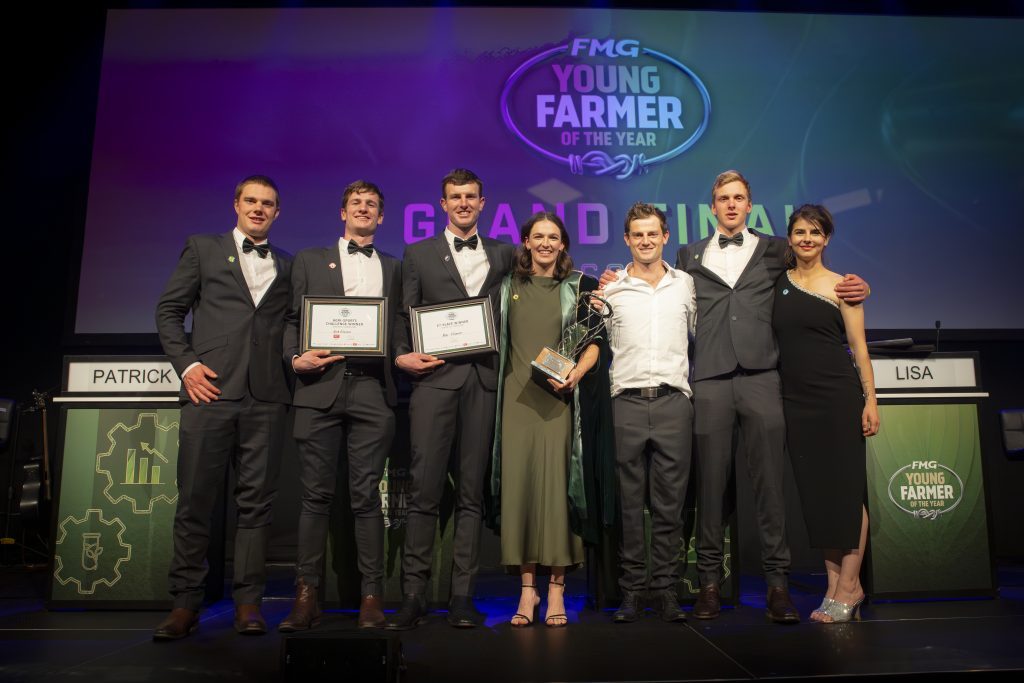 Twins take out 2023 FMG Junior Young Farmers
Twins representing the far south have taken out the title of the 2023 FMG Junior Young Farmers of the Year at the Grand Final in Timaru.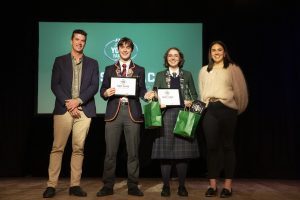 Siblings and Dunedin pupils Zoe McElrea, of Columba College, and Millar McElrea, of John McGlashan College secured the win after a series of challenges spanning two days. Contestants' farming skills and general knowledge were put to the test with tasks that included crop spraying, building a planter box and straining a wire fence.
The top five teams then went head-to-head in a buzzer-style quiz at Friday evening's award ceremony.
The competition was fierce, with 13 other teams from across Aotearoa rolling up their sleeves in a bid to secure the coveted title.
"I was shocked when they called out our names! It's been six years coming and I just didn't believe it at first," Zoe said .
"We're stoked. We've been doing a lot of work to get this point – we knew we had to enter the event feeling like we could win it, because if you don't believe in yourself, then you're disadvantaged already," Millar said.
Napier Boys' High School students Cameron Brans and Quinn Redpath were the runners-up, while Jack Foster and James Clarke from Mount Hutt High School secured the final spot on the podium.
It's not the first time Zoe and Millar have attended a Grand Final, this is their third attempt at the FMG Junior title as a team, the pair have also competed separately before that.
"Last year we just kind of showed up and had a good time, so it was good to put a bit of work in this year, I definitely think our farmlet left a bit to be desired but the rest of it was really good. We got through it together and worked things out when we had to," Zoe said.
The next generation of young farmers, the AgriKidsNZ competitors also tackled a range of challenges during the event, with team Legendairy, a trio from Mt Somers Springburn School taking out the title of AgriKidsNZ Grand Champions.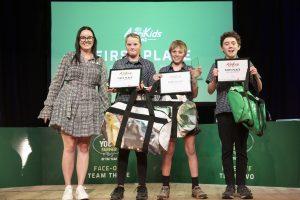 Flynn Wallace (10), Charlie Clark (12) and Georgia Heaven (9) racked up the most points after a gruelling day of challenges.
"It's awesome that all the effort we put in has paid off. I think it's fair to say we're all feeling really happy with the win," Charlie said.
The trio were surprised to find they'd also scored highest in the Modules and the Agriquiz taking home three of the top awards.
"It got better and better each time our name was called! Our team did amazing, we're very happy that we won some great prizes and of course, bragging rights," Flynn said.
The Three Western Girls from Hauroko Valley School made up of Sierra Bennett, Elly Hurley and Sophie Parris were the AgriKidsNZ runners-up.
Meanwhile, Southern Boys also from Hauroko Valley School came in third place, made up of Sam Horrell, Oliver Chamberlain and Tomas Clarke. Clarke also took home the title of Contestant of the Year.