A group of Canterbury dairy farmers have formed a management training programme for university graduates. By Anne Lee.
Opportunities to partner and grow in the dairy sector are there for the taking and a group of Canterbury dairy farmers has set up a programme that will enable recent graduates to join them and others so they can grow together.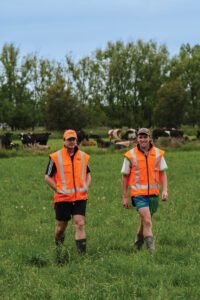 The Grassroots Dairy Graduate Management Programme is a formalised pathway that can fast track young graduates into leadership level roles on dairy farms.
Dairy farmer Tony Dodunski is chairman of the steering committee which has set up the programme that will take five graduates next year. They'll each be placed with one of the programme's network farmers for a fixed term from February to November giving them 44 weeks of paid employment.
Tony says they'll be paid a competitive graduate salary, similar or better to salaries offered to rural professionals when they start out and be working a roster with sociable hours.
"They'll work on the farm, going in at a level chosen by the network farmer (employer) and they'll learn the day-to-day farming but they'll also spend time each week, or each fortnight over calving, getting together to carry out 30 modules that will skill them up on the types of things they'll need at the management level.
"Things like financial management and skills they'll need in dealing with the bank, environmental compliance, growing equity, risk, the 72 rule of compounding returns, using technology onfarm, pasture and feed management.
"People management is an important one, especially in places like Canterbury where we're dealing with big herds and big teams so we will spend time developing skills in that area."
While it will include the compliance aspects of employing or managing staff it will also cover aspects such as understanding and working with different personality types.
The personality type development is helpful in a work situation where the graduate will go on to manage individuals in a team and to understand how the team interacts with each other but it's also an insightful personal development tool that will enable graduates to better understand themselves.
"We'll also be ensuring the farmers they're with are mentoring them, always with an eye on including them in management-level discussions whether that's as simple as copying them in on an email with the spraying contractor setting up a job or bringing them into a monthly budget revision meeting.
"The aim is to be exposing them to the management and ownership type decisions from week one."
Tony's 650-cow property is just a few kilometres from Lincoln University and he says the people strategy on the farm was to tap into that resource.
"But over the last couple of years of talking to Lincoln students informally we could see there really wasn't anything in the market that caters for graduates going straight into dairy farming.
"Nothing in our industry is competing with other rural professional graduate programmes and we aim to challenge this.
"As a group of farmers we went along to the careers day at Lincoln University in August and we got a lot of feedback from students about the lack of a farming pathway post uni."
As a result, they created a steering committee to put together the programme with committee members including Tony, ANZ Southern regional manager Mark Grenside who has experience of banking graduate programmes, Campbell Tait, a dairy farmer from Hinds, and Kimberley Grayling, a human resources advisor and dairy enterprise equity partner along with her husband Will.
Six leading Canterbury farmers will be network farmers and host the graduates over the 10-month period in 2022: Tony Coltman, Matt Ward, Will Grayling, Campbell Tait, Josh McAtamney and Tony.
"We're not trying to create an elitist group of graduates or farmers with this, we're just trying to give young graduates a clear, formalised pathway into leadership roles on dairy farms."
"The sector needs these smart young people involved onfarm to be able to grow and we've potentially reached a level of maturity in the industry where business owners are actively looking at ways to facilitate young people into their businesses.
"There are a lot of challenges out there but with challenges come opportunities and in my 11 years farming I don't think I've seen a better time to be a young person in the industry.
"We need the next generation at that management level to come on board with us so they can be our next business partners.


"Ultimately we want them to be the ones bidding on our farms or taking over our jobs."
Tony says there's been no issue in getting farmers as network farmers in the programme.
"The intention is the network farmers will have the opportunities for the graduates to go into their businesses but at the end of the programme the graduates will be free to take up opportunities with others too.
"If there isn't an immediate opportunity on the farm the graduate has been placed on over the programme, we'll help facilitate progression on another of the network farms.
This year they've cast the net quite widely for young people to come into the programme."
"It's open to graduates who are within three years from graduating and we're not just looking for Lincoln University graduates – they can be from Massey University, Canterbury University, wherever.
"What we want are bright, talented young people capable of picking up the operational side of things quickly who we can develop and fast track into the leadership positions.
"We've got three main objectives. The first one is to attract graduates straight out of university on to dairy farms.
"The second is to fast track them into onfarm leadership and decision-making positions using our farmer-created, structured modules.
"The third is to support and mentor them so they thrive."
On farm training
Modules will include:
Personal development
Dairy industry introduction
Environmental compliance
Wealth growth
Business ownership
Environmental enhancement
Banking basics
Engineering and electrical skills
People management
Mating
Raising quality stock
MINDA
Animal health
Utilising technology
Pasture and feed management