By Anne Lee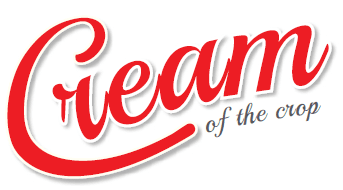 When Jaspal Singh walked on to a New Zealand dairy farm, warm memories of milking four buffalo and two cows for his grandfather during his childhood came flooding back.
That's when he knew dairying was the career for him and not the IT sector where he'd just completed studies.
It was the right decision for the now 31-year-old. Jaspal is this year's Canterbury/North Otago dairy manager of the year. He first came to NZ in 2014 to continue studies in IT.
"But when I finished that in Auckland in 2015 a friend suggested I give dairying a go.
"I went to Mossburn (Southland) and it reconnected me with all those feelings – the love for animals and the land.
"I knew dairying was my real career," he says.
He worked as a dairy assistant on the 1000-cow farm for two years before moving to herd manager for a year.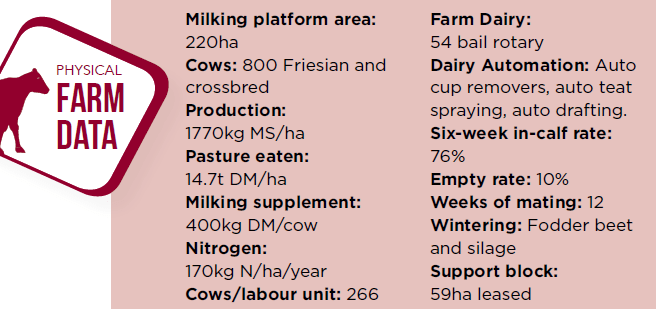 He then stepped up to 2IC for Borst Holdings for 18 months at Maheno in South Canterbury.
In 2019 he moved to his current 800- cow farm working for sharemilkers Troy and Donna Yaxley on the property owned by Mark and Carmen Hurst.
Initially he worked as a 2IC but within six months took up the manager's position. During his progression he went back to India briefly in 2016 and married his long-time girlfriend, Ruby who had studied IT with him.
She joined him later that year and has been studying level one agriculture.
Jaspal says she too has taken to farm life and is a top calf rearer.
They have a 2.5-year-old son Ryan and together they have mapped out progression plans.
The season after next they will take over as variable order sharemilkers on the current farm and through rearing heifers will build up cow numbers so that within five years from starting that venture, they'll have enough cows to become herd-owning sharemilkers.
They won the ANZ planning and financial management award in recognition of their financial strategies.
Jaspal says every month they sit down together and go through their personal budget and analyse their spending.
Their aim is to save 50% of their income, live off 30% and send 20% to family in India.
"We wanted to save $6000 but we managed to save $24,000."
Then Covid-19 took a heavy economic toll on some of their close family members back in India and they sent almost all their savings back home to help.
Jaspal says they're continuing to make good progress, though, and later this year they are set to start buying the gear they need for variable order sharemilking.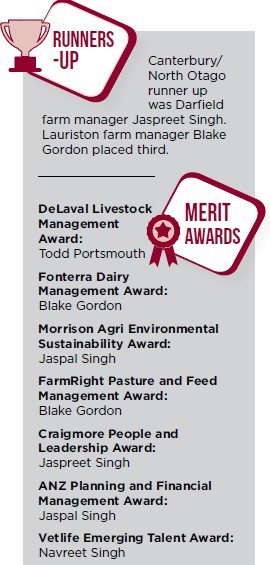 As farm manager he monitors and allocates pasture, oversees two staff, orders fertiliser and liaises with contractors.
He selects cows to be put up for mating, ensures best environmental farm practice is carried out and takes great pride in monitoring and managing animal health and boosting cow production.
He has instigated practices to bring down the incidence of mastitis in the herd dropping it from 34% to 10% over the past two seasons. The farm has automatic cup removers and automatic teat sprayers installed but he put a person back on the cups-off position while they helped make adjustments to ensure cows were being milked out well.
He instigated a milking programme for colostrum cows, stripping cows before milking and noting any cows with issues.
"We gave them a couple of days to self-cure but if they didn't we sent a sample off to the vet and then treating them appropriately. He'd also suggested cows leaving the farm dairy used a separate lane as they were leaving the milking area.
"By the time the second herd was leaving the lane was muddy from where cows had been coming in and cows were then susceptible to infection because their teat canals are still open."
Bulk somatic cell count (BSCC) has dropped and was 126,000 cells/ml average last season and was sitting at 100,000c/ml in late March this season.
Jaspal picks cows for AI and is proud of the reproductive results for the farm with a 76% six-week in-calf rate based on the latest pregnancy test results.
"Last calving we had nearly 80% of the herd calved by the end of August."
They had a 10% empty rate after 12 weeks mating which included six weeks of AI, four weeks with the bull and then two weeks of short gestation length AI.
This coming mating the plan is to reduce mating length to 10 weeks, using four weeks of AI including the use of sexed semen and follow that with six weeks with Hereford bulls. Judges were also impressed with Jaspal's focus on best practice in terms of environmental management.
He had observed that even though the farm is flat it still has critical source areas within paddocks – areas susceptible to pugging or with poorer drainage.
He has identified the areas on farm maps and those areas don't receive any effluent. Cows are wintered on a neighbouring support block on fodder beet and Jaspal has identified any critical source areas there to avoid too.
"We manage the cows over winter so we can manage that carefully.
"I have also marked on the maps the areas we can safely put the cows if we do get heavy rainfall."
Nitrogen use has been reduced on the farm with no urea applied to the fronts of paddocks for two rounds and rates per application reduced. Jaspal says it was a proud moment to win the award and absolutely proved he'd made the right decision to pursue dairying.
"It's a great career and a good lifestyle for our family."