Onlookers seem stuck in the mud on wintering livestock in Southland, Suzanne Hanning writes.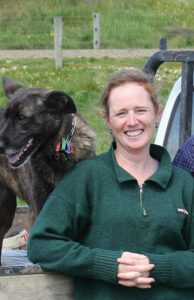 My older brother always used to say "patience is a virtue". I used to counter with "You're not very virtuous then, are you?" The word 'virtue' means 'behaviour showing high moral standing'. Sadly the word 'signalling' gets stuck next to it from time to time and corrodes this into something dripping with sarcasm.
This is all too commonly seen on social media when it comes to the opinion of people who have nothing to do with agriculture on what farmers should or shouldn't be doing. As I've mentioned in a previous column, everyone seems to have plenty of opinions on wintering livestock in Southland, but they have very little in the way of solutions.
Our fellow farmers down here in Southland have been patiently waiting for the results of our Hedgehope-Makarewa Catchment Group and Southern Dairy Hub Winter Cultivation Pilot Study funded by Thriving Southland and finally, we can start to share what we've learned.
The key word here was "pilot study". Wintering animals outside, on crops in situ is, to my limited knowledge, a unique method practised nowhere else in the world. Due to this uniqueness, it has never actually been studied in any great detail.
We didn't know what we didn't know and hence cast a huge net over a huge area and tried to have a look at what we caught. What we ended up with was a monster project with thousands of data points, pictures, and recorded observations. All this took until very recently to sift through and even now, there is still a huge amount of collected information that is being pulled out.
Our Southern Dairy Hub held a field day last month and shared some of the results of the pilot study. There is a link to the hand out on our Hedgehope-Makarewa Catchment Group Facebook page if you would like a look. The study was both surprising, interesting and most certainly a lesson in patience.
My second biggest lesson from this project is that this is much bigger and more complex than anyone could have dreamed. Finding a better way to winter animals in Southland or anywhere with similar conditions to us is going to take a lot longer than any politician or activist will be comfortable with. To be fair, the real problem is the three to five rain events that happen in the 90-day winter period that seem to cause all the issues. What was obvious was the participants who paid close attention to detail, methodically followed their plans, carried out careful daily observations and acted on those observations had significantly better outcomes.
My first, biggest lesson is we need to have more faith in humanity. The people who made this study possible at every level are not special or brilliant in any way. They are ordinary individuals who go about their days rather unremarkably, performing ordinary tasks and achieving ordinary things.
What occurred last winter was not ordinary. We had a voluntary gathering of wills to achieve something greater than the status quo. From the 17-year-old apprentice mechanic, to the agronomist, to the farmer who just tried something a little different. The culmination of their efforts resulted in a certainty that we will figure this out.
It won't be perfect immediately, but we will get there. It will just take a little time, patience and require a bit of virtue and not of the signalling kind.