Jackie Harrigan
Gerard Boerjan has had a varied dairy career around the world, with his experiences, expertise and hard work earning him successes in the Kiwi dairy industry.
The winning DIA Hawkes Bay/Wairarapa dairy manager was encouraged by the farm owners and nagged into entering the competition by his children who kept asking if he had filled in the forms. He finally relented and came through as winner, after his first entry at 50 years old. Gerard went on to win the national title of Dairy Manager for 2018 at Invercargill in early May.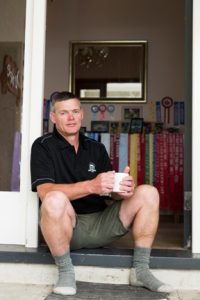 Not that he has been letting the grass grow under his feet – although with his fierce emphasis on pasture management, it seems letting the grass grow under his feet on the Central Hawke's Bay 1430-cow farm is just what he does do.
'I put a lot of focus into grass – and I don't own a mower," Gerard says.
The two herd managers are also skilled in pasture management, and Gerard says weekly pasture walks means all six staff know what is happening on the operation.
The 553-hectare effective farm has been in the ownership of Trevor and Harriet Hamilton for the past four years and Gerard has overseen a lot of new investment.
While 14.4 tonnes drymatter (DM) pasture is harvested on the spring calving operation, 1250t of grass silage and palm kernel are fed in the paddock of the un-irrigated operation to fill summer and winter feed gaps. Wintering 1000 cows off the milking platform with a local grazier for four weeks weeks also gives the pastures a break.
'I like to get everyone's ideas and if it's a good idea we discuss and implement it and if it works we keep it, if not we change it.'
Gerard won the employee engagement award, a shoe-in with his teaching qualification, earned after his degree in Agri science from Holland where he was born. While he decided not to pursue a teaching career, he has used the training to good effect in his Kiwi farming career along with a three-year stint starting up a 1000-cow dairy farm in Brazil, south of Brasillia, for a group of Kiwi investors.
That job included building cow numbers from zero to 1000 on the 12cow/ha farm, where the grass species Tifton 85 grew 40t DM/ha and all the 150ha milking platform was grazed along with feeding maize silage and numerous other supplements. Gerard trained the 14 staff members along with two office and two security workers. Gerard picked up awards for the farm, rising to 44th in two years out of 1 million dairy farms in the country, for its milk production ranked in order of milk output.
Portuguese is his second language, having learnt it while dairy farming in Portugal for five years post-university on a 250-cow unit that grew irrigated maize silage and operated a dual system of grass-based in winter and cut-and-carry housed cows in the fiercely hot Portuguese summers.
Arriving in New Zealand in 1997 Gerard and his Dutch vet-nurse wife Marlene farmed and managed separate dairy farms at times in Waikato and Northland and were runner up in the Northland Dairy Business of the Year competition. Their three children Oliver, 15, Jeroen 13 and Claudia 10 are keen calf club participants judging by the number of trophies and ribbons on display, and Gerard says family time is important to the couple.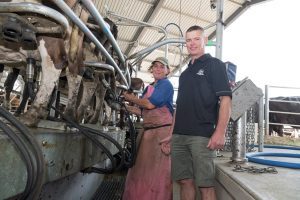 Gerard says he enjoys teaching, has onfarm training programmes and offers off-farm Primary ITO training, where he also mentors students. Being a distance from the nearest town Gerard says the farm is not easy to staff so he works hard to keep the staff involved and informed and holds regular staff functions outside of work hours, all of which helps retain good people.
He strives to make management simple with a colour-coding system to track cow health issues and good routines and systems around the cowshed. Whiteboarding, regular meetings and getting staff input helps keep everyone informed and engaged.
"I like to get everyone's ideas and if it's a good idea we discuss and implement it and if it works we keep it, if not we change it."
Running a roster of eight-on/two-off the staff have different roles and jobs and a mix of early and late starts so that everyone gets a sleep-in every two or three days.
Gerard also supervises the 800-cow dairy farm next door with four staff members.
Gerard and Marlene decided not to build equity in the dairy industry, preferring to diversify into residential housing, building a portfolio of eight rental houses spread over the Waikato, Auckland, Northland and now Central Hawke's Bay.
"We started buying in 2003, wherever we were living and spent nights and weekends getting them ready to rent.
"Farming is my day job, but the residential income is separate – so all of our eggs are not in one basket."
Their goal is to buy a 400-cow dairy farm in two-or three years with a manager on it while keeping their current job. The plan is to keep working away on their residential property portfolio which would need to be largely rebuilt after purchasing a farm, then eventually retire from Gerard's managing job when the time is right.
"That's the goal, but we have lots of options, we can sell down our portfolio in four years' time and retire and look at other opportunities."
Runner up in the Hawke's Bay/Wairarapa dairy manager competition was Masterton farm manager Nicholas Verhoek and third was Sumit Kamboj, farm manager from Eketahuna.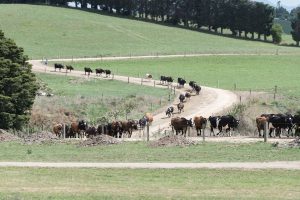 Dairy Manager Merit Awards:
Hawke's Bay/Wairarapa NZDIA Most Promising Entrant – Dan Phillips.
Moore Stephens Markhams Ltd Employee Engagement Award, Fonterra Farm Source Dairy Management Award, Primary ITO Power Play Award, Westpac Financial Management and Planning Award – Gerard Boerjan.
Irrigation Services Feed Management Award, De Laval Livestock Management Award – Nicholas Verhoek.
Tailorednz Wealth Management Leadership Award – Derek de Jong.