Anne Lee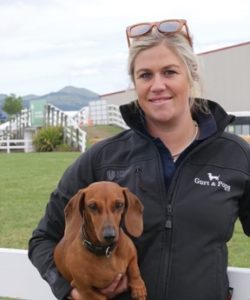 A miniature "sausage dog" and a big burly country lad might seem an unlikely combination but they were best of mates in real life.
The quirky friendship between her partner James and their dog Poppy was one of the many things Harriet Bremner loved about living in the picturesque and somewhat remote Hakataramea Valley.
Tragically their adventures were cut short after a farming accident took the 27-year-old James' life in early 2017.
Harriet was working as a specialist teacher in Kurow at the time – living the dream, combining her love for education with a passion for riding her horses, helping onfarm and of course a life with her beloved partner.
Grief, she says, never leaves you.
Everyone experiences it differently but day by day and piece by piece it is possible to develop resilience and have a purposeful life.
For her, that purpose has come from striving to help others through public speaking, a blog "The Raw Truth" and, significantly, through a series of children's books that have a rural focus.
The first book was inspired by James and Poppy and the second around practical approaches to farm health and safety.
Earlier this year Harriet stopped teaching to focus on her books and speaking engagements and works a couple of days a week for the Agricultural Leaders Health and Safety Action Group.
Her own company, Gurt and Pops, is named after her dog and the nickname James had for her.
"It had always been a dream of mine to write a children's book but I'd never found time to do it and I was always worried I wouldn't be good enough at writing to do it."
James' death taught her how fragile life can be and the importance of chasing your dream.
"When I was figuring out what I was going to do after James passed away, I thought this big burly country lad and a miniature dachshund could be quite a good place to start for a story," she says.
The writing was therapeutic and the story about a Southern man and his miniature dachshund, the importance of friendship and overcoming challenges together, was born.
A local friend, Dana Johnston took on the role of illustrator and Harriet's first book Bob and Pops was published in late 2017.
Having returned home to her parents' farm in North Canterbury for a couple of winters and working part time as a teacher Harriet went on to publish a second book late last year.
It features Poppy along with a dog inspired by her brother and sister in-law's dog Ted, a miniature fox terrier.
Titled Be Safe, Be Seen, the book highlights that there's more to being safe than simply putting on the high viz vest.
In real life Ted's "a bit of a ripper", Harriet says.
He's always running around Poppy and she tells him off.
In the book Ted comes screaming in on his motorbike with helmet on the handlebars and his high viz vest flapping in the wind.
"He's saying he's got his vest on so he's safe but Poppy says well no, actually Ted you might have your high viz vest on but you're still driving like a maniac so you can still have an accident."
Harriet says some years ago she heard a six-year-old child say they could go and stand out in the road safely because they had a vest on and it was that incident that inspired the story.
"I wanted children to understand just wearing the vest wasn't going to protect them – it's about the decisions they make and using their 'Think Safe Brain'.
"I'm hoping parents or whoever is reading the story with the child has the kinds of safety conversations we should be having with kids so they better understand why they're doing things like wearing the vest."
The book also introduces the idea of blind spots and again, Harriet hopes it will prompt safety discussions between adults and children.
"I had a friend, whose children I used to teach, get in touch to say thank you because she didn't realise her boys thought you could stand behind a tractor if the person driving it had the back window open.
"Maybe they'd seen someone guide someone in while the back window was open and the driver was leaning out the window.
"It's not only having the conversations with the kids for the kids, it's having the conversations with kids for the adults as well – to get them thinking about it too but from the kid's perspective."
By targeting the books at children, Harriet hopes to start early in developing the onfarm health and safety culture so it is normalised and ingrained.
"That way we end up with a workforce down the track one day who are able to make good decisions when they are out and about on farm working."
She wants to see a change in thinking of health and safety simply as compliance.
"Instead it's just got to be a way of thinking that means you make good decisions so that everyone goes home every day.
"We want people to go from – right I have to do it this way because the paperwork says I have to do it like that to – I'll do it that way because otherwise this could happen and I might not make it home.
"Being driven by the paperwork just isn't going to be a good enough incentive."
It's been a tough road since James' accident and Harriet says the health side of health and safety, particularly mental health is something she's passionate about too.
"I guess I learnt about resilience the hard way – society expects you to walk out the door every day and be okay because people find it hard to cope with you if you aren't okay.
"For the first couple of years I did bottle it up but it does catch up with you.
"You can't pretend to be okay when you're not."
For her next book, due to be released in March, Harriet has teamed up with Elle Perriam, from "Will to Live" and will feature Elle's huntaway Jess alongside Poppy.
That book is targeting self-help for children and will focus on mental health and well-being.
Harriet's written it in such a way that she's hoping it will help adults reading it to recognise if they too have been struggling and prod them into getting some help.
Harriet says she's excited to reveal she and Elle will be doing more work together next year so keep an eye on her website www.gurtandpops.com.
Harriet Bremner and Poppy – a health and safety message from the heart.
Her books can be purchased on the website https:// gurtandpops.com/ and Harriet can be contacted for speaking engagements at www.harrietbremner.com