Irish dairy cull suggested
Irish dairy farmers stirred as government suggests culling 65,000 cows per year. By Chris McCullough.
THE Irish dairy pot has been well and truly stirred after government figures suggested 65,000 cows per year need to be culled over a three year period to meet emissions targets.
Released under a Freedom of Information the numbers, deemed to be compulsory, came with an alarming cost of €200million per year to the taxpayers in the Republic of Ireland.
However, some farming bodies have hit back hard saying any such a dramatic cull must be on a voluntary basis as farmers had taken out business loans based on their cow numbers.
Dairy cow numbers in Ireland have risen since the abolishment of milk quotas in April 2015 with numbers currently totalling 1.5 million head.
Also incorporated in the country's total cattle tally of seven million head are just over 900,000 beef cows.
Dairy cow numbers rose by 1.4 percent (22,800 head) to 1.6 million in 2022 but over the past decade have increased by around 40 per cent. Latest January 2023 numbers suggest a fall to 1.5 million.
Beef cows numbers, however, have fallen about 17 per cent over the same period and saw another 2.9 per cent (27,100 head) drop from 2021 to 913,000.
Pat McCormack from the Irish Creamery Milk Suppliers Association said: "If there is to be a scheme, it needs to be a voluntary scheme.
"That's absolutely critical because there's no point in culling numbers from an individual who has borrowed on the back of a huge financial commitment on the back of achieving a certain target that's taken from under him.
"We should be investing in an infrastructure that can deliver from a scientific perspective. And we know low emissions are better and we should be continuing to invest in further science and research because that's absolutely critical as we move forward.
"This isn't a start. This isn't the end. This is an environmental journey and agriculture can play a significant role there," said Mr McCormack.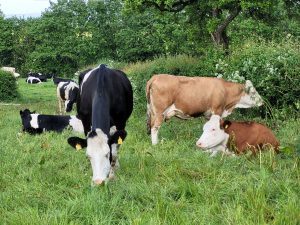 GHG reduction targets
The Irish government is focused on cutting GHG in the country with agriculture as a main target given it is the single biggest greenhouse gas polluter, accounting for 37.5 per cent of emissions in 2021.
With the sector emissions rising each year, the government is aiming for a 25 per cent emissions reduction target for agriculture by 2030.
This means agriculture has been tasked to reduce its emissions by a total 5.75 million tonnes of carbon dioxide equivalent the end of 2030.
Responding to the disclosed figures, Ireland's Department for Agriculture said the report was merely a "modelling document" and not a "final policy decision."
A Department of Agriculture, Food and the Marine spokesperson said: "The paper referred to was part of a deliberative process. It is one of a number of modelling documents considered by the Department of Agriculture, Food and the Marine and is not a final policy decision.
"As part of the normal work of government departments, various options for policy implementation are regularly considered."
Figures suggest 0.45 million tonnes of carbon dioxide equivalent emissions could be saved for every 100,000 dairy cows cut, but it is yet unclear how farmers will be paid for reducing their stock numbers.
The spokesperson added: "The government is fully committed to the long-term viability of the Irish sector including our farm families who are the bedrock of the industry.
"It is a sector that is the jewel in the crown of our overall agri-food sector. We will ensure that the sector is put on a firm footing for this and subsequent generations.
"The dairy sector already displays huge sustainability credentials, and we are now stepping this ambition forward. Government is focused on providing voluntary, financially attractive options for farmers which includes diversification."