Ballance Farm Environment Awards regional winners Geoff and Jo Crawford are charting their own course with reduced fertiliser and water use. By Delwyn Dickey.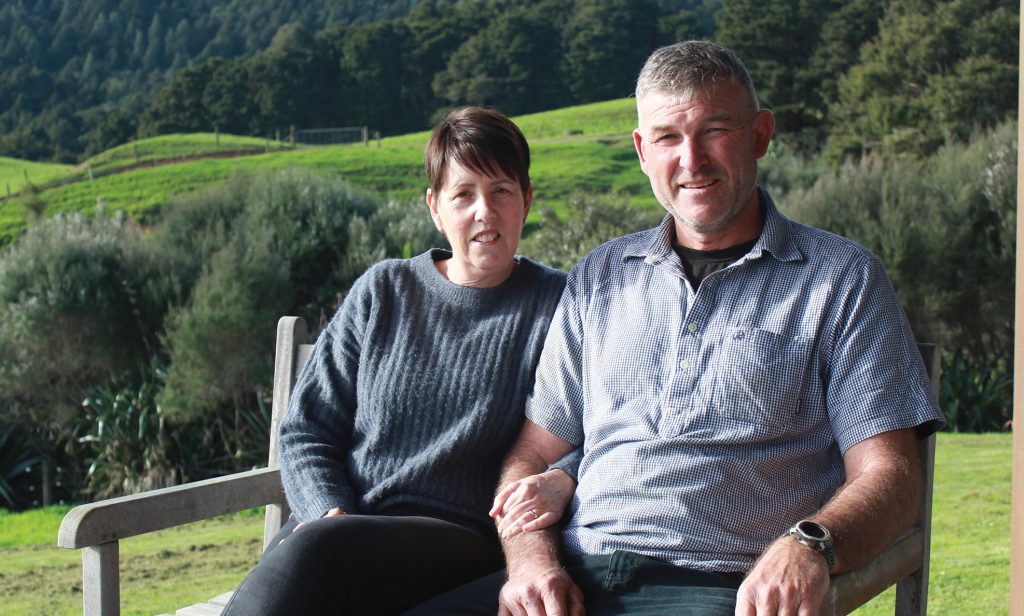 Farmers have got to get off the nitrogen drug," Geoff Crawford says.
Wanting to show it is possible to be both financially and environmentally sustainable in a large-scale farming operation saw Geoff and Jo Crawford enter the 2022 Ballance Farm Environment Awards.
Here they won the Northland Regional Supreme Award, including Ballance Agri-Nutrients Soil Management Award, DairyNZ Sustainability and Stewardship Award, Hill Laboratories Agri-Science Award and WaterForce Wise with Water Award. Geoff and Jo are trialing different pasture species in their paddocks as they adapt to a warming northern climate, and finding ways to reduce both synthetic fertilizer and water use. The couple's home looks out over the vast Hikurangi Swamp farm land, west of Whangarei.
And although they've farmed in the area for 30 years, with their operations covering dairy and beef, they hadn't farmed "the swamp".
LEARNING TO FARM THE SWAMP
Then seven years ago they bought three farms over several years on the swamp, and set about adapting the dairy operations to accommodate the occasional flooding.
Sitting side-by-side, the farms totaling 260 hectares are run as a single operation, and run 1000 cows. Another 140ha dairy farm in the Hikurangi Hills runs a 500-cow herd. Combined they average 590,000kg of milksolids annually. The only downside of the swamp operation is the main infrastructure buildings, including the 50-bale rotary, are at one end of the farm, so it can be a bit of walk for the cows. To help counter this a second milking shed still operates for about three months of the year at the other end, for the autumn herd.
Most of the 1000 calves born on the farms each year are destined for beef production, and Geoff has built a large barn specially for them.
The changing climate is seeing a lot more pasture growth in autumn and has seen them shift to mainly autumn calving. The 60% autumn calving will likely increase to 80% in the next couple of years, Geoff says.
CUTTING WATER USE
When they first bought the home farm it had been set up in a way that used a lot of water – easily 70 litres per day, per cow – with their effluent pond filling up too quickly and Northland Regional Council unhappy. Cows were also injuring themselves slipping on the concrete in the milking shed.
This saw Geoff covering the concrete with rubber mats, and start scraping instead of washing down the yards. The water on the backing gate was also stopped. They may be expensive, but rubber mats are needed to do this properly, Geoff says, as the concrete gets very slippery without them. Big water washers for the cups were changed to small squirters. In the end, having installed a water meter, they say they were able to show the council they were using far less water than the average 70l/day/cow and didn't need to get an annual $2500 resource consent for water. While flooding can be a nuisance, farmers on the Hikurangi Swamp have learned to adapt. July is the wettest month with flooding on the plains almost every year, says Jo. Covered stand-off pads for the cows are becoming more common in the area, as flooding can see some paddocks out of action for up to two months.
The Crawfords have built a covered standoff pad that can hold 600 cows.
USING THE FLOODWATERS
While these floods keep farmers on their toes, Jo and Geoff use them to their advantage. The big floods only tend to happen about once a year and Jo and Geoff now use these events to significantly cut back on the amount of synthetic fertiliser they use by making compost from the animal manure deposited on the stand-off pad.
When flooding looks likely a layer of pine peelings goes on the floor of the pad, before the cows are moved in. Rather than standing for days on hard concrete this makes the cows' stay more comfortable and they can lie down on it.
Here they are fed, watered and can be moved off to be milked, with more peelings being applied over time. When the paddocks have recovered the cows are moved off again. About 30 tonnes of lime is mixed in with the peelings at this time – while still on the pad, before the whole lot is scooped off and set aside in huge mounds. Normally a couple of tonnes of urea would also be added, but the high cost has seen him skip that this year, says Geoff.
The peelings also can't be put out on to the paddocks at this point as they would suck nitrogen out of the soil as they break down, he says.
The pile is left to break down to nutrient-rich compost. A natural part of this process sees the pile heat up which kills any seeds or pathogens in the mix.
The compost goes on their maize paddocks well before the maize goes in. Not only does it put nutrients back into the soil it also helps it hold more moisture – important in hot, dry summers.
While their paddocks don't need much nitrogen now, they lack sulphur, Geoff says, using both sulphate of ammonia and potash on them.
Adapting to warmer and drier summers, along with replacing damaged pasture after flooding, has seen Geoff trialing not only different pasture species for different areas on their farms but also the timing and order in which they are laid.
MANAGING FLOODED PASTURES
High flood risk areas that are likely to flood annually, make up about a third of the dairy farm. When water damaged these pastures are over-sown with chicory and clover.
"We've been getting 20t/ha of good chicory crops. We'll keep that for two years," he says.
If there is another wet weather event this winter that will change to an annual grass and then sow chicory again in the spring. Areas that have some flood risk, again about a third of the farm, are being transitioned to Mohaka – an Italian hybrid ryegrass, chicory and clover mix.
Where there is no flood risk Geoff is using Oakden – a broad spreading fescue, with Hummer – a tall fescue.
"With eight cows/ha this has to be strong enough to handle a 10-day round with lots of cows on it," he says.
Geoff has done more trialing on the 60ha runoff block just along the road, where the weaner calves are raised.
"We found planting clover with permanent pasture in the first winter sees the grass shade the clover out. Grass is more dominant and people also put nitrogen on it to make it grow – come autumn the clover is gone."
Instead, in the first-year chicory and red and white clover mix go in the paddocks and are left for two years. Permanent rye grass is then drilled in at the beginning of year two.
Establishing the nitrogen-fixing clover first, for a year or two before putting the ryegrass in has been a game changer for Geoff, but the high clover count means calves need to be monitored more for bloat. The chicory also alleviates eczema, which is common in autumn. It doesn't eradicate it, but dilutes it, he says.
Geoff has also trialed plantain which is being seen as a popular forage species that reduces both nitrous oxide and methane emissions.
But this has raised a red flag for Geoff over the use of plantain in the north under his management system – that doesn't include nitrogen fertiliser.
"In spring the cattle will eat it but once it heats up and the plant gets stressed – the cattle won't eat it – it becomes unpalatable." he says. "Put nitrogen on to it and they'll eat it – but that's not what you're trying to achieve.
"Plantain is also really aggressive and a prolific seeder, especially in really hot summers when the black beetle has pulled everything out and the seeds get into the open soil and take off," he says. "The cattle won't eat it, and it blankets out clover or other species."
Geoff even trialed it to see if plantain would survive a flood. It did. Now he's got three years to break its cycle and get it out of his pasture.
Other successful agribusinesses Jo and Geoff have run over the years, in conjunction with farming, have included contract spraying and forestry contracting.
Jo is also a nurse, working three days a week, and currently studying toward a postgraduate diploma – while also doing administration for the couple's multiple business interests.
PLANTAIN PAIN
Geoff's trials on plantain may have raised an interesting quandary for emission reductions on some northern pastures, under some management. AgResearch senior scientist Mike Dodd says research to date does support the ability of plantain to reduce nitrogen losses from the urine patch, and consequently nitrous oxide emissions.
So finding ways to manage pasture that includes plantain successfully, needs to be looked at carefully.
Research is underway by industry, including DairyNZ, PGG Wrightson Seeds, Fonterra, alongside government and science organisations such as AgResearch, seeking to further grow the understanding of the effectiveness of plantain as an animal feed in different conditions, Mike says, with regional field trials underway across the country.
He has heard anecdotal reports of poor palatability of plantain, which can occur where old tissue and hardening seed heads remain after a grazing round and the cattle are put off by it at the next grazing.
"Generally, plantain performs well in warmer conditions, with an optimal growing temperature more like that for clover and higher than for ryegrass," he says.
"Plantain is certainly a prolific seeder and will readily fill gaps in pasture where there has been damage or death of plants due to other stresses.
"Many farmers complain they can't keep plantain in their grass-based pastures due to suppression by ryegrass in cooler seasons, but it is likely a different story in Northland where the warmer winters favour strong growth throughout. It could be that a strong winter active ryegrass is an option in this circumstance."
In Northland, seed supplier Agricom is running trials at Kerikeri to assess plantain yield and persistency in grass mixes with ryegrass and tall fescue, in different environments and soil types, says Northern North Island Territory Manager, Cassey Edgcombe.
Plantain has been used successfully in Northland for 25 years, she says.
While trialing has found individual circumstances of unpalatability at certain times of the year in general, they believe this is caused by old leaves left in pasture. But they also agree with Geoff's results of unpalatability being associated with low nitrogen conditions.
"We have seen this successfully reset via topping while nitrogen use is also a useful tool to prevent it from occurring leading into the summer dry."