Words by: Anne Lee
More than 1000 people have registered their interest in a rural retraining programme being run in the South Island that's aimed at getting Kiwis employed out on farms and in the wider rural sector.
It's being run in conjunction with NZ Dairy Careers, Agri Training and Agstaff at Ag Training's South Island training facility. NZ Dairy Careers project manager Trina Moore says the response from right across the country has been amazing.
"It's been fantastic seeing people who've never had anything to do with the rural sector really get excited about it and in particular excited about dairying.
"We've asked people who've come on our courses what area of agriculture they're most interested in and at the start of the course only 22% have mentioned dairying but by the end of the course that's changed to 60%.
"And that's where they're going – we're placing people in jobs and they're loving it."
Before Covid-19 hit, NZ Dairy Careers worked mostly with young Irish and other overseas people keen to come to New Zealand and experience Kiwi farming.
"With border restrictions we couldn't bring international workers into New Zealand, creating even greater need for local people to work in primary industries.
"At the same time Kiwis were losing their jobs – and still are. They knew there were jobs out on farms but they don't have any experience and coming from cities it's such as huge career change, they just don't know where to start.
"They don't really know if it's going to be for them either.
"So our three companies came together and looked at what we could do to give them taste of farming life and, if they were interested and able to go the next step, give them enough training so they could step into a job."
Trina says people have registered their interest and completed a 20 hour online webinar course.
It introduces them to rural life with a range of speakers – both rural professionals and farmers – covering health and safety, what it's like to live rurally, how to update their CV and interview skills and goal setting.
"We have career changers talk about their experience and farmers talk about what happens onfarm. They also have takeaway tasks to do to assist in their learning.

Those that have successfully completed the online webinars go through a selection process to be invited to our 13-day Rural Retrain course at Winchmore in Canterbury."
They stay in lodge accommodation at Methven with their food provided – although they get together and cook the meals.
The days spent at Winchmore are mostly spent learning practical skills. Agri Training business development manager and trainer Bryn Price says it's a very full course with practical sessions on riding a motorbike, driving a tractor, riding a quad bike, fencing – both electric and standard wire, stock handling, stock health, drenching, ear tagging and other seasonal tasks.
Local farmers have opened their gates so they can do work experience, learning how to milk and feed calves and a vet gives them an introduction to animal health and they learn the basics of pasture management.
"By the end of it we know them pretty well and through NZ Dairy Careers and Agstaff there is a direct pathway for them into jobs."
"We can really place them where they're going to be a good fit," Trina says.
So many of them change their minds on the type of farming they want to be involved in because their initial understanding has been somewhat tainted by what they've heard or seen in the media and on social media.
"They're genuinely surprised when they see what dairying is really like," she says.
An important part of the recruitment and placement programme is the pastoral care aspect.
"It's a non-negotiable – we believe it's that important – and we keep it in place for a year."
New employees have a dedicated person they can call and that person also visits them on the farm to make sure they're settling in and everything is going well.
They step in and help with any hurdles they come across but might not want to bother their employer with.
Trina says ideally, they'd like them to go on and do a trade certificate through Agri Training.
The aim is to have training more akin to the farm cadetships of old and tailor the training to students and farmers.
Bryn says the idea is for it to be hands-on and ensure people can carry out the practical tasks while helping them understand the underpinning technical knowledge to support those skills.
By early October 174 people had completed the online webinars and 40 had completed the 13-day training programme at Winchmore. Another 25 are due to start a 13-day programme in late November. Out of the first 25 who completed the 13-day programme, 80% are in full-time permanent employment, 4% decided to go back into education as result of enjoying the learning experience and the remainder were likely to be employed in the rural sector within a short time.
"We've had some amazing career changers and people have come from all over New Zealand.
"People are willing to move and once they see first hand what dairying is about, they're very keen to work in the industry.
"It's actually really nice to have made positive changes in people's lives – really rewarding.
"And it's so good to see so many New Zealanders coming through with a great work ethic."
Off the roller coaster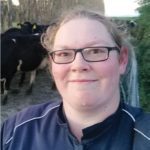 Amy Luckhurst reckons working on a 1400-cow farm is a lot less stressful than her previous job – working as a roller coaster operator in a British theme park dealing with hundreds of amped up children each day.
The 26-year-old cut short her OE and came home in time for lockdown on the strong advice of her parents – they bought her a plane ticket and told her to get home – now.
Not one to sit around, the Botany graduate had been searching through the internet and came across the Rural Retrain course.
"I'd grown up in rural Taranaki so it seemed like something I could do but dairying really wasn't on my mind.
"I did the webinar and loved it and the next step was the 13-day course.
"It was cram-packed with so many things. I'd had a fear of motorbikes but they taught me how to feel confident.
"We got to drive two different types of tractors, do fencing, I loved it."
"The course really opened my eyes to dairying. It was nothing like I'd expected and the opportunities – I just didn't know they were there.
"Kath (Holmes) is our pastoral care person. She's fantastic. She's my contact, she looks after us and makes sure we're settling in, answers questions and is always at the end of the phone.
"It's a great team on the farm here too. I'm learning so much so fast."
Hairdressing to milking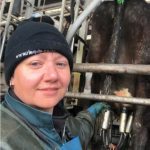 Loriaan Meyer was a hairdresser living in Auckland with her husband Hannes and three children when they decided to give farming a try.
They'd already made a huge decision in immigrating to New Zealand from South Africa 10 years earlier but it still took some courage.
"I wasn't working because of Covid-19 and I saw there were jobs in farming. Hannes stayed working and I did the webinar and then came down to Canterbury to do the 13-day course.
"I loved the training. There was a real family atmosphere.
"It was my first time living like that with a whole lot of Kiwis and it was so different to Auckland."
Hannes is a qualified boilermaker and had some farming experience from South Africa so Loriaan was hopeful she'd be able to find a dairying job where they could both work.
"The good thing about the course was they helped so much, matching us up to the right people."
Loriaan started at the beginning of September and was closely followed by Hannes and the children.
"Together we're earning a little bit less than what we were in Auckland but we're not paying $650 a week in rent and there's no commuting to work so we're actually better off."
The school bus goes past the front gate too.
"It's hard work, my arms felt like they'd fall off after the first week milking but I'm used to it now and we love it here."
Course 'lit the fire'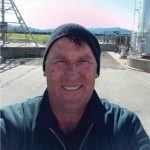 Nathan Eggleton has been driving tourist buses in and out of Fiordland for the past five years, but Covid-19 put a stop to that.
"I thought I'd have a go at a rural contracting course but then this advert came up on FaceBook for the Rural Retrain course and I thought I'd give it a go to get a good overview of farming.
"They were the ones who lit the fire for me when it came to dairying. I hadn't even thought of it.
"I was like a duck out of water a bit on the 13-day course, but I loved it. I learned so much and like the sound of the cut and thrust of dairying – the opportunities, the systems."
He followed the course up with a six-week rural contractors' course but came to the realisation that dairying might be a better fit.
He contacted the NZ Dairy Careers team and they quickly found him a job that he's loving on a 1000-cow farm.
"I know they have my back and I'm totally immersed in this. I was like a possum in the headlights to start with – so much to learn every day – but I can see you could move up pretty quickly."