Uncertainty clouds the outlook for dairy, as with all markets suffering nervousness at global macroeconomics. By Amy Castleton.
New Zealand's dairy exports grew again in September, following growth in August. The total volume of all dairy products was up 32% year on year, though year-to-date exports are still down 6%.
Whole milk powder (WMP) exports lifted 26% year on year. Year -to-date WMP exports remain down 16%. WMP exports to China fell 33% year on year in September, with the lift coming from increased exports to other destinations. NZ sent more WMP to South East Asia, the Middle East and South America.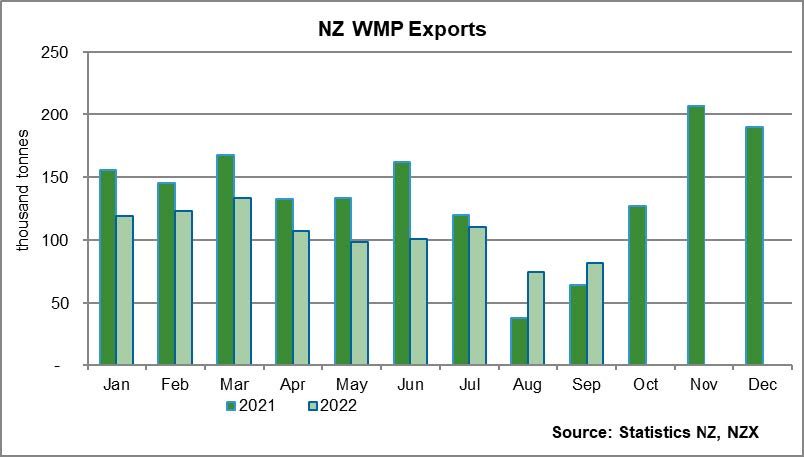 Skim milk powder (SMP) was up just 2% year on year. Year-to-date, SMP exports are up 3.6%. Again, exports to China fell, down 25% year on year. The increase was largely made up by more volume sent to South East Asia, with a little more also sent to Saudi Arabia and Japan.
Butter exports lifted 48% year on year. There were increased butter exports to China, up 46%, with increased volume also sent to most of NZ's other top destinations for butter. Anhydrous milkfat (AMF) soared year on year, with China again taking increased volume, up 350% year on year. Cheese exports were up 58%, with 79% more sent to China in September and 116% more to Japan. Whey was one of few categories to see a fall, down 12% year on year. The United States is NZ's main destination for whey, and exports to the US fell 20% year on year.
Now to the less-positive news.
Prices fell at both Global Dairy Trade (GDT) events in October. The overall GDT index was down 3.5% at the October 4 event, and fell another 4.6% at the October 18 event. In addition, GDT Pulse events trended down. There's only one grade and contract on offer at the Pulse events – C2 regular grade WMP – but as a key product, ongoing falls in prices aren't a great sign for the wider GDT complex.
The fall in prices seems to be due to softened demand, though outside of GDT, demand is still sometimes being described as 'firm'. There is nervousness about the global macroeconomic situation.
Inflation remains high in most places. In NZ we had a bit of a shock earlier in the month, with headline inflation coming in at 7.2% for Q3 – down only very marginally from Q2, and much higher than anyone had anticipated. If it hasn't yet, inflation must hit consumers' pockets some time soon, and sellers are therefore concerned about how much demand there will be. Some of the iffy demand lately may be due to reluctance to hold on to any inventory in case consumer demand suddenly plummets.
September milk production was weak, coming in at -3.8% on a milksolids basis. This puts season-to-date production at -4%. Pasture growth conditions haven't been particularly favourable, along with continued labour shortage issues, not to mention the ongoing concerns with environmental regulations. NZX expects another negative result for October and that full season milk production will remain quite negative this season. In theory this should provide support to prices, but for now demand issues seem to outweigh supply issues.
Amy Castleton is an economist at NZX.