From her farm near Outram, Anne-Marie Wells looks back on 10 years at the property.
As we come to the end of another spring, I have found myself thinking back to our first spring on this farm and how it compares 10 years on.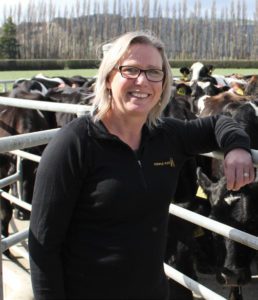 In August 2011, we were still getting used to the farm, it was snowing, and our new cowshed was not quite finished.
The old herringbone was functional if not frustrating – one set of pulsators kept failing and after a couple of weeks, the steps from the pit to the yard collapsed. It was quite demoralising milking in that shed when even from the pit, we could see the new 54-bale rotary so close to complete, but not quite ready.
Then we had a big dump of snow, and while that meant work on the new shed came to a halt, stopping on the farm wasn't an option. A bit like August 2021, although this year it was lockdown, not snow, that forced things around us to stop while life on the farm carried on.
Normally during calving we feel we are missing out on all the off-farm fun, but that wasn't the case this year. In fact, we were grateful to be kept busy and took a lot of comfort in the fact that as an essential business we all kept our jobs, houses, and income.
For us to be able to carry on through lockdown, we needed all the other businesses that keep us running to carry on as well. Our experience was as if there was no difference – the milk was collected, vets were available, supplies were delivered, bobbies got away and machinery was repaired. We are very grateful for the effort from these companies to make this the case.
Another advantage this August, was that the 2¼ children who were under 3 in 2011 are now three children over 9, who as it turns out, are quite good extra helpers on the farm when it's a choice between home school or farming. I like to think we still covered a selection of subjects; PE, biology, maths …
Back in 2011, our extra helpers were the amazing friends who came each milking of the first week in the new shed to help push very reluctant cows on to the new rotary platform. I remember thinking the cows would never walk on by themselves and then one day, it happened. Now it is a distant memory that it was ever like that.
The end of each 2011 August day involved a late-night walk to match up cows and calves. After introducing whole-herd DNA testing a year after moving here, the end of an August day now comprises a Milo and an early night.
A lot of memories have been made over the last 10 years, and things which were a big deal at the time (like the shed not being finished, cows needing pushing into the shed or spending a fortune on whole-herd DNA testing) don't seem to matter much now.
For those of you who have moved farms this season, I hope you have settled in well and that it isn't long before you have forgotten any frustrations and are building good memories.