Focusing on individual cow body condition score boosted six-week in-calf rate on a Cambridge demonstration farm.
Three seasons ago a disappointing 65% six-week in-calf rate on Owl Farm, St Peter's School's demonstration farm near Cambridge, prompted an investigation and overhaul of the mating programme.
One of the key elements in turning the situation around was body condition score (BCS), emphasising individual BCS in addition to the herd average, said farm manager Tom Buckley.
"When we looked back at the BCS numbers the herd bottomed out at an average of 4 in spring. If you have an average of 4 there are going to be some below and some above. The following season we decided to compare individual BCS with each cow's calving date and we dried them off accordingly."
Monitoring individual BCS led to an improvement in spring, the  peak was higher and the cows transitioned better.
"In fact, last year we probably overshot the mark and had too many fat cows and too much grass, so we need to manage that a bit better this year."
The result of the overhaul was a marked improvement in the six-week in-calf rate to 74% in both 2018 and 2019, which means the reproductive performance now sits in the top 25% nationally.
"An extra 9% of cows in six weeks makes a big difference to our peak milk production, and we also have a lot fewer animal health issues," says Tom.
LIC is one of Owl Farm's industry partners and Jair Mandriaza, LIC Senior Reproduction Solutions Advisor, is on the team helping with advice. He agrees that BCS was an essential component of turning the situation around.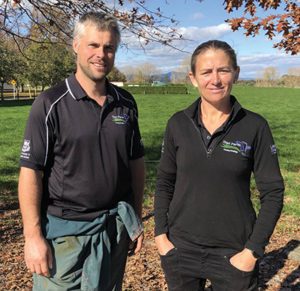 "They focused on reaching BCS targets at the cow level instead of averages, and now they look at both the average and the distribution and work hard to achieve a successful outcome in both areas. They have also worked on tweaking their transition management – minimising BCS loss between calving and mating, which helps significantly too."
Getting the fundamentals right means they can now shift their focus to other elements of the reproduction programme, which also fits with their ethos to show industry leadership as a demonstration farm. Reducing bobby numbers, achieving a better financial return from the excess calves, and improving staff welfare are all targets.
M. bovis and looking after staff health and safety were both drivers for taking bulls out of the system and shifting to all-season AI.
"Last season we mated the top 80% of our herd to replacement AI and we used fresh sexed semen," says Tom.
"The bottom 20% were bred to either Hereford, short gestation crossbreed, or Wagyu sires. We use Hereford in the first week because we can get the most value from those beef calves at that first sale. After that everyone else starts sending their calves away and our price drops.

"Then we swap to short gestation dairy (SGL Dairy) to shift those week two calvers into week one. We get less for the calf but we get an extra 10 to 14 days of milk. Then we swap over to Wagyu – we have a contract with Firstlight. In the future we are considering using AI on the heifers too –  the top 50% for keeping and the rest would be put to Wagyu.
"The cash returns from Wagyu calves should be a lot higher and we will have a lot less bobbies, reducing down to 5-10%. So that should be easier, there will just be a few more that they need to feed longer on a daily basis."
The other new strategy they have introduced is sexed fresh semen. "We are trying to get more replacement heifers in a shorter period," says Tom.
"It started a bit late last season so we will have a few bobbies in the first week but LIC have recognised that people want it available on day one so this year sexed semen will be available on 25th September.
"An extra 9% of cows in six weeks makes a big difference to our peak milk production"
"We found that the conception rate was the same between normal and sexed semen, 52%. Our aim is to get that closer to 60%."
A comprehensive mating plan, with buy-in from staff, heat detection training, regular time off and good historical herd reproduction results, are important before embarking on full season AI.
"Everything got a metricheck, we do individual BCS and any cows that are struggling are put on OAD. We use Metacam on mastitis cows through August. This is to reduce the swelling from the infection, which studies have shown helps to increase the conception rate.
"It is important to touch up your tail paint and we use Kamars and LIC heat patches as well. We also do in paddock checks, add any cows we identify to the draft list and recheck them in the morning."
"People have to prove their worth by having the right reproduction results – a six-week in-calf rate over 70%," says Jair.
"If you get the basics right the reproduction results from all-season AI, compared with using bulls, are not that different. You do need to be good at identifying cows on heat and this does get difficult as mating progresses – there is a quick drop in the number of cows that are sexually active, things become less obvious and people get tired."
The successful results from last season's mating have given Owl Farm the confidence to continue with the strategies they have put in place in the coming season, with some tweaks.
FARM FACTS:
Farm Owners: St Peter's School
Industry partners: Lincoln University, LIC, PGG Wrightson Seeds, DairyNZ, Ballance Agri-Nutrients, Farm Source, Westpac
Demonstration manager: Jo Sheridan
Farm manager: Tom Buckley
Location: Cambridge, Waikato
Area: 148ha (eff)
Cows: 420 crossbred
Production: 168,000kg MS
3 week submission rate: 91%
6 week in-calf rate: 74%
Not in-calf rate: 10%