For many farmers, protecting calves against coccidiosis involves giving a separate treatment at weaning. Or it can mean the hassle of selectively dosing animals and leaving an opportunity for the infection to cause harm in those that have not been treated. Both options can be a significant cost in time or money. Now New Zealand-owned Alleva Animal Health has created Turbo® Initial, an all-in-one world-first oral drench which provides weaned calves with broad-spectrum worm parasite coverage as well as helping to protect against coccidiosis.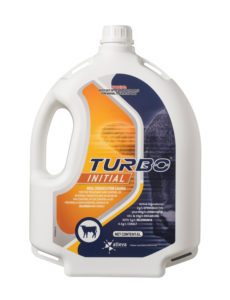 It is specifically designed to bridge the "immunity gap" after calves come off coccidiostat-treated meal and before their natural coccidiosis immunity has developed. This is when they are particularly vulnerable to infection.
Pahiatua farmer Richard Murfitt trialled the product last season and believes the switch is a 'bit of a no brainer' considering how well it works. It's also cut the administration time by half as a separate treatment for coccidiosis isn't required.
"I see it as good insurance really. It's very easy, works well and we are happy with the transition."
Turbo® Initial is the first product in the 3-stage Turbo® parasite control programme for growing cattle and is developed using the most effective ingredients for higher potency, better safety and coverage of key parasites at the right times – including resistant strains.
The second product, Turbo® Advance, is an oral drench targeting cattle in their second stage of growth after coccidiosis immunity has emerged. It is also suitable to use on cattle under 120kg. Stage three then provides two treatment options depending on preference. Turbo® Pour-on uses the DMI-Sorb™ rain resistant technology created by Alleva to meet NZ's unruly weather conditions, while Turbo® Injection uses the Alleva Co-mectin™ formula of Eprinomectin and Ivermectin combined with Levamisole.
More? See www.alleva.co.nz