International food and drink giant Nestlé has big plans to cut its greenhouse gas emissions. Elaine Fisher writes.
Nestlé wants to achieve net zero emissions by 2050 and needs New Zealand dairy farmers' help to get there.
That's because two-thirds of Nestlé's emissions come from the ingredients it sources, and about half of that – 34 million tonnes of C02e – from dairy and livestock, mostly dairy, director corporate affairs and sustainability Nestlé Oceania Margaret Stuart says.
The world's largest food and beverage company needs NZ farmers, along with all its suppliers internationally, to cut emissions if it is to halve its greenhouse gas (GHG) emissions by 2030 and achieve net zero by 2050.
"The need to address climate change is urgent. It requires collaboration and action from business, from communities and from government. None of us can wait. The dairy industry, like every other industry, needs to accelerate transformation to benefit local communities, customers and the environment," Margaret says.
Nestlé has been buying NZ dairy products for more than 100 years.
"The dairy ingredients we buy from Fonterra and other New Zealand suppliers go into a wide range of products, including Milo, medical nutrition products, and infant formula.
"Fonterra is an important player within the global dairy industry, and an important supplier to Nestlé. That's why we're keen to work with them as we work to reduce the Scope 3 emissions associated with our business." Scope 3 emissions are those not produced directly by the company itself, but by its suppliers.
In response to the question of whether a carbon-neutral status would become mandatory for milk companies and farmers supplying Nestlé Margaret says: "In practical terms we can anticipate dairy farmers and dairy processors having to report verifiable improvements – just as Nestlé is doing in our reporting now.
"We believe dairy products are and will continue to be important in the future, and we have the ambition of moving as close as possible to net zero emissions for the dairy industry.
"Continuous improvement of the carbon emission factor intensity is already needed today. It is in the interest of the dairy farmer and the industry to practically and verifiably demonstrate that it is part of the solution."
However, Margaret acknowledges it is unlikely that most dairy farms will achieve net zero emissions in the near future.
"The solutions will mature over time. While we have very ambitious targets, net zero does not have to happen just yet."
Late last year Nestlé signed an agreement with Fonterra to start NZ's first pilot net zero carbon emissions dairy farm. The project, which is already underway, involves changes in effluent management, fertiliser and feed inputs as well as animal welfare standards and farm profitability.
"We are still in the infancy stage however the objective is to scale up these learnings and best practices from the pilot farm to accelerate the overall carbon reduction on dairy farms."
The pilot farm project should help identify challenges and gaps that need to be closed and allow solutions to be tested in a practical environment. In addition to the pilot farm, Nestlé is also working with Fonterra on a programme to assist 50 farmers on the path to reduce emissions. Internationally Nestlé is involved in more than 100 climate projects with dairy farmers around the world and intends to share the outcomes from those projects to encourage wider industry transformation.
"For Nestlé, projects like this, which aim to explore ways for farms to reduce emissions, are an important way for us to co-develop pathways to reduce emissions which will be accepted by farmers and wider stakeholders.
"We must do this in different geographies, particularly acknowledging that dairy farms differ so much between regions, between countries, and between farming systems. We hope that by initiating this kind of work we can have farmers talking to farmers, demonstrating practically what works and helping to build understanding of the implications this change may bring for their own operations."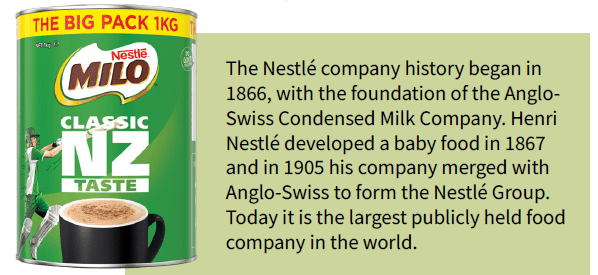 Nestlé recycling
One of the New Zealand dairy industry's biggest customers is taking a proactive approach to make recycling of its food wrappers easier for consumers.
As part of Nestlé's commitment to have its packaging 100% recyclable, the KitKat chocolate bar, one of Nestle's best-known products, is now packed in wrappers using 30% recycled plastic.
Margaret Stuart director corporate affairs and sustainability, Nestlé Oceania says this is a first in NZ and Australia and for Nestlé globally.
"If we can find ways to turn waste into a resource, through rethinking recycling, we can make a genuine difference." The vision, she says, is that none of Nestlé's packaging ends up in landfill, oceans, lakes or rivers.
The company is also rolling out the Australasian Recycling Label (ARL) on its products in NZ as well as Australia to help consumers identify what can be recycled.
"A look at what's across supermarket shelves now will show that there are many confusing labels on packs. As well, many people think – incorrectly – that the Plastics Identification Code on a pack means that the pack is recyclable – it definitely doesn't!
"The Australasian Recycling Label takes into account not just the material the pack is made of, but other factors such as its size, shape and colour, which also affect whether a pack can be sorted correctly for recycling.
"It's a voluntary scheme, but more and more companies are taking it up. While it's been designed with the consumer in mind, with the pack in their hand wondering what bin to put it in, there have been benefits for us as well, as it's helped us to understand the changes we need to make to our packaging to make sure that it is designed to be recycled."
The KitKat pack The Dairy Exporter purchased displayed a "Soft Plastic Recycling" logo and the website address www. recycling.kiwi.nz
The website has the following information: "NZ Post are working with Soft Plastic Recycling and Future Post to make it easier for you to recycle your soft plastics and turn them into fence posts.
NZ Post are providing a specific courier bag (recycled of course!) that you can purchase and fill (www.nzpost.co.nz/ shop/soft-plastic-recycling/ soft-plastic-recycle-bag), and then book a courier for pickup (www.nzpost.co.nz/tools/ bookapickup/address), helping you recycle.
"Now your plastic doesn't just have a past life, it has a future too…."