Seaweed farmers looking to help support livestock methane reduction targets say they are missing out on industry and government support. Story by Karen Trebilcock.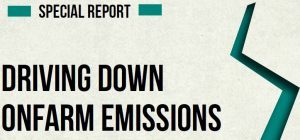 It's easy to hear the frustration in Nigel Little's voice.
As CH4 Aotearoa establishes four asparagopsis pilot farms in the Marlborough Sounds and Tasman Bay, there is still no plea for their product.
Sure asparagopsis, the red seaweed, has been proven to reduce methane production by cows by up to 90% but so far it's not required to be fed by any New Zealand dairy or meat processor, or the government.
And with no incentives or cost savings, he says it's understandable farmers are not that interested.
"When they hear about it everyone gets excited, but the reality is there is a lot of talk about reducing methane but no action," the CH4 Aotearoa general manager says.
"We've got a product that can stop climate change right when we're at the tipping point and the government doesn't want to know us.
"In fact, MPI is proposing to reclassify it as a vet medicine when cows have been eating seaweed for as long as they've been grazing coastal areas."
Trial work required if the reclassification happened would take years and cost hundreds of thousands of dollars before the product would finally get to where it is needed – into the mouths of New Zealand's dairy cows, he says.
With the four pilot seaweed farms up and running, there will be enough asparagopsis available to address cattle in NZ feedlots by the end of the year and by mid next year it could be introduced to in-shed feeding on dairy farms.
"We're also working with DairyNZ and AgResearch on pasture-fed dairy trials, but these are still in their early stages."

With cows on pasture diets producing more methane than cows on grain, the gains will only be fully seen then.
"Cattle need as little as 50g a day for it to be effective and we're targeting a gross cost to the farmer of $2/cow/ day but farmers shouldn't have to bear this cost.
"Processors should be incentivising farmers to feed it to their cattle so that it is a neutral cost to the farmer, but everyone is waiting for what the government is going to do and what sort of greenhouse gas scheme there's going to be for agriculture.
"This is either going to be the biggest aquaculture export story for New Zealand, because the rest of the world does want it, or the best way to reduce our own methane emissions."
Asparagopsis (featured on TVNZ's Country Calendar in April) contains higher levels of bromoform than other seaweeds, which is thought to be the main mechanism, within a bromine system, driving reductions in methane emissions.
"Through our collaboration with world-class independent research institutions including NIWA and the University of Otago here in New Zealand, and CSIRO in Australia, we have proved that asparagopsis feedlot supplements work in dramatically cutting agricultural methane emissions."
It works by interfering with the production of methane by methanogens which are the methane making bacteria found in the rumen.
Any google search will show bromoform is toxic and a probable human carcinogenic but we're exposed to bromoform daily as it's found in most drinking water worldwide plus it's in the sea.
At the low levels needed for reducing methane in a cow's rumen, research so far is showing it's not a problem.
Waikato University senior research fellow Marie Magnusson, lead writer of a scientific paper published this year, "Benefits and risks of including the bromoform containing seaweed Asparagopsis in feed for the reduction of methane production from ruminants" said when used as a methane inhibitor in ruminants, elevated levels of bromoform hadn't been found either in cows or their milk.
She and two others of the paper's nine authors are co-inventors on patents relating to the use of asparagopsis for methane mitigation.
The paper said for bromoform to be a health problem, it would have to somehow enter the animal's bloodstream. When used as a feed additive, it is instead broken down in the rumen as part of the process of lowering the cow's methane emissions.
Research in Europe has been more sceptical claiming bromoform was found in the milk and urine of cattle following feeding and it's also been linked to abnormalities in the rumen wall of sheep.
"The research conducted in the Netherlands appeared to be designed to fail," Nigel says. "For instance, similar levels of bromoform were found in some of the control animals and the cattle were fed much more than the recommended dosage as a percentage of their feed intake."
As to what happens in the rumen to what would have been made into methane, no one completely knows.
Instead of forming CH4 (methane), the hydrogen atoms bind into H2 and what occurs to it from then on is still to be figured out but the potential is there for a feed gain or a feed loss.
The Waikato University research paper concluded more study was required. In New Zealand, CH4 Aotearoa is attracting big investors such as Sir Stephen Tindall, founder of the Warehouse Group.
CH4 Aotearoa is part of CH4 Global, which was founded in NZ at the end of 2018. There are offices in Auckland as well as Australia and the United States. Its projected worth in five years is more than USD$200 million, according to its website.
CH4 Global estimates 20 hectares of marine space growing asparagopsis will produce enough product for 10,000 cattle.
With the learnings over the last year from seeding, growing and harvesting of the seaweed at CH4 Aotearoa's research farm in Stewart Island's Big Glory Bay, the push is now on for the operations in the Marlborough Sounds and Tasman Bay.
"Stewart Island's remoteness, weather conditions and limited water space made us decide to shift the focus to the top of the south," Nigel says.
The harvested seaweed is currently freeze dried into a powdered material and distributed in a chilled supply chain, but ambient shelf-life trials are underway.
"We're also working with DairyNZ and AgResearch on pasture-fed dairy trials, but these are still in their early stages."