After a difficult upbringing, Ben Purua speaks to Alex Lond about how farming provided him with opportunities he never believed he would be privy to only a few years ago.
The path to managing a dairy farm has been far from smooth for Ahuwhenua Trophy Young Farmer finalist 26-year-old Ben Purua.
After a tough start to life and serving time in prison, farming gave him the opportunity to better himself and he hasn't looked back. Not a stranger to a challenge, Ben has previously entered the New Zealand Dairy Industry Awards three times and his efforts have been recognised with awards for his leadership skills and financial planning achievements. However, the Ahuwhenua Trophy was a contest close to his heart.
"I'd never heard of the Ahuwhenua Trophy before it was recommended to me by the Dairy NZ Māori agribusiness specialist Hemi Dawson.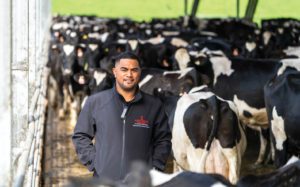 "After learning the whakapapa behind the awards, I realised how much I could relate to the purpose: it's more about who you are and what you want to achieve from farming, rather than just your knowledge and ability to talk numbers."
Ben couldn't believe how he'd never heard about the competition before entering. Immersed in his own Māori culture, he believes that the Ahuwhenua Trophy needs more advertising as an amazing opportunity for young people to develop and advance their passion for farming, as well as talking to like-minded people about working as a young Māori in the industry.
Detailing how he has learned from his own children how crucial social media is in terms of interacting with the younger generation, Ben hopes the future of the trophy gets better publicity and engagement through previous finalists like himself.
After entering the young farmer area of the competition in his last eligible year, one of his goals is to be able to enter his own Māori trust farm and take home the trophy, something that seems very achievable given how far he has already come since he began farming four years ago.
Growing up in town, Ben had to learn everything he knew from scratch. After learning how to fence during his time in Waikeria prison, he tried concreting, building, and even working in a sawmill before realising that his passion lay in dairy. He always had the challenge of his criminal record when it came to applying for jobs, but he never let it hold him back.
"I found that lots of people won't even look at you if you have a criminal record, but it's the ones who see past that who make a difference. I've been given some amazing opportunities by my previous and current employers, and it's changed my life."
Talking about his time in prison and his difficult upbringing, Ben spoke of how his main mission in life now is to help people like him to improve their life after prison. He and his wife Nikki are involved in numerous organisations helping people coming out of prison to get into farming.
As well as working with DairyNZ making monthly visits to prisons with potential employers in a "return to work" scheme, Nikki and Ben have plans to invest in a farm where prisoners can go to learn the ropes before full time employment. Referring to this as a "transition farm", Ben explained how providing prisoners with this option rather than putting them straight into full time work with new employers would allow ex-inmates to prove their worth before employers commit.
"I am proof that people can change. I enter awards so that people can see that even those with a background like mine can go far. I want others to see how many things you can become in this lifestyle – one day you're a mechanic, the next you're a vet. The opportunities are endless."
Ben has hit the ground running this season with his first managing role on a 540-cow dairy farm just outside of Tirau in the South Waikato. A system 5 farm with a high stocking rate of predominantly Friesian cows, Ben is relishing the challenge of a new routine, with just one staff member and the farm owner on hand to help.
Moving on to an autumn-calving farm during winter has allowed him to ease into the position, and with sexed semen being used at the last mating he is hoping to reap the rewards come calving.
"With the export market on the way out, we will be raising our own Friesian bull calves this coming season.
Hopefully the use of sexed semen will provide us with enough replacement heifers while significantly reducing the amount of bobby calves."
Despite having achieved so much already since they started farming, Ben and Nikki have ample goals for themselves. The main one is advancing their social media entity 'FarmUpNZ', a Facebook group created by them to give people an insight into the farming lifestyle, the ups and downs and all the reasons why they love it so much. The page includes tips and tricks on all elements of farming, including having a good attitude, dealing with disappointment and how your own reactions reflect on others. It also provides 24-hour support for people from all walks of life, and they're hoping to be able to aid anyone who feels inspired to get into farming after seeing their content.
Other ambitions include liaising with the police for rehabilitation programmes for prisoners, as well as increasing their involvement in areas such as the E Tu Matua Program, which targets men who are involved in or going through domestic violence. Last, but by no means least, their goal is to own a dairy farm and have the ability to employ hard-working people who might be overlooked by other employers because of their difficult past.
"People from my sort of background want to see the change, not just hear about it. Farming is the only place I feel good, it feels like home, and I want more people to feel that."