Hayden and Alecia Lawrence have just spent two weeks on holiday in Australia in the middle of autumn calving leaving their herd manager to handle multiple autumn and spring mobs. The capacity to enjoy such freedom has come from making key investments, from an expensive farm dairy to using the free management tool Trello. Sheryl Haitana reports.
Hayden Lawrence is on the way to making himself redundant, with herd manager Kenneth Babas and milking assistant Glenda Hopkirk.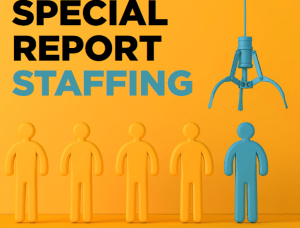 The ultimate goal as a farm owner is to make himself redundant, Hayden Lawrence says.
To become redundant from the day-to-day running of the farm allows him to focus on the wider business and other off-farm work opportunities.
"One of my bosses always told me that the goal was to make yourself redundant so you could put your time into the next step."
Hayden and Alecia bought their farm in their 30s seven years ago and have both been working full time on onfarm while raising their three children. The couple have set the farm up for the next stage of their career and in the last 12 months have felt the load get lighter as the systems and the people they've invested in have clicked into gear.
Alecia has returned to work as a cardiac nurse and Hayden is a trustee for Dairy Trust Taranaki and looking for other off-farm work opportunities.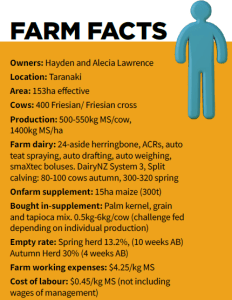 Before going dairy farming, Hayden completed a PhD in precision agriculture and undertook the development and rollout of the Rapid Pasture Meter, for which he holds the patent.
"We are still consolidating, but the last 12 months things have been going quite well. For me I see I've got more opportunities outside the farm gate rather than multiple farm ownership.
"When I do things I like to do them well. I don't want to spread myself too thin."
Hayden's herd manager Kenneth Babas has been working for them for four years and is a key cog in the running of the farm and integral to their decision to be more off-farm.
The facilities and the technology Hayden and Alecia have put in place allows them to run the DairyNZ System 3 operation milking 400 cows split-calving with just Hayden and Kenneth. Hayden and Kenneth share the day-to-day workload onfarm, along with Glenda Hopkirk who does up to 20 hours a week milking. Hayden and Kenneth work on a 11 and 3 roster where weekends are milking only.
The new 24-aside double-up farm dairy has reduced milking time to less than two hours compared to the 4.5 hours it was taking in the old shed which allows them so many more hours in the day to do the rest of the farm work.
Hayden had been doing unsustainable hours, waking at 2.30am to fit in the nine hours of milking a day.
"It was not nice. I wasn't letting any of the staff start before 5am."
Having good facilities doesn't mean new facilities, but the decision to build a new shed was about efficiency, he says.
Hayden and Alecia also invested in smaXtec boluses two years ago and the key measures have already changed their management decisions and made it easier for staff. The three key measures taken from the boluses are temperature, activity and rumination.
The temperature alerts have helped reduce their antibiotic use for clinical mastitis by 60-70% this season, Hayden says. "If we get a high temperature the main disease will be mastitis."
The smaXtec is linked to the farm dairy technology so if there is a raised temperature the cups automatically cannot be put on a cow. Those cows are milked at the end of the milking so there is no cross-contamination.
"We carry rapid mastitis kits and strip the cows and if she has a high RMT then she goes into our organic treatment, which we use CEG from Truehealth."
If the mastitis turns clinical the cow is treated with antibiotics. The temperature alerts also give them up to 24 hours' warning when a cow is going to calve. Her temperature will drop and they draft the cows out when they come to the feedpad for maize silage.
It means they don't have to run a separate springer and a dry mob now which has been a big help in management and saving time.
"It has cut out our navel infections in calves because we can draft the cows out who then can calve on a nice green paddock with plenty of space.
"We are finding that by giving them that space that the calves are being mothered a lot better, they're getting that first feed of colostrum a lot better."
The herd is split calving, with two thirds calving in spring and the rest in autumn.
The autumn calvers get mated for four weeks with a 70% in-calf rate. The rest of the herd that doesn't get in calf does an 18-month lactation.
Hayden trialed 18-month lactations for his entire herd several years ago which was a big success, however, it meant every third winter the cows were dry and he wanted to maintain a winter milk contract.
"Ideally I would like to get to 50% split calving. That winter milk contract is key to us."
The cows are challenge-fed in the spring not on litres produced but rather on the basis of milk solids over their whole lactation, the total milk solids divided by their days in lactiation. The top 25% get up to 6kg of the palm kernel, grain and tapioca mix, and the bottom 25% get as little as 0.5kg.
"Feed is getting so expensive so we're just trying to push the more expensive feed through the cows who are giving it back into the vat."
Juggling autumn and spring mobs at the same time has driven them to use Trello to log jobs.
The management app has been an effective tool to
communicate better with Kenneth, Hayden says.
"I think when we got things on paper it was easier for him to understand me and made him more comfortable in bringing things up."
Jobs can be written up on Trello and people can show when they've done or put new jobs or management ideas in there.
For example it was Kenneth who came up with the idea to lock up 15ha of their steeper hill paddocks over summer and keep them for the autumn dry cows with deferred grazing, which again saves time because they shift them every 48 hours and don't have to feed out.
"It works great because the milkers used to drop when they went in those paddocks, now it's effectively standing hay."
Having a planner for all the farm jobs also makes them more aware of how much each task really takes and what needs to be prioritised.
"It's been good to improve job planning, when you can see what you have set out for the week."
The app also has a lot of other great components including feed management. When you have five different mobs with different mineral requirements daily, the directions can all be stored there and it's easy to work out, Hayden says.
"It's like your brain really. When you have each herd requiring something different every day you can't remember all of that."
Incorporating the app did require a change of mindset, he says. Rather than making 10 phone calls a day with staff to discuss jobs, it's been about driving them to look at Trello for the information.
"We also have a Whats App group to message each other during the day to update each other on jobs done."
There is no point investing in technology onfarm unless you're prepared to put the time into it to use it to its full potential, Hayden says.
"Technology is only as good as the people driving it. I'm mindful of putting technology in that you can't make a management decision from.
"One thing I hate hearing is people putting in technology for the next generation to use. You have to be careful of what you invest in and you've got to be invested in it."