A Southland equity partnership has taken out the 2018 Dairy Business of the Year Award with a 7.9% return on capital, $3.25/kg milksolids cost of production and an operating profit margin of 46.3%. Kate Robinson reports.
Fourteen years ago, Tim Montgomerie and Kevin Hall invested in a dairy farm in Southland. Today, the farm business is a successful equity partnership of four and has won the 2018 Dairy Business of the Year (DBOY) title.
MOBH Farm is an equity partnership between founding partners Tim and Kevin, who met when Kevin was managing Tim's farm in Cambridge before MOBH was established. They were later joined by Tim's school mate Mark Turnwald, and equity manager, Jodie Heaps. The business milks 680 cows on 265 hectares just out of Gore.
MOBH Farm was the overall supreme winner at the DBOY awards evening in New Plymouth in June, as well as taking home two category awards – Best Southland Farm Performance Award and Medium Input Farm with Best Financial Performance.
'An equity partnership structure is a way for younger dairy farmers to get some skin in the game as well as providing a succession plan option for farm owners looking to step back.'
Together, the four partners bring to the business a diverse range of expertise and breadth of skills, combined with the scale to run one of the most successful and profitable dairying operations in the country.
Mark is a former banker with great financial management skills and dairying experience. Kevin managed MOBH Farm for 10 years after owning a bread run in Auckland. He brings to the table hands-on farming experience, as well as sound business nous.
Ex-freezing worker Jodie is the farm's manager on the ground in Southland. At 31, he is the youngest of the partners, but has great local knowledge and contacts, coupled with solid farming experience. Tim's focus is more strategic and analytical, with a passion for turning grass into milk.
Tim has been dairy farming for 30 years and today is sharemilking two farms near Cambridge. He says the most satisfying thing about the business is that it has enabled two partners from non-farming backgrounds to realise their dream of farm ownership.
"Farm ownership is becoming increasingly difficult to attain," he says. "An equity partnership structure is a way for younger dairy farmers to get some skin in the game as well as providing a succession plan option for farm owners looking to step back."
MOBH Farm equity manager Jodie Heaps worked for three seasons on the farm for Tim and Kevin before they offered him the opportunity to buy into the business and manage the farm.
"At the time, it was an opportunity for me to grow my farming career and equity at the same time," he says.
"Farm ownership is difficult to achieve these days. The equity partnership with MOBH Farm just happened to be the opportunity that came my way, as opposed to contract milking. I have learnt from all the partners in some way or other over the years."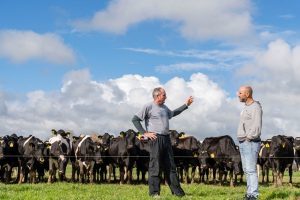 Importance of good governance
As the partnership has grown, Mark Turnwald says the need for governance has become even more important.
"Recording, monitoring and decision making needs to be robust and documented," he says. "We have an annual shareholders' meeting in March each year to review and update our policy documents.
"We look at the season ending and come up with a physical plan for the season ahead, which includes target production, staffing, breeding, fertiliser, cropping, and any capital spending required onfarm. Our financial budget then supports that plan.
"Even though Jodie runs the business day to day, we've got pretty tight guidelines around spending. It's not about controlling Jodie, but rather ensuring we have the right processes in place for any decision making and ensuring it's evidence based."
MOBH Farm uses Figured and Xero software for budgeting, forecasting and tracking livestock, cropping and production. This enables Mark to keep all the equity partners up-to-date, including the farm's bank manager and accountant in Hamilton.
The partnership also has a documented exit strategy to protect the business and its investors.
"The structure of our business enables us to change our shareholding at any stage," Mark says. "If a partner wanted to sell his share in the business we have a 1, 2, 3 process set up with the shares first being offered to the other shareholders on a pro-rata basis."
Learning from the competition
DBOY provides farmers the opportunity to undertake a high-level analysis of the KPIs within their business that drive profitability, resilience and sustainability, while benchmarking themselves against counterparts.
This year's DBOY analysis was based on farm data from the 2016-17 season. MOBH Farm produced 1247kg milksolids (MS)/ha with cost of production at $3.25/kg MS. The payout for Fonterra suppliers at that time was $6.12/kg MS compared to $3.90/kg MS the previous season.
The judges said the farm's focus on cost control was evident in its below-average core cost per cow of $746, with core pasture cost of $231/tonne of drymatter (DM) even better than the top 10% in Southland. They said this meant MOBH Farm was maintaining its cows and pasture without excessive expense, which was driving profitability.
They also said this low cost of production coupled with a high operating profit margin of 46.3% meant the farm business is low risk. The judges said this enables good profitability across a range of payouts and provides a buffer for unusual climatic conditions, enhancing resilience.
Kevin says that like most farming business, MOBH Farm was jolted by the payout slump and they had to be ruthless about cutting costs.
"We looked at the whole business to find areas where we could save money, such as fertiliser, where we did soil testing and more strategic placement. We did four weeks of AI instead of five and deferred $30K of race maintenance.
"We sacrificed expenses, but not at the cost of production. Everyone was on the same playing field, but our production was there.
"Through those tough times you have to have confidence in what you're doing, focus on your costs and not let your farm working expenses get out of hand.
"Our focus on cost control has continued and we have been able to maintain that discipline through subsequent seasons, which is why our results have been so good."
Highest ROC and biological efficiency
MOBH Farm's return on capital (ROC) was 7.9% – the highest of the DBOY finalists by 1.4%.
ROC is the single biggest measure of business performance. DBOY judges said this result was excellent primarily as a result of tight cost control extracting maximum profit from a reasonable income per hectare.
Tim says when people talk about ROC in dairying they often don't recognise the value of land.
"As land has become more expensive, it's eroded that percentage return on capital," he says. "ROC drives your inherent decision and desire to retain your investment, but for us it's not just about the 7.9%. We're happy with what we're doing, we're good at it and it's yielding a return we're comfortable with."
Despite performing well in most areas, MOBH Farm's equity position is comparatively low compared to the Southland average. The judges said this indicates a lack of solvency and vulnerability to fluctuations in land price, milk payout, interest rates and farm performance.
"We'll definitely be looking at improving our equity position in the business and repaying as much debt as we can so we can make the most of any future opportunities that arise," Tim says.
MOBH Farm's milk production per cow was the highest of all the DBOY finalists at 486kg MS.
The judges said this figure is very high especially given there weren't any concentrates used. They said this makes the biological efficiency of MOBH Farm high and helps mitigate its environmental impact.
"When we started in Southland, we learnt pretty quickly that per cow production was more important than in the Waikato because of wintering costs," Tim says. "You've got that fixed cost of carrying your cows that you haven't got in other dairying regions.
"Per cow production shouldn't be underestimated given the system we operate. However, we don't strive for it per se. We look at the total production we're targeting and make sure we have enough cows to achieve that production. We've also made improvements in our breeding going from a Holstein herd to crossbred."
Days-in-milk correlation
Tim says there is a strong correlation between days in milk and the bottom line.
"Our herd lactation is longer than the Southland average. We work hard to support the start and end of the season to get a few more days in milk and that's where that extra production per cow comes from. She's not making much money if she isn't going through that shed."
MOBH Farm has always been focused on growing and harvesting as much pasture as possible. In 2016/17, pasture made up almost 82% of total feed, with 12.3t DM/ha harvested.
"Growing pasture is all about getting your residuals and fertiliser right and we pride ourselves on attention to detail in this area," Tim says. "Being flexible at management level day-to-day is crucial. Jodie is skilled at reading the situation and changing his paddock choice or break size depending on the weather."
Jodie and his team use a C-Dax tow-behind to measure pasture growth and residuals each week. It takes about two hours to complete the whole farm, which is set up so that all the back gates have bungies they can drive straight under.
"Our pasture harvested is pretty respectable for Southland, but there is definitely scope to grow and harvest more," Tim says. "Essentially it's free as we own the land – it's an overhead that is fixed. That's why the correlation between pasture harvested and profitability is so close."
MOBH Farm also grows fodder beet on the dairy farm to use as a transitional tool. Tim acknowledges it is a relatively risky crop for dairy cows in terms of toxicity.
"We reduce that risk by using it at the end of the season to transition our herd and retain a portion of it for our springer cows on their return.
"Our philosophy is to feed the most of your cheapest feed first, which is nitrogen-grown pasture. It's important to know the unit cost of every feed type so you can make informed decisions."
Mitigating M bovis
MOBH Farm bought its 134ha run-off block about four years ago and it is proving to be a valuable asset, especially when it comes to mitigating the threat of Mycoplasma bovis.
"With our run-off only 8km from the dairy farm, we are completely self-contained," Tim says. "We grow winter crops like fodder beet, and cows are wintered there in mobs of 100. We also use it for rearing all our young stock.
"While with M bovis it's turned out to be a huge biosecurity advantage, it has always enabled us to insulate ourselves from variances in feed costs, wintering costs, and grazing quality variability. We also have the option of bringing supplement back to the dairy platform.
"Having our own run-off gives us flexibility too, such as in 2016/17 when we decided to bring all our replacements back to the dairy farm to save topping and help with pasture control."
MOBH Farm also leases an adjacent 80ha block of land, which accounts for 20% of its milking platform. Tim says the cost of leasing the land is less than the cost of land they own.
"The lease block certainly enhances our financial performance because we generate a stronger cashflow from it. Our unit cost of feed in cents per kilogram of drymatter is a lot less than our own farm."
A team-led team
Jodie leads a team of three staff onfarm and says staff retention on MOBH Farm has always been good.
"We're lucky because of our location on State Highway 1 about five minutes from Gore," he says. "We were running a 12-2 roster, but feedback from our team saw us move to 7:1 and 4:2 roster. We also have to remember that we're competing with other industries for staff, so we need to make it as attractive as possible for young people coming in to dairying.
"Our set-up enables us to offer our staff opportunities to progress and we encourage that as much as we can. We also don't mind them leaving if they're progressing. But if they're leaving to go to the same role on another farm then we have to ask ourselves some tough questions."
When it comes to the environment, MOBH Farm had all its waterways fenced by 2009. The partners were also proud to have the farm's 10-year consent renewed by Environment Southland recently. The terms of the consent include increasing the farm's effluent application area to target more appropriate soil types.
This was the third time MOBH Farm has entered the DBOY competition. Tim says the benchmarking has been invaluable and they now have a comprehensive set of data that can be analysed and modelled to make sure they are hitting the "sweet spot".
"Retrospectively, having won this award, we can't be too far from that sweet spot," he says. "However, we will still be reviewing our system, looking at opportunities, and fine tuning and consolidating our operation."
DBOY 2018 Key Performance Indicators – MOBH Farm
Milk production          486 kg MS/cow
KgMS per ha   1247MS/ha
Return on Capital        7.9%
Operating Profit Margin         46.3%
Operating Profit per ha           $4,050
Cost of Production per kg MS            $3.25
Operating Expenses per kgMS           $3.77
Pasture Harvest           ed 12.30t DM/ha
Pasture as % of feed    81.8%
Core per cow costs      $746
Labour efficiency        175 cows/FTE
Environmental Score 10/15
HR score         7.6/15
Key farm facts 2016/17 season
Location: Gore, Southland
Equity Partners: Tim Montgomerie, Kevin Hall, Mark Turnwald and Jodie Heaps (manager)
Area    265.3ha effective
Staff    4 FTEs
Herd    680 crossbred
Production
2016/17 330,480kg MS
2017/18 – 315,343 kg MS
2018/19 Target – 335,000kg MS
Average SCC 207,000
Breeding
4 weeks AI. Bull duration
Empty rate 10%.
CIDRs
Animal health: Teat sealed heifers. Dry cow therapy.
Supplements/Crops
Palm kernel 30t, Fodder beet – dairy farm 5ha, run-off 20ha
Molasses 5T via in-shed feeders.
Feed pad.
Dairy: 50-bale rotary, ACRs, teat spray
Run-off: 134ha, 8km from dairy farm where herd is wintered and young stock reared
Lease land: 80ha, 20% of milking platform, adjacent to dairy farm