Anne Lee reports. Photos: Debbie Henderson.
A Canterbury family operation is on target with their triple bottom line.
THE 36% NITROGEN LOSS reductions farmers in the Hinds/ Hekeao catchment must make over coming years may feel daunting to many, but the Everest family's ability to have already hit the 2035 targets is shining a light on the path others may be able to take.
The family were named Canterbury Supreme winners of the Ballance Farm Environment Award and were recently named National Ambassadors for Sustainable Farming and Growing at the New Zealand Farm Environment Trust awards where they were also proud recipients of the Gordon Stephenson Trophy.
Phill and Jos Everest have featured in the Dairy Exporter before – most recently in August 2021 in their capacity as climate change ambassadors sharing how their actions onfarm have helped lower their greenhouse gas (GHG) emissions.
At their recent field day the next generation, son Paul and his partner Sarah Hayman, joined them in stepping up to talk about the numerous ways they strive to give the planet an equal footing with people and profit when it comes to the triple bottom line.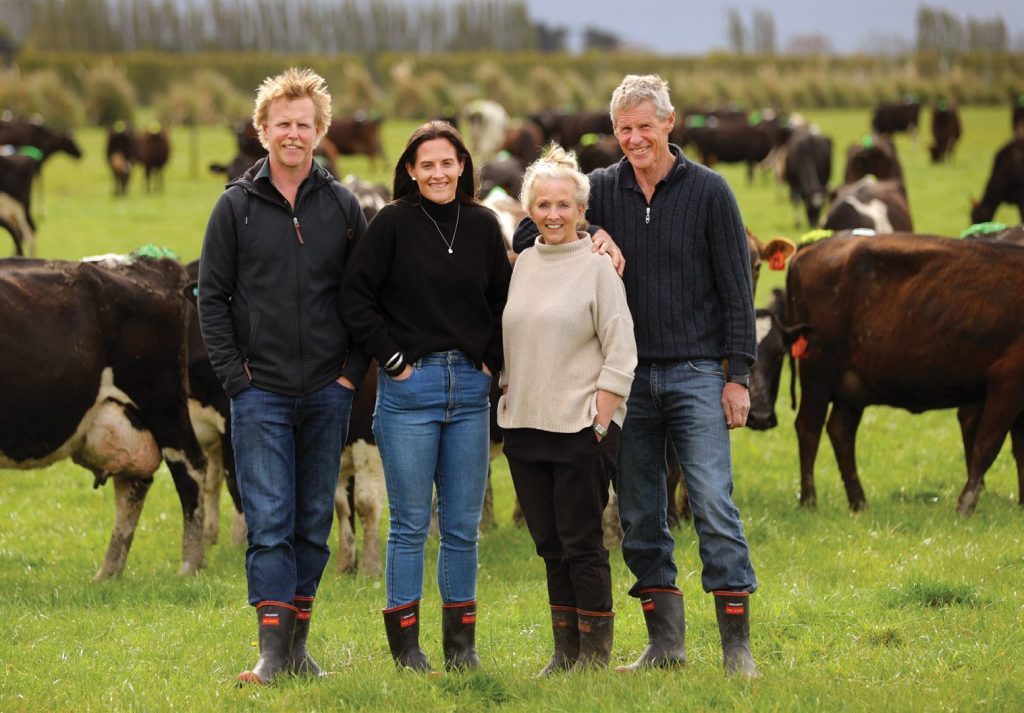 Sarah is the environmental manager for the Ashburton Lyndhurst irrigation scheme and together with Paul the pair are now equity partners in the 273-hectare property Flemington Farm.
Phill is a well-respected, long-time farm consultant in the region and he and Jos have implemented practices that have a sound grounding in science. But they haven't been afraid to put some practices to the test to ensure they are working at a farm level, something Paul and Sarah are continuing to do.
Situated to the southeast of Ashburton the soils are atypical of most of Canterbury in that they are heavy and clay-based. Historically the land has been heavily tile-drained with regional council surface drains also running through the farm.
"We recognise that managing those surface waterways and the tile drains is a key part of improving water quality so that's where a lot of emphasis goes on Flemington Farm," Sarah says.
They've set up water quality monitoring sites – sampling from groundwater wells, surface drains and water from tile drains.
Data, for both couples, is a top priority.

"Good information shows us where we are at in relation to our reduction targets but it also helps us with our management decisions on farm," Sarah says.
Phill and Jos began monitoring water quality in 2011 so the farm now has 12 years'' worth of data. (see table one.) Samples from last month show nitrate levels at all but one site – an open drain coming from further up the catchment – are below long-term averages.
"The Spicers Waterway level might be up because of heavy rain shortly before the sample or it could be that low flows at the time of sampling lifted the water temperature.
"We don't know exactly why, but having the data means we can keep an eye on it," Sarah says.
Carex secta have been extensively planted along the open drains and testing of water quality in 100 metres of the drain, where it's been planted on either side of the drain, has shown a 3.03% drop in nitrate concentration.
Phill says the carex appear to be good at intercepting nutrients but also offer shade to the waterway to keep water temperatures down and further enhance stream health.

Nitrate concentration levels falling
Sarah says to put some of the numbers into context, under the regional plan for the catchment (Plan change 2) required nitrate concentration levels were put at 6.9mg N/litre but under the new National Policy Statement on Freshwater that level would be 2.4mg/ litre. New Zealand's drinking water standard is 11.3mg/litre.
The latest N loss figures as estimated by Overseer put the farm's potential leaching number at 18kg N/ha/ year. (table two.) That's 36% below the baseline loss figure – the average annual amount of N estimated to be potentially leached between 2009 and 2013. Like other farmers in the Hinds/ Hekaeo catchment, they are required to have a 15% reduction by 2025, a 25% reduction by 2030 and a 36% reduction by 2035.
They hit their 2035 requirement two years ago when the loss estimate was put at 18kg N/ha/year and last season the reduction was even better at 39% or 17kg N/ha/year.
It's likely that this year's slight increase back to 18 was a result of holding an extra 40 calves on a veal contract as part of a shift away from bobbies. Phill says the impact on the Overseer budget shows how careful farmers have to be not to swap out one issue for another.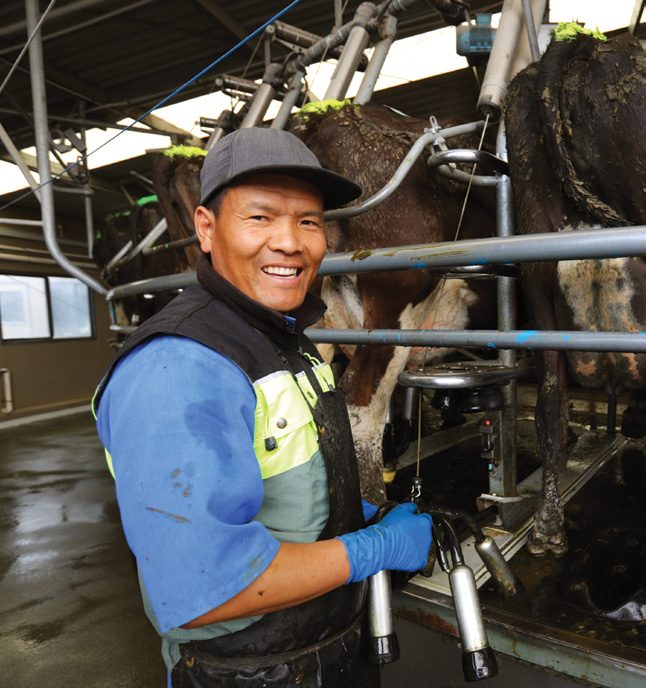 Reducing stocking rate
The family has gradually cut stocking rate over time from a peak of 780 cows and now milk 730 cows.
Peak milk production at the higher stocking rate was 375,000kg milk solids (MS) and this year they're tracking to do 360,000kg MS.
They milk off 224ha with some flexibility in the boundary with the support area on the home farm.
Cows are fed up to 300kg/cow of wheat in the farm dairy, which is run as a single-person milking operation with Protrack and automatic cup removers helping to streamline some of the work.
The effluent system includes a weeping wall to separate solids which are applied back to the wheat grown on the farm prior to it being sown.
Solids are also applied to the fodder beet paddocks prior to sowing with the fodder beet used for transition and to help extend the round in autumn.
The liquid effluent is applied through the largest of the three pivots used to irrigate the farm.
"We treat effluent as fertiliser because we know, because we've tested it, that it's giving us 5kg N/ha for every 1mm of effluent we apply," Paul says.
They're investigating upgrading the system so they can apply effluent through the other pivots to utilise the resource even more efficiently.
They have 50 days of effluent storage to ensure effluent isn't applied when soils are saturated.
No nitrogen is applied in May because of the increased risk in nitrate leaching as plant growth slows and rainfall rates increase through winter.
Their fertiliser ordering software allows them to include exclusion zones or areas where they want lower rates so they're able to have lower nitrogen application rates in the fronts of paddocks where cows tend to congregate and deposit their own nutrients.
They create buffer zones to ensure fertiliser is kept well away from drains and all urea, SustainN, is coated with a urease inhibitor to reduce volatilisation losses. Ammonium sulphate is used in the first round.
In earlier years nitrogen rates were up at the 230-250kg N/ha level but they have been tracking down steadily over more recent years.
Last season they applied 165kg N/ ha and this season, although the total is likely to be up slightly because of the difficult, cooler spring, rates will still be well under 190kg/ha on every paddock.
Paul says during those years of higher stocking rates and high N use they were running at fast grazing rounds – down to 17 days but lower stocking rates have also seen them extend their main season grazing rounds to 24 days stretching out to 27 days later in the summer.
"I think we've probably found our sweet spot but we have to manage it carefully to maintain quality and we do mow in front of cows to achieve that at times," he says.
The farm has soil moisture monitoring probes under each pivot to inform their irrigation scheduling decisions with the aim of managing soil moisture between stress point (for plants) and full point (for the soil).
That's a significant factor in limiting nitrogen losses through leaching – if the soil doesn't go over full point the drainage and leaching potential is minimised.
All of the irrigators are bucket tested annual to ensure they're operating as they should.
Plantain platform
Plantain is a significant tool to help cut nitrogen losses too.
Phill says a 15% Ecotain plantain content in pastures results in an 11% reduction in their Overseer number.
All renewed pastures are sown to achieve 30% plantain but Phill estimates content falls to 15% by year two or three.
To boost levels 1kg seed/ha is spread with annual capital fertiliser dressings.
Phill says that method works well although the seed doesn't spread the full width of the fertiliser and every second year it's a good idea to shift the spreader's track to get more even establishment.
The fodder beet grazed during the autumn also helps to reduce nitrogen losses.
The bulbs are lower protein than pasture, helping lower urinary nitrogen deposition on to pastures at a time that's high risk.
Flemington Farm is also a partner farm in a soil health project which is measuring soil health metrics across a conventionally run area and an area run using selective regenerative practices. It's another example of the family's eagerness to investigate what really happens in a practical farm setting and use independent scientific data to help other farmers carry out practices that will result in real benefits to the farm business and the environment.
Watch this space.