Jackie Harrigan
Jana Hocken is a woman on a mission to get Kiwi dairy farmers to embrace 'lean'. No, its not a weight loss programme, she laughs, saying she has to explain that misunderstanding a lot.
Lean is the holistic system of eliminating waste, saving time and cutting costs and creating a more productive, profitable and high quality farm, first developed by Toyota as the Toyota Production System in the 1950s.
Jana, a mechanical and process engineer by trade, has spent almost 20 years in the business of implementing and consulting on lean systems in most industry sectors around the world – including Toyota, mining, healthcare, finance and more recently farming businesses.
When she and Mat, her husband, transferred to New Zealand to settle on his family dairy farm in the Manawatu in 2013 she had no experience of farming – "I was a total city girl".
But having watched the farm staff rush to and fro completing their daily tasks she said 'it looked like a comedy show' and she thought there had to be a better way so she set about improving the processes and systems.
She has even written a book about it – The Lean Dairy Farm and thinks there are lessons for all farmers in developing lean processes.
"At the end of the day, farming is a process – you do the same tasks and encounter the same problems but you tend to get five different people doing things in five different ways – it's the perfect environment to bring in lean management."
While the Hockens have two dairy units – one with 450 cows and the other with 550 cows and a drystock block, and employ a team of seven (including a drystock manager) along with Mat – Jana says the basic systems and tenets of lean management can also be really useful for a one man operator or small team.
When Mat and Jana first came home and picked up the management reins she said they bedded in lots of basic business practices – inductions for new team members, health and safety procedures, automated accounting and payroll functions and then started thinking about how they could transform the operation into a lean farm.
Lean strategy #1: Visual management
Visual management boards (VMB) were the first strategy they used, starting a couple of years ago.
"The boards are about getting stuff out of farmers' heads and on to a wall, so the whole team can see it."
"Farmers are really good at juggling a hundred hats, all at once – but all the detail is in their heads – and they forget who has been told what – it creates lots of inefficiencies."
"Getting the info on to a whiteboard in a structured way means the farmer can feel like they have control – they know what's coming and what's happening, and the employees feel empowered by seeing what's going on, they can make decisions based on the data in front of them and feel like they are in the loop and part of the team."
Metrics on the boards cover cows, grass, shed, machinery, production, people and health and safety.
The information on the wall helps them structure everyone's week and plan for what's going on.
"By having everything on the board it's transparent, everyone knows what's going on, there is no second-guessing and doubting. It's a really powerful tool, it shows the central vision and purpose and helps to achieve goals," Jana says.
The information flows upwards, from the scheduled Monday pasture walk, metrics are updated on the board and information feeds into the Tuesday team meeting, followed closely by the management meeting. All staff are members of a What's App group, and photos of the boards are taken and posted out to the group so the whole team knows what's going on by Tuesday morning after the meetings.
From the farm dairy visualisation boards the information is aggregated and cascaded up to the farm office boards and because its available for all staff it cuts out a lot of unnecessary reporting and meetings and makes decision-making better and quicker.
"Having the metrics up on the board gives much greater consistency to how decisions are made," Mat says, "and we can also make more timely decisions – on Tuesday each week – and preserve our options."
Jana calls it 'total real-time fact-based decision-making'.
"In a real competitive fast-paced lean environment you might be having data-driven stand-up decision-making meetings daily or several times each day."
The transparency is important too – when you have the transparent data it makes having challenging conversations much easier, Jana says.
Lean is all about giving and taking feedback without it being personal and getting to the heart of the matter to enable continuous improvement.
The Hockens have seen huge people development using the lean system and coaching is important.
The farm team have to be engaged in the mission of the business and Mat and Jana got them involved early on.
"The team actually decided on what they wanted to see on the VMBs – we had butcher's paper and they drew up what they wanted to see, what we needed to record and how it would all work before we made them."
The paper reporting templates are being replaced by using the FarmIQ reporting system, a development the Hockens have been working on with the company.
Mat says reports from him to the team would be a waste of time – they already know it all from the boards and it saves lots of time not having to cover the same ground.
Lean strategy #2: Continuous improvement
Weekly whole-team continuous improvement (CI) meetings (Wednesday 9.30-10.30am) are for all staff to give input on any aspect of the farm that could be improved – copious post-it notes are filled in and relative merits of initiatives debated each meeting. Then any improvements are written up and embedded into the standardised procedures for each job.
"Lean is a journey, not a race – as long as each day you do one little thing better you are improving," Jana says.
"All the team want to achieve high standards – and the process of continuous improvement gives them the tools."
Monthly farm audits are a "pulse check" and carried out on each farm with a standard 60-point checklist including animal health, pastures, safety, shed checks and other metrics. Notes and photos help the reporting and the information on the score is fed to the team. The assistant manager has responsibility for taking action and implementing any improvements and friendly team rivalry pushes the improvements along.
A monthly Big Picture Breakfast for the team covers off how the monthly audits are going, and gives a bigger industry picture which Mat says gives context to the work they are doing and helps with the real cultural shift – engaging the team, listening, empowering, getting ideas and making suggestions both negative and positive to carry on the CI process.
Lean strategy #3: Standardisation
Creating standardised work practices for every job allowed the Hockens to break the work activities into standardised roles for their staff.
They now have a shed role (responsible for everything that goes on inside the shed – milk quality, hygiene, flow and maintenance) and a farm role (everything else out on the farm – cow movements, fences, breaks, water, feed) and an assistant manager role for each property.
The shed and farm roles are carried out for a month at a time which creates accountability and reduces stress.
Normal season standardised days and weeks and calving season standardised weeks have been detailed in half hour slots and reorganising the roles has allowed the whole farm team to transition to a five-on:two-off roster even through calving, employing a relief milker over the weekends.
"Everyone gets either Fri/Saturday or Sunday/Monday off, and that was a key thing for me – I think we need to make farming much more attractive and give our staff better work/life balance," Jana says.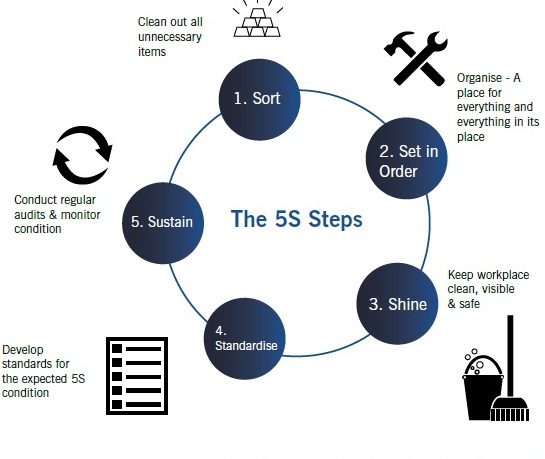 Lean strategy #4: Five S – Sort, Set in order, Shine, Standardise, Sustain
One of the central tenets of lean is basic workplace organisation which is an easy starting point, Jana says.
"It needs no investment – just organising the workplace, getting rid of clutter, having tools in the right place, keeping it clean – so everything has a home and everyone knows where to find it – it saves time, saves cost and saves frustration."
After years of plugging away on lean in manufacturing and other industries overseas, Jana is invigorated and amazed by the potential in the agriculture industry and the rate of uptake from farmers.
"I am doing lots of work with sheep and beef farmers and also dairy farmers from Ireland and the Netherlands."
They tend to be smaller teams but the same principles apply and there are heaps of positives to be gained from adopting lean strategies.
While saying they have lots of processes to streamline and continuous improvement to go in their own farm lean journey, Jana is hopeful they can turn their farm into a benchmark lean dairy farm for others to learn from.
The Hockens have been making videos and templates for others to access and posting about their journey. Check them out on Facebook at @LeanDairyFarm. The Lean Dairy Farm book is available from Paperplus and Whitcoulls and through online booksellers.
This article is free to view because it is a topic of high importance. This article was published in New Zealand Dairy Exporter magazine. For less than $10/month, you can receive this detailed information to help improve performance within your business. nzfarmlife.co.nz/country-wide/ 
Supporting New Zealand journalism.