By Jackie Harrigan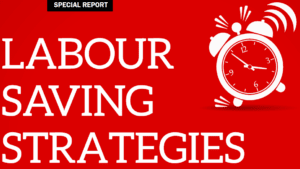 What if you had a simple way to get yourself an extra half an hour in bed each morning?
Logan Bowler and Cathy Craw use a programmable Batt-Latch to do just that.
When Cathy gets up she heads straight to the cow shed and starts cupping cows on their Marton dairy farm because their Batt-latch gate release timer is programmed to release the gate at the same time as the couple's alarm goes and the cows bring themselves up to the shed.
Any laggards are fetched by Logan once the first ones are milking, but allowing them to take their time means the system is great for preventing lame cows. The couple say they use the device up to four times each day in the summer supplement season – holding some of the cows up after the milking to allow them all to get a fair crack at the turnip crop as well as for the two milkings.
Even the dry cows get used to shifting themselves and Cathy says new users would be advised to start using it at the start of the season, the cows quickly get used to it and love the routine.
"We wouldn't be without it, although I would love to upgrade to the new model that you can control from your phone – that would be great on a rainy night to get them off the paddock to stop pugging," Cathy says.