Your path to 2030 and beyond
After a week of Fieldays events and E Tipu BOMA 2023 conference, Trish Rankin has never been more motivated to think about the path ahead for her family, farming business and agriculture.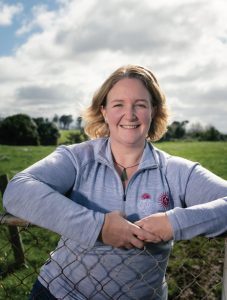 PATHS ARE LAID, ONE paving stone, brick or shovel-full of gravel at a time. There will be challenges to deal with, but the path has a purpose – to reach a destination while ideally enjoying the mahi.
Building the path for my family and sector has been my big ''aha'' moment over a very busy week of Agribusiness Agenda launch, SOPI (Situation Outlook Primary Industry) report presentations, meetings and the E Tipu BOMA conference.
Here are my top 10 takeaways:
Titled Energising a World of Anxiety, the 2023 KPMG Agribusiness Agenda identifies that while there is a myriad of opportunities in the sector, people struggle to connect with the future. People need hope and energy. Three themes emerged.
Step up Innovation.
Lead the Unconverted and
Invest in Defensible Trust.
This is a must-read for all farmers.
Things are not black and white. Be comfortable in the grey. Living in the grey means we are open to opportunities we may not have considered before. Decide what your grey is by knowing your personal values, community needs and sector aspirations and the part you play.
SOPI report – an annual snapshot of the Situation and Outlook for Primary Industries reads well. Agriculture exports are up: $53 billion, with $25b from dairy. Don't use this to reinforce thinking of "leave dairy farmers alone because we contribute so much to the economy". Use it to leverage/enable/educate/motivate dairy farmers, capture their hearts and minds for continuous improvement.
Field Days vibe – with inflation, interest rates, onfarm expenses, climate concerns, financial instability, labour challenges and fatigue there needs to be opportunities to connect, have a coffee with a neighbour, attend a catchment event and go to the community potluck like never before.
10, 100, or 500-year vision was referred to during the BOMA E Tipu conference in Christchurch and it resonated. What is your vision? What is your vision for the future of your children? What steps can you take to help achieve the 100-year vision for your family or the 500-year vision for your community/people/whanau/iwi/NZ?
Digital disruption and opportunities – Artificial Intelligence, Internet of Things, Socials, Blockchain, Big Data, Automation, Robots, Immersive Media, Mobile Tech, Cloud Computing…. Just the first 10 of 30 technologies emerging and required for future-proofing.
Spray drones – sign me up. Imagine owning a spray drone to target scotch thistles, using mapped software where it just takes off, sprays and comes back to base when the job is done. Muddy paddocks are still accessible. No wasted spray or disengaged team members.
A pessimist sees the difficulty in every opportunity; an optimist sees the opportunity in every difficulty. (Winston Churchill). Too often our sector is pessimistic.
Scentian bio – Dr Andrew Králíçek wowed us with how close he is to being able to replicate smell in a biosensor. Think breathing into your smartphone and being able to have a diagnosis of a disease or condition that may be undetectable or asymptomatic in the early stage. He is using the highly advanced smell biology of insects that can already do this.
Nanobiotechnology – Professor Oded Shoseyov has discovered a combination of collagen and resilin has amazing healing abilities. Picture a wound that is unable to heal or isn't responding to treatment.
This technology allows skin to replicate and heal faster than ever. Or think of a tendon or muscle or even an organ that can be printed new or repaired to be better and stronger than before.
The path ahead is what you make it. Work out how to navigate the obstacles, but don't let them stop you.