Align Farms has been running a regenerative versus conventional, half-and-half study on its Clareview Farm near Ashburton. Anne Lee went along to their December field day to catch up with how the first year of the study went and find out how this season is going.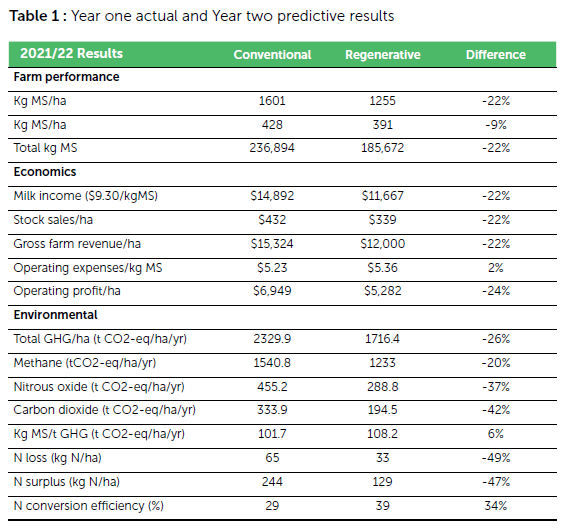 The environmental score card for the first full year of Align Farms' regenerative agriculture trial is impressive with a 26% drop in total greenhouse gas (GHG) emissions – unfortunately, though, operating profit took a similar hit.
With a review of how to manage and graze the diverse pastures, it looks like better news this season with the farm team on track to bring operating profit back up, close to par with the conventional side of the farm while still maintaining significantly lower GHG (21%) and nitrogen losses (31%).
Production is looking better too, with the farm team now more flexible with grazing management to maintain better quality in the diverse pastures.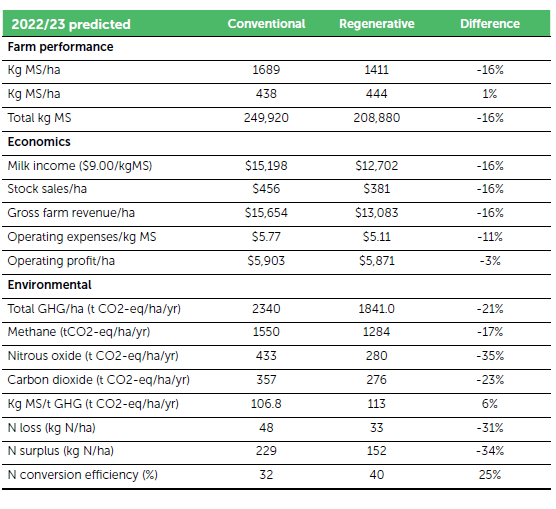 Despite receiving no urea or synthetic nitrogen fertiliser for four years, four of the diverse paddocks made up the top seven paddocks on the farm last year in terms of total drymatter production. Align chief executive Rhys Roberts says the study's aim is to find out what works and what doesn't and share that knowledge with the farming community to help shape a commercially successful version of regen practices that have their origins in the dust bowl of the United States.
"If there's going to be any uptake in our community we first and foremost need to ensure there is going to be an ability to be as profitable or increase profit.
"We're probably doing a bit of myth-busting along the way, but we're trying to find what the context is for NZ."
Last month they held a field-day that attracted more than 150 people including farmers, rural professionals and representatives from research organisations, government departments and regulators.
There was no sugarcoating the results with the farm's manager Kiri Roberts sharing just how difficult it is to run a large-scale dairy farm under two different sets of practices particularly as they tweak and modify the systems as they learn.
"There's a very clear rule book for conventional dairy farming but that's not the case for the regenerative side."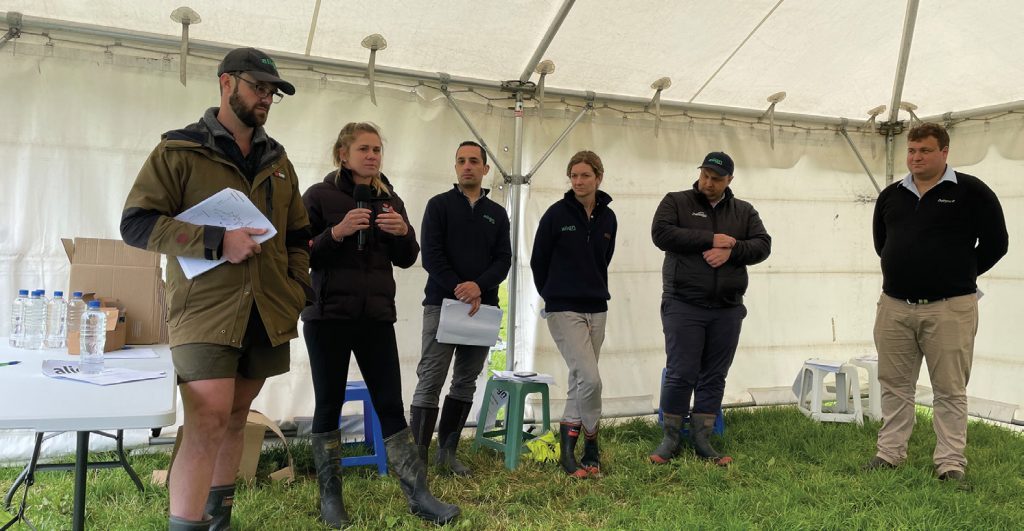 Rhys says by running the trial there's definitely an opportunity cost for the conventional side too – he estimates that's about 50-100kg milksolids (MS)/ha based on the farm's previous performance.
So what have they learned so far?
To date the greatest lesson has been in the area of pasture management, both Kiri and Rhys say.
Right from the outset of the transition four years ago the regenerative area hasn't received any urea or synthetic nitrogen fertiliser.
Most of the regenerative paddocks were sown in set-up crops that included a big range of about 20 plant species including sunflowers, grains, legumes, grasses, brassicas and herbs with several of the plants deeper-rooting to help open up the soil. A diverse perennial mix was then direct drilled using a cross slot drill.
The mix varied with about 14 varieties first used – mainly grasses, legumes and herbs.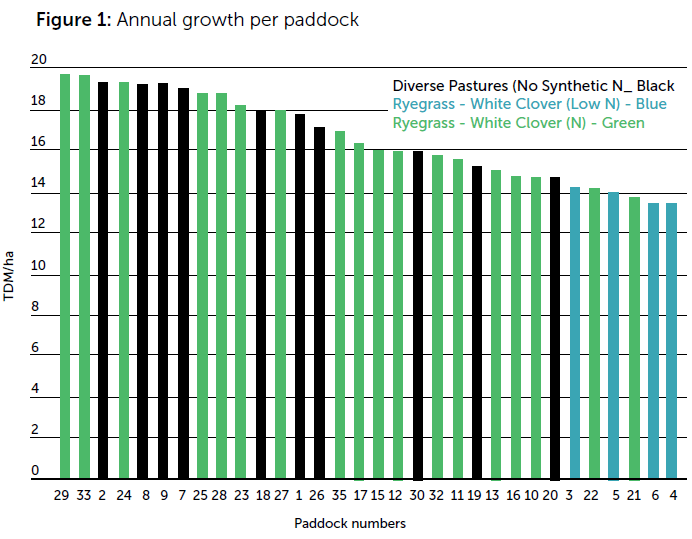 Rhys says they've now narrowed that down to about seven species he refers to as "functionally diverse species."
They include perennial ryegrass, fescue, cocksfoot, Persian clover, large and small leafed white clovers, red clover, chicory and plantain.
During their regen regrassing programme they ended up with four paddocks that were still ryegrass and white clover.
They remained in the regen side of the study, receiving no urea.
They were among the bottom six paddocks in terms of drymatter production. (see figure 1).
While the diverse pastures outdid the conventionally managed ryegrass white clover pastures in terms of total drymatter last season, any hope their diversity would put plenty of growth into the shoulders didn't eventuate.
"There's no bell curve in regen – it's like a rocket and there's three days' warning," Kiri says.
Part of that is likely due to the high percentage of legumes in the mixes and there is discussion about what else they could add to the mix to give more growth on the shoulders.
Quality also turned out to be a big factor.
"We were so worried about not growing enough feed, given we'd dropped out the urea, we took our eye off the quality piece," Rhys says.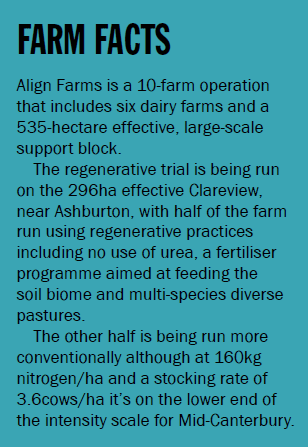 "We were so focused on sticking to what we thought were the must-do's of regen – longer grazing rounds and higher covers that we made sure we didn't go below a 30-day round," Kiri says.
"At the start that was great but in mid-November the quality started to kill us and we couldn't get it back."
Then they had 100mm of rain in February and it started to cool which meant growth rates in the diverse pastures took a dive, particularly the legumes.
"There's a warning there for everyone going to more clover in their pastures – at 5% (legume in pasture) when it shuts down it's not such a big deal but when it's 40% it is," Rhys says.
Cows started to be dried off mid-February and the season was all over by May 15 to ensure pasture cover at dryoff was at the 2500kg DM/ha target.
Milk production was 22% lower than the conventional side of the farm at 391kg MS/cow and 1255kg MS/ha.
This season the team hasn't been hard and fast on the minimum 30-day round idea and at early December rotation length was sitting at 25 days on the regenerative side and 22 days on the conventional.
It's been a tough first half of the season for Canterbury with slower growth rates early on and rapid rush to seed head in November.
To help preserve quality with a stocking rate of just 3cows/ha this season they've made 168 bales of silage on 17ha of the regenerative area.
On the conventional side they've made 20 bales.
This season they have a high drymatter, multi-species, set-up crop which they'll use in February to help slow the round further going into autumn.
"Last season we didn't make the milk we needed to in the first half of the season so that put pressure on late lactation.
"This year we're a lot more comfortable with where we're at now – we're on track to do 440kg MS/cow and we may even crack 450kg MS/cow," Rhys says.
Target production per ha is 1411kg MS/ha for the regenerative area and 1689 kg MS/ha for the conventional side.
An obvious solution to boost shoulder production on the regenerative area would be to apply 100kg nitrogen then but so far they've shied away from that, opting instead for a small amount (10kg/ha) of Calcinit – 15.5% N and 19% calcium (Ca).
"We think there's more to be learned from seeing what happens if we don't go adding urea," Rhys says.
"We want to keep walking towards improving the soil biology."
Regenerative grazing practices typically aim to leave higher residuals which are trampled by cows, making nutrients available to microbes in the soil.
That can require mobs of cows to be put into smaller areas but moved more frequently during the day.
That's just impractical on a large-scale farm, Rhys says.
"I do believe there's something in that kind of grazing.
"But what we find is, we can put them into an area and graze to leave an 1800kg DM/ha residual, they eat 60% of the paddock to 1300kg DM/ha and leave the rest at 2500kg DM/ha.
"So we have found it very hard to lift those residuals in practice," he says.
Financials
The short fall in production had a big impact on profitability due largely to 22% less revenue for the regenerative side. (Table 1).
It also meant that while operating expenses were 24% lower per ha forthe regenerative area, on a per kg MS basis they were 2% higher at $5.36 compared with $5.23 for the conventional side.
Operating profit was 24% lower for the regenerative area or $1667/ha.
The no urea policy helped push fertiliser costs for the regenerative area to almost half that of the conventional side.
Align Farms chief financial officer Michael Mansour says based on this year's budget and year-to-date performance production will still be about 16% below the conventional area but operating profit will only be 3% below.
That's largely due to better revenue and a continuing control on costs enabling a stronger margin.
"To break even we'd need a $1.75/kg MS premium and I think that's why most regen farmers we've tracked have gone organic – to chase that premium," Rhys says.
Align would prefer to get the system operating so its profitability improves and the team is considering lifting stocking rate a little to increase per ha production and, by focusing on pasture quality, ensure per cow production lifts too.
That said, the company has bought a yoghurt brand and is investigating producing butter for export.
Soil health and environmental factors
Align Farms head of environment Clare Buchanan says reductions in nutrient and GHG emission loss have been significant and environmental accounting shows they should remain significant this season with the anticipated improvement in productivity and profitability. (Table 1)
"We're also digging into carbon storage and doing carbon accounting on this farm and three other Align farms.
"We'll measure that over five years with Landcare Research working on that with us."
Soil microbe populations and ratios are being assessed through the Soil Food Web to monitor progress on improving fungi levels to achieve closer to a 1:1 ratio of soil fungi to bacteria.
They're carrying out Visual Soil Assessment to analyse soil texture, structure, porosity, mottling along with earthworms, rooting depth, compaction through penetrometer measurements and brix levels in pasture.
Fertiliser
Canaan Ahu from Agrownomics manages Align's soil fertility.
He says the farm's phosphorus levels are still in the Olsen P 14-30 range with the focus going instead on improving soil structure, reducing compaction and lifting pH to create an environment that supports microbial activity.
"If you're doing 1000kg MS/ha most people would tell you that you need 35-45 units of P.
"We're putting on less than half of that.
"So we are taking the phosphate from non-available pools and focusing on making it available rather than treating it like it doesn't exist at all.
"To do that we have to stimulate the biology," Canaan says.
Nitrogen applications had been as high as 290kg N/ha before the trial began and some of that money has been redirected to calcium, potassium and trace elements.
On the regen side of the farm, fertiliser applied in a liquid form using a Tow and Fert includes fish hydrolysate, Calcinit, seaweed extract, fulvic acid, cobalt, molybdenum, boron and a microbial inoculant EM.
Fos Sul (9% P, 4.8% S total 170kg/ha) and Phosta K (30% K total 80kg/ha) are applied as solid fertiliser.
The fertiliser regime on the conventional side of the farm includes nine rounds of urea at 30-45kg N/ha applications applied in liquid form.
There are two rounds of trace elements that include fulvic acid, cobalt, copper, zinc, seaweed, molybdenum (once) and boron. Sulphate of potash (60kg/ha) and Serpentine Super (120kg/ha) are applied as granular applications.
Animal health
The two herds were split at the beginning of the trial largely based on breeding worth (BW), calving spread and age.
Animal health is being monitored closely and to date there are few differences between the two groups.
VetEnt veterinarian Kate Foxcroft says the regen herd has had a higher incidence of mastitis from days seven to 30 but that's more likely to be a herd history issue rather than the system effect.
"If the cows were run separately before we split them the herd we allocated to regen would have had a higher cell count," Kiri says.
They're keeping a close eye on this though to see if it could be associated with higher covers in regen paddocks having an impact on cleanliness of udders.
Lameness has been more of an issue in the conventional herd (12%) compared with 3% in the regen herd and this too is thought to be a herd history factor rather than due to the difference in systems although they are continuing to investigate this.
Kiri says it was disappointing to see no significant difference in body condition score (BCS) between the two herds coming out of winter given the regenerative cows looked better.
They had been wintered on Align's support farm and had grazed on diverse pastures with some bale grazing used too.
Kiri says VetEnt's animal wellness scoring process, though is picking up differences with an improvement in coat and cleanliness and they're expecting to see BCS improvements as the trial continues.
Metabolic issues in the regen herd over calving improved.