As environmental pressure on the dairy industry increases, the days of milking run of the mill replacements are long gone. Using technology like sexed semen is what Paul and Juanita Marshall are using to breed more efficient cows that will counter a drop in cow numbers under regulation. Sheryl Haitana reports.
Paul and Juanita Marshall farm right on the western edge of Southland with a skyline view of Fiordland National Park when they open their curtains.
"It's a magic place to farm and live. We have fantastic mountain bike trails down the back of the farm, and we are also outside the sandfly belt."
The farm is in three terraces and tends to be quite gravelly soil which makes it forgiving country to winter all the cows on.
It grows great grass in the spring, but three weeks without rain is a drought, Paul says.
The farm has been in Juanita's family farm since 1966. The couple moved back to run it in 1986 and converted part of the farm from sheep to dairy in 2011, building a second farm dairy in 2014.
Since converting to dairy, the focus has been on herd genetic improvement. That is where the excitement is, Paul says.
"Juanita and I are passionate about our breeding programme, it's the thing that gets us up in the morning, we just love it."
They've always selected the best semen on the market and are now using sexed semen technology to achieve their goals.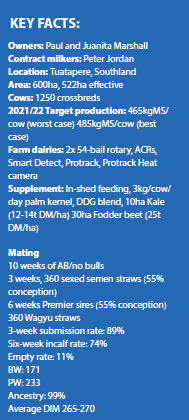 There is increasing pressure from a freshwater and greenhouse gas perspective to at least hold cow numbers, but probably reduce them, he says.
Peak cow numbers across the national herd was 2014/15 and farmers won't be able to make a profit just by milking more cows.
"I don't think the days are going, I think they've gone. What is clear to us and I think it will become increasingly clear to the rest of the industry, is the days are gone when any cow with four good feet and a sound udder is sacred.
"We have to make sure every cow is profitable and genetically superior and that's what we are doing."
Using sexed semen for the past three matings is an integral part of setting up the herd and farming business.
"That's where our profit lies. What we can see is we can drive the productivity of our herd up. The faster we can do that the better and sexed semen is an important element in us being able to do that."
Breeding high quality cows has been Paul and Juanita's priority since they bought their first herd – a mixed bag with pretty poor genetic merit.
"We've culled really hard, we've pushed LIC to provide us with the best semen they possibly can."
In quite a short timeframe, they've shifted their herd from being pretty poor to just inside the top 10% of the national herds, and it's improving year-on-year.
Sexed semen will help them gain more improvement at a faster rate via guaranteed daughters from their top cows.
"One of the perks of being in the dairy industry is that these breeding options are available.
"We pretty much get all our heifer replacements in the first three weeks now, that's a huge advantage. Not only do we get the calves on the ground early, but we have the opportunity to put greater selection pressure on cows that we are going to retain replacements from."
Since investing in sexed semen, they first used 100 sexed semen straws, then 250 straws and up to 360 straws this last mating. Using 500 straws later this year as part of their breeding programme is quite possible, Paul says.
Conception rate from the sexed semen was 55% this year, which was exactly the same as the fresh Premier Sires conception rate.
"The naysayers around sexed semen will look at differences in conception rate, and say it's a huge economic cost."
However, sexed semen is getting closer to the conception rate achieved by other products and having 90% success rate of a heifer calf is worth it, he says.
"That's our rationale for using sexed semen, it slots in so beautifully into our mating programme."
LIC recommends no more than half the cows inseminated on a day should receive sexed semen, but Paul sees that changing when farmers and industry have even more confidence in the product.
Using more sexed semen straws has increased their breeding costs, but that is balanced by using more Wagyu straws. The Wagyu cross calves increase the profit margin from non-replacement calves and fewer bobby calves.
"We have found that we have consistently lower animal health costs along with the value of the higher efficient animals," Paul says.
Animal health costs nationally tends to be 18c/kg milksolids (MS), and breeding tends to sit around 12c/kg MS.
"Our animal health costs are 12c/kg MS and our breeding costs are 18c/kg MS.
"It's not that we are underspending on animal health. Our cows actually require very few interventions. Apart from the heifers, (who receive a double PG shot and are AB mated for five days) our mixed-aged cows receive no interventions for mating."
That means the fertility represented by the herd is genuine, it's not artificially modified.
"A 10-week mating of all AB means there is nowhere to hide. If you are prepared to leave the bulls out for 13 or 15 weeks, absolutely you can get your empty rate down, but you will be calving in November. Who wants to do that."
Paul and Juanita employ their son-in-law Peter Jordan as contract milker, who is married to their daughter Claire, an environmental planner.
Peter and his team do a great job with the practical side of implementing the mating programme, Paul says.
"The system works really well, but it only works because we have a really skilled operator in terms of Peter and Peter has really good staff.
"That's an important part of Peter's management to ensure the right semen goes into the right cow, you certainly can't be on auto pilot."
They use sexed semen in just the first three weeks of AB. Cows get one crack with sexed semen, and then depending on where in the cycle they are, they will either get a Premier Sires straw or Wagyu.
They identify top cows ahead of time, as well as cows they don't want to mate replacements from. Those cows don't get the opportunity of sexed semen or premier sires – they get Wagyu.
Peter and staff make the call on the day depending on how many cows are on heat. The top BW cows will get the sexed semen straws on offer, then premier sires, then Wagyu.
"Breeding is something Paul and Juanita are really passionate about," Peter says.
"Our part is implementing it and making sure it is a simple system so anyone in the team is able to make the selection and get it right."
Both sheds have heat detection cameras and cows are automatically drafted out. Usually there is a staff member standing on the vet stand every morning for up to five weeks, but they have been down a staff member this year so they've only done that twice a week, tail painting and putting heat patches back on.
They don't run bulls because they are expensive and also staff generally don't like them,' Paul says.
"By not running bulls and using seven weeks of short gestation length (SGL) semen has effectively shifted our mean calving date from September 1 to August 21. That shift gives us 11 additional days in milk for the herd.
"With bulls capable of delivering -23 days even if you put that semen into a cow that has 282 gestation length, you are still looking at bringing her calving date forward by 11.5 days. That's huge."
There is also a real knock on benefit to the six-week incalf rate. Cows have another half cycle to get back into good mating condition, without having to shift the planned start of mating.
When selecting sexed semen and Premier Sire bulls, the Breeding Value (BV) for gestation length has to be negative.
"The herd now has a BV average of -5 for gestation length."
Other than high Breeding Worth (BW) and a negative BV for gestation length, Paul and Juanita focus on fertility, ease of calving, negative BV for somatic cell count, and good temperament.
They are aiming to get their replacement rate down to 22% from 24%.
Part of the strategy as the herd improves will be to sell surplus heifers.
Paul believes high genetic merit herds will need to produce as many heifer calves as possible and sell the surplus into herds that haven't had that same focus on genetic gain.
Paul and Juanita have upgraded their in-shed Protrack systems to MINDA Live which will hopefully be another step forward in efficiency. Another goal is to get the farm as fully self contained as possible. They are conscious of staying above 80% of feed grown at home. They grew 88% of their feed last year, but this season has been drier so they've had to import more supplements.
Peter has a real passion for feeding cows well and the cows are in great order and are certainly producing well, Paul says.
"We are moving to feeding another 15% per cow total ration, feeding them more consistently," Peter says.
"The cows are in much better condition, typically around 4.7 Body Condition Score when we are heading toward dry off which makes a big difference."
Production has subsequently gone up from 414kg MS/cow to 445/kgMS and this year they are looking to produce 470kg MS/cow.
The higher-performing cows are run through one shed, with the younger and lighter cows through the other.
Peter calves all the cows through one shed, which is an efficient use of resources. Throughout the year the boundary is flexible between the two operations, depending on where the feed is.
When the Dairy Exporter spoke to them in February they had missed out on the rain most of the country had got earlier in the month and were dry so they expected to be short of their production target this year.