By Elaine Fisher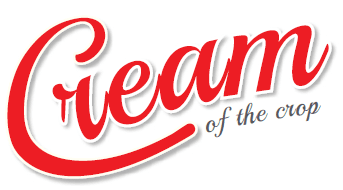 Calving is among the favourite parts of Jamie McDowell's job, but the long hours outside in often unpleasant weather, are in stark contrast to her early years growing up in Lower Hutt.
"I couldn't see myself in an office or doing anything other than farming now," says the 22-year-old who is the 2022 Auckland/Hauraki Dairy Trainee of the Year.
"I love being outside with cows, no matter the weather. Calving is my favourite time because you are bringing new life into the world and helping the cows when needed. I love the cows and in general the lifestyle dairying brings."
Family connections helped her into dairying. "My uncle was farming, and my brother went to work for him which got my interest. When I finished college, I enrolled in a Taratahi Agricultural Training Centre sheep and beef course. However, I couldn't find a job as a shepherd when the course finished, so went to work as herd manager on a dairy farm at Karapiro owned by a family friend.
"It was challenging to live by myself and move six hours away from family." Despite that challenge, the experience confirmed for Jamie that dairying was the career for her.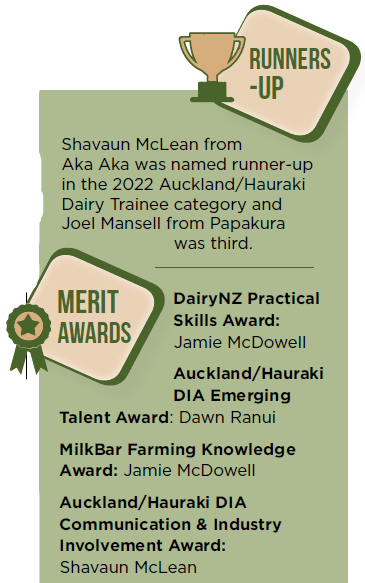 Today she is farm assistant working for Olivia Sutton on Joyce Laing's 164-hectare Rangiriri West property, milking 326 Friesian and Friesian cross cows.
It was Olivia who encouraged Jamie to enter the awards for the first time and Jamie says taking part was a chance to meet new people, gain new knowledge and test her theory and practical skills. Winning was a bonus. Olivia has also prompted Jamie to continue with her Primary ITO qualifications.
So far, Jamie has completed four New Zealand Certificates of Agriculture (vehicles, machinery and infrastructure; farming systems; milk harvesting; livestock husbandry and dairy) while working full-time and is studying towards a qualification in livestock feeding.
"Being able to maintain quad bikes and tractors is a very important part of my job.
"Olivia encourages me to be the best I can, and I am grateful that she trusts me with the responsibility to look after the cows, the shed and effluent when she has a weekend off."
Jamie enjoys working for a woman boss but doesn't think the feminine approach to dairying is markedly different from that of men.
"We all have the same mindset and goals, to get the job done to the best of our ability but I like to think women do have a softer touch in some areas."
Jamie's farming goals include a farm manager role with further goals of contract milking and eventual farm ownership. "Herd ownership would be nice but getting there will require a lot of hard work, and saving."
When time allows Jamie likes to go hunting with her partner. "We enjoy hunting rabbits, and when we can, getting out into the hills to hunt deer. I also enjoy travelling back to Wellington to see family and catching up with family and friends closer to home."