Karen Trebilcock
A shaky internet connection did not deter Sam and Karen Bennett trying to have a Facebook party with their families when the 2020 Southland-Otago Dairy Industry Awards Share Farmer of the Year was announced online during the Covid-19 level four lockdown.
"That's all our internet could manage – just our families and a couple of friends," Karen said.
Although the award ceremony was cancelled and the announcement then postponed a week in the south, it did mean Karen's parents had travelled from Nelson to be there and managed to spend a week of quality time with the couple's 14-month-old daughter Alexia before they had to rush home.
"She's just starting to walk and she's into everything, so it was great for them to be here."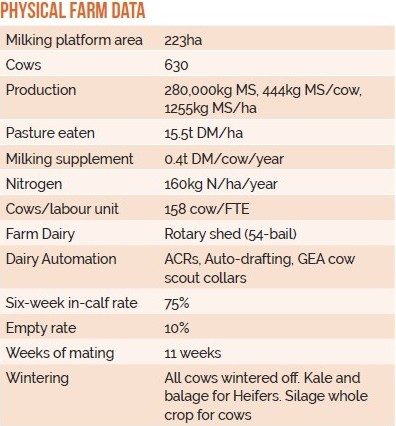 Sam's dad is nearby on the family dairy farm at Brydone, which Sam and Karen have contract milked for the past four years.
This season the couple, both 31, also started contracting milk 630 cows on Andrew and Jenny Calder's 223-hectare farm in Wyndham.
"We applied to MPI just in case with the lockdown to keep going because we are right on the five-person limit," Karen said. "It's all good."
"We've delegated everyone jobs so they all stay safe," Sam said. "We've got one guy only using the tractor and the two guys milking at the Calder's live on their own together so that works well."
The two men are Nepalese and met while milking in the Middle East for six months before coming to New Zealand to work for Sam and Karen.
"They're great, they work really well together and living together means they can keep in their bubble milking too," Karen said.
The Bennetts believe in bringing people through the ranks of the dairy industry and their 2IC on Sam's dad's farm is now manager there and the person who was 2IC on the Calder farm before they took it on has stayed.
"He's been great. He knew the farm back to front and he's taught us so much," Sam said.
Covid-19 is not the only emergency they've had to deal with this year. At the beginning of February 100ha, almost half of the Calder farm, went under water in the Southland floods.
"We knew it was going to go under, our catchment is huge and we knew it was raining heavily around Garston and Waikaia, in the headwaters, so we had a few days' notice," Sam said.
"The farm is in terraces down to the Mataura River and the bottom terrace was already pretty well eaten and we sent the cows down there to eat the rest.
"We also made balage down there and got it off before it flooded."
The water stayed for a couple of days but with little silt left behind, and the covers short, they have not had to regrass except for about 8ha which was under water for four days.
"We've had to re-fence everything though. All 100ha. The Farmy Army was amazing. We had 15 guys here one day helping."
The flood was bigger than either of them has ever seen in the area but Karen is no stranger to rain having grown up on a Whataroa dairy farm on the West Coast.
"We never got any flooding from the river but it would rain a lot.
"But the next day would be sunny and we'd be making balage within the same week – the water just disappears."
She studied at Lincoln University, graduating with a Bachelor of Science majoring in animal science. At the same time she trained as an AI technician with LIC and did a run between Whataroa, Franz Josef and Fox glaciers.
"The timing was perfect because I'd go home after exams at the end of the year and start."
Meanwhile Sam was growing up on a sheep and beef farm in Western Southland and doing a building apprenticeship.
After finishing, he picked up a handpiece and spent three years travelling and shearing overseas.
They met through mutual friends.
"We were talking about what we both wanted to do and I had always had a passion for dairy farming and Sam was coming home to get into the dairy industry, so we already had a lot in common," Karen said.
"He took on a 2IC role for two years before taking on the contract milking job at his dad's dairy farm."
She has also worked as the Southland rep for the company Fertiliser New Zealand for the past nine years. As well as contract milking two farms, the couple are landlords with three rentals in Invercargill and one in Te Anau.
They see the investment in housing, instead of cows, as a way of diversifying their business.
"If something goes wrong with dairying then there are the houses and if something goes wrong with the houses then there are the cows," Karen said.
They said they were lucky to invest before house prices shot up.
"We haven't got all of our eggs in one basket. We're spreading the risk."
They hope to go sharemilking in three or four years' time with minimal debt.
"We could probably do it now but the debt would be huge and we just don't want that sort of risk," Karen said.
However, the dropping of the price of dairy land in the south has made them think twice, Sam said.
"We've had a few conversations about it but we're just going to keep ticking away at it slowly and keep doing what we're doing," Karen said.
Stepping up and taking on the new contract milking role has also made them step up when it comes to technology.
All of the Calders' cows have Cow Scout collars and there are milk meters in the dairy.
"We can see the ruminating times, activity times and non-activity times. There is so much more information that we're getting about the herd," Sam said.
"You'll be sitting on the couch and all of a sudden you'll get a health alert on your phone and you can go and see what's happening," Karen said.
"Especially at calving. The collars are recording how many times a cow is standing up then lying down so you know if there is a problem and we're also getting information about milk fever cases and ketosis," Sam said.
"It's like having an extra set of eyes. The cows are getting the best attention – from us, our staff and with the technology. It's the ultimate."
The Calders' herd is a LIC sire proving herd and they hope to use the collars next season to eliminate bulls from their mating plan and are keen users of short gestation semen. The six-week in-calf rate is 75% and the empty rate 10% but they want to get that down to about 8%.
"It was at 14% when we took it over. We've got my dad's farm at around 8% so that's the aim here too," Sam said.
They're proud of their zero-waste systems with nothing buried on farm and their emphasis on native tree planting.
"We've got an oxbow in the middle of the Calders' farm which we've fenced off and plan to enhance it by planting more natives and making it into a wildlife habitat.
"We're really excited to see how that develops."
Something they're also proud of is record milk production on Sam's dad's farm.
It's a 145ha milking platform with 445 cows and the most it has done is 176,000kg milksolids (MS) a year.
"We did 200,000kg MS in our second season so we really smashed it. We reached our goal of a kilogram of milk solids per kilogram of liveweight."
Both dairies have in-shed feeding and, with no crop on farm to go home to in the spring after wintering off, the budget is for 400kg per cow of a 50:50 barley wheat mix.
"We really need it in spring when the cows come home, as well as when there are deficits through the season," Sam said.
With the winter off, the couple were planning a trip to Europe to visit family with their daughter in a couple of months.
"Maybe next year," Karen said.
Question: Are you hoping to go sharemilking?
Answer: In three or four years' time –we could probably do it now but the debt would be huge and we just don't want that sort of risk.
Runners-up in the competition were Cameron and Cassandra Spencer. The first-time entrants are 50:50 sharemilkers for New Zealand Rural Property Trust on a 141ha, 420-cow property in Otautau.
Third was Craig McGregor and Olivia Gorton who contract milk on Jamie McConachie, Jared Collie, Jerry Excel and Paddy Thornton's 245ha farm at Drummond, where they milk 860 cows.
Share farmer merit awards:
Ecolab farm dairy hygiene award and the Westpac business performance award – Karen and Sam Bennett
LIC recording and productivity award and the Ravensdown pasture performance award – Cameron and Cassandra Spencer
Meridian Farm environment award and the Honda farm safety, health and biosecurity award – Craig McGregor and Olivia Gorton
DairyNZ human resources award – Miguel Ortiz and Maka Morales
Federated Farmers leadership award – Matt and Sarah McKenzie