Cor and Christine Verwey may have started small, but together with their sons, they now own several farms in both islands. Anne Hardie reports.
Cor and Christine Verwey came to New Zealand with no money in their pockets nearly 40 years ago and today the family milks more than 2000 cows between farms in the Bay of Plenty and the West Coast, with a kiwifruit orchard thrown into the mix.
They followed the usual path – working on a dairy farm for a couple of years, managing a farm, and then they took on sharemilking contracts around the Bay of Plenty. The next part wasn't so typical. The couple bought a 53ha drystock, converted it to dairying, and being $30,000 short on security with the bank, built the dairy themselves.
Neighbouring properties were added over the years and today that farm stretches over 120ha and milks 450 cows at the peak, plus winter milk.
Add in a couple of support blocks and a 4ha kiwifruit orchard that came with one of the blocks and it's a profitable business, with son, David, at the helm as a contract milker. He also owns half of the kiwifruit orchard, with the family trust owning the other half, and a packhouse managing the practical side of the business.
The family trust was set up to cater for Cor and Christine (who are now separated) and their five children, and that has been central to the growth of the family business, in partnership with various children where possible.
With a profitable dairy farm ticking over, it was time to invest in more land and that took them to the West Coast 14 years ago where they checked out the Wild Foods Festival and bought a 130ha dairy farm with more to develop at Mawheraiti.
"We chose the West Coast because it is always raining and we wouldn't have to irrigate," Cor says. "We were wrong there."
Son Andrew took up 20% ownership in the farm while the family trust owns the remaining 80%.
He headed south to lease the farm from the family trust and owned the cows as well. Further development on that farm has stretched the milking platform to 155ha that now milks 340 cows and produces between 135,000kg and 145,000kg milksolids (MS).
Back at school in the Bay of Plenty, Andrew had no real interest in dairying as a career, but when he wanted to leave school he was told he had to have a job first and a job on a dairy farm was an easy option. It wasn't long before he could see a future in dairying.
"I realised you can do well and get ahead quickly in dairying."
Encouraged by his parents, he bought a house in partnership with a younger brother and though it didn't realise much capital gain in the time they had it because of the PSA effect on kiwifruit in the Bay of Plenty, it forced them to save their money and built up equity. As Cor told them, "you want to get anywhere, you need equity to borrow money".
Ownership in the West Coast farm gained more equity. Along the way, Andrew met Lisa and they now also lease a 165ha farm at Mawheraiti belonging to her parents, Will and Christina Sturkenboom. That farm milks 385 cows for a production of about 170,000kg MS. Three years ago, with farm sales wallowing on the Coast, they had the opportunity to purchase a 410ha farm, Moores Creek, further down the Grey Valley. Andrew and Lisa own 50%, while the family trust owns the other half.
All three farms on the Coast now have managers and Andrew works between them, ensuring there is enough staff on all three. That leaves Cor to be in charge of projects on the farms, such as the ongoing restructuring of Moores Creek, while Christine oversees much of the administration from the North Island.
At the time they bought Moores Creek, Mycoplasma was making headlines in New Zealand, so to be on the safe side, they bought the existing Friesian-dominant herd and added cows from their Te Puke farm.
Then they set about overhauling the farm, including refencing, adding more water troughs, improving the 56-bail rotary dairy, and adding a few extras such as Protrack. It was a big year and they produced 270,000kg milksolids (MS) from the 700 cows, with cows wintered with a grazier.
"The first year was throwing money at it to get it going," Cor says. "We milked 700 cows twice a day and the empty rate was quite high because of cows calving in late November. When we started calving August 15 we still had 200ha to fence."
By the start of the second season they had regrassed 18% of the farm and lifted cow numbers to 900 to produce just over 300,000kg MS. Because it is a large, spread out farm, they went to 3in2 milkings in autumn "when the cows got sick of walking". Now in their third season and still in renovation mode, they are targeting 320,000kg MS from 870 cows at the peak of the season and the cows continue to be wintered off the farm.
It's been a learning curve on a larger farm, just like their first couple of years farming on the Coast after Te Puke. That is because in Te Puke, they buy in up to 400kg palm kernel per cow, grow up to 16ha of maize, and because they add so much feed into the system, need little fertiliser. Pasture continues to grow through winter – up to 60kg DM/day if there are no frosts, compared with about 5kg on the Coast, which in the feed budget is recognised as nil. Every year at Te Puke they undersow each paddock with 10kg/ha of Shogun and the end result is 200,000kg MS from 450 cows. It's a profitable operation, even when payout has been low.
Heading south, Cor soon discovered that some of his Bay of Plenty ideas didn't work on the Coast.
"You have to spray for everything around here – springtail, porina and slug bait goes out here," he says. "It's harder to regrass here because of the bugs. We've got the rain and we've got the bugs. But grass will last longer here than up north as long as you are not pugging it."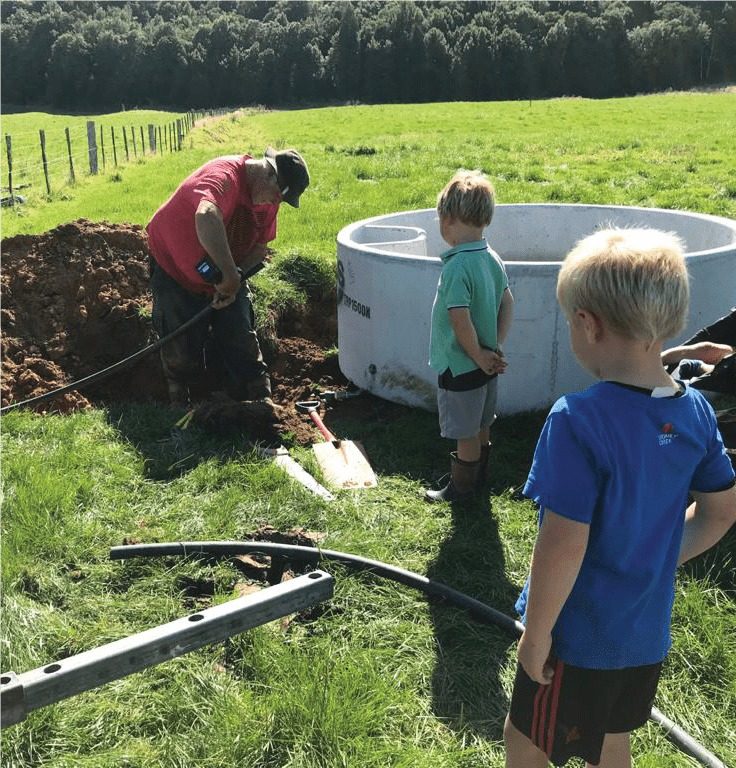 They farm for a good spring rather than a dry summer – and the Grey Valley dries out in summer, which is why pivots water the sand and stony soils of the river flats and terraces at Moores Creek. Three pivots cover 200ha and K-line waters another 30ha. Last year it was a lot of infrastructure for irrigating just 20 days, but they know there have been times when it has been needed from the last day in October. And without it, the pasture on the stony soils will disappear quickly. But for that crucial spring production, they are planning more drainage to get rid of water quicker.
Seasons are off to an earlier start now, with calving brought forward this year to August 3 so that calving is done and dusted by October 10-15. Though they aim at an end of May finish, cows are dried off according to their condition score. Andrew says the older cows need to be five for calving while the two- and three-year olds need to reach 5.5. To ensure they reach those figures, they begin drying cows off from the beginning of April.
To make it easier for the cows and staff, the entire herd starts the season on once-a-day (OAD) milking for the first three to four weeks, then all bar two-year olds move to twice a day until the first three weeks of mating. Any cows that haven't cycled by that time join and remain with the two-year olds that are on OAD throughout the season. For the past five years Andrew has enlisted the help of consultant Cameron Burton from MilkMap for health issues in the herd such as reducing milk fever and also to ensure the cows are getting the correct feeds in their diet at the right time of the year.
"It's an independent eye on where we are at during the course of the season, given various parties all have their own ideas about when and what should be happening."
MilkMap also sets each farm a production target within the parameters of what each property plans to feed, then monitors milk production weekly with updated graphs produced three times a month to show how production is tracking. Andrew says it is handy for staff and managers as well as themselves, plus Lisa's parents and their supportive bank manager.
One of the big goals across all three farms on the Coast is to keep it simple. Their first year at Moores Creek they grew maize because the farm was understocked and fed it on the existing feedpad. As the herd grew, the feedpad has become too small for the entire herd and would prove too much work to feed different herds, so now maize is only allocated to springers and colostrum cows. To keep it simple, they feed palm kernel on all three West Coast farms, buying in 1000t a season, which has the added cost of $40/t to freight it across the Southern Alps from Christchurch.
They make supplements on the farm as well, though this year's wet spring and summer made it challenging and they are hoping to be able to repeat last year's exercise and cut silage in autumn. They own very little machinery and Andrew says they are heavily reliant on contractors.
"I've never believed in machinery and I've never seen many rich contractors," Cor says. "And you need skilled people to drive the tractors."
As Andrew says, contractors tend to do the work faster, cheaper and have a better finish than they can as farmers.
After going through an expansion stage in the past few years, Andrew says he needs to make more time for his family, which has now grown to five children. It's time to make their money work for them and that will likely include off-farm investments. He says they also have to decide whether to continue milking the same number of cows at Moores Creek and add barley in the shed to push production further, or go OAD and make it a more staff-friendly property.
"It's trying to find the best option and that's hard when there are so many variables," he says. "It would be interesting though to see what this place could do with more regrassing and better-quality cows."
That's a point that is debated between father and son. Cor says production is 80% feed and 20% breeding, while Andrew would like to work on the herd's genetics after seeing the result of breeding on Lisa's parents' farm.
"Their cows have been bred for 30 years or so and my mother-in-law took a lot of pride in her cows, so they were a quality herd when we took them over. From that I can see the benefits of that long-term effort put into breeding cows. But the mating decisions you make today takes three years before you have a cow in milk."
So far at Moores Creek they have only had to worry about getting cows in calf and apart from empties there hasn't been any room to cull. The bulk of the herd was originally made up of carry-over cows so genetics are mixed and there's been no selection.
The only information about the cows is via yield sensors, but that doesn't show whether the cows are milked OAD or TAD. It's relevant for the two-year olds, which are all OAD, but Andrew would like to herd test once they are in a position to cull on production. Last year they began DNA testing, though that's more to correctly link calves to cows.
That follows the successful export of A1 12-month-old heifers last year for $1400 each; a venture they would like to continue and DNA will prove the breeding.
The 155ha Mawharaiti farm is all A2 genetics and they are using A2 bulls over all the herds now, though as Andrew points out, it needs an aggressive culling programme to get there quickly. They've in no hurry at this stage as Westland Milk Company has a cap on its A2 supply. They're conscious that could change if it picks up another A2 contract though, so want to be ready to be included.
Last year they flushed five cows on Lisa's parent's farm to extend a family that has interested LIC. That produced seven bulls but none made the grade and one was an A1A1 calf, which is all part of the gamble. They also gained six heifer calves from the flushing and that's worthwhile for the herd, and they intend to flush animals again next season if LIC still shows an interest.
"It's not a cheap process. Calves on the ground are expensive at maybe $1000 if the bulls don't make the grade."
Going forward, Andrew says one of the greatest challenges will be the new environmental regulations and it's a matter of knowing where the rules land. It may mean milking fewer cows, but until there's a set of final, clear rules, it's a hard one to plan.