By Karen Trebilcock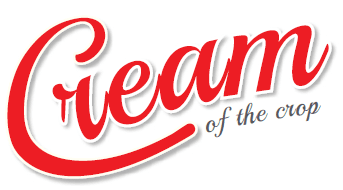 Aidan Roe might have been only dairy farming for a little more than a year, but it's a lifetime of experience that backed up his win as 2022 Southland-Otago Dairy Trainee.
He's been a farm assistant on Peter Sanford's 200-hectare Winton property milking 560 cows for sharemilkers Michael and Kathryn Farmer since his final university exams finished in 2020.
With a vet as a father, who made sure he grew up with a love of animals, and boarding at Southland High School, which put him in touch with the kids of farming families, Aidan says he has always been nudged towards dairying.
Winning a DairyNZ scholarship sealed the deal with his sights set on Lincoln University and its Bachelor of Agricultural Science degree.
The scholarship, and the mentoring of its organiser Susan Stokes, fired him up for dairying.
"This career choice is often looked down upon and it would be awesome to change this and make the idea of choosing dairy farming just as exciting as any other career option," he said after the Dairy Industry Awards win.
Summers working on the Winton farm, including during Covid lockdowns when Lincoln lectures went online, didn't dampen his enthusiasm but he's glad he never went straight from high school to dairying.
"Lincoln University got me out of Southland and I met a whole new group of people. I got to appreciate a different region. Canterbury is great but I was always coming home."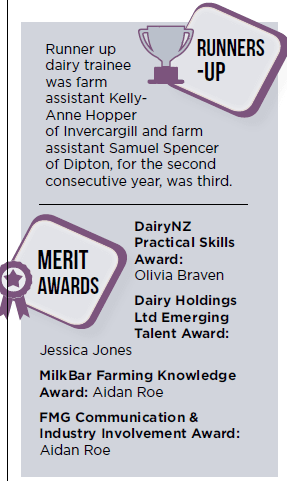 The Winton farm is within sight of the lifestyle property he grew up on but this winter he'll be moving to the other side of the Oreti River with Michael and Kathryn who are taking on an 800-cow farm between Otautau and Drummond as equity partners.
He believes the pandemic has shown the world how important the food and fibre sectors are.
"I will be part of the generation of farmers that will have to make some pretty big changes to the industry to suit consumers' demands," he says.
Farming goals include continuing to learn, especially during the calving season which university exams in the past meant he has always missed out on.
"Long-term I would like a 2IC or manager's role with the end goal of sharemilking and eventually farm ownership.
"Michael and Kathryn have shown me it's all possible."
And with the Covid regulations limiting the number of people at the awards night in Invercargill on the last weekend of March, he was stoked he could have his dad, who started it all, and his boss Michael, at his table.
"It was great to meet the other five finalists in the trainee award too. We are all so passionate about dairy farming. Any one of us definitely deserved to win it.
"Even with the restrictions, I've met so many people through the competition. I'm so much looking forward to nationals.
"It's important to continue to learn from the experienced farmers and take in as much of their knowledge as possible and the awards make that so much easier to do."