A pair of Nelson dairy farms are adding value to their milk with prize-winning ice cream that's set for export. Anne Hardie reports.
Most dairy farmers put their milk in the vat and the most exciting product they hear about is infant milk powder, but for a couple of Nelson dairy farmers, the outcome for their milk is dense ice cream with flavours such as Brown-Eyed Girl and Tangled Passion.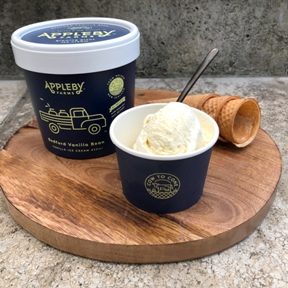 Nelsonians got to taste Appleby Farms' ice cream this past summer before it was launched nationwide and as a first timer in the New Zealand Ice Cream Awards it literally scooped the premium vanilla category and earned itself a gold medal.
At the heart of the fledgling business are two Nelson dairy farms producing fresh A2 protein milk that is then processed in a facility designed with the capability to export product next year. It's about adding value to their product in an innovative way and using their cow-to-cone story to set them apart from the rest.
'Setting up our own brands is a way of telling our story better and not getting lost in a commodity product.'
Julian and Cathy Raine's farm on the edge of the expanding suburbia that runs between Nelson and Richmond have already been adding value to their milk through their brand Oakland's Milk which sells fresh pasteurised milk through vending machines, home deliveries, cafes, a few outlets and a couple of boutique cheese makers.
That was followed by Aunt Jean's Dairy which is their supermarket brand to sell the milk in glass bottles outside the Nelson region. Now they've become part of Appleby Farms as another means of telling their story and adding value to their milk.
A few kilometres away on the Waimea Plains in an area known as Appleby, Murray and Sarah King's 54hectare farm is surrounded by apples, vineyards and market gardens. It's valuable land – some of the best in the region – and expanding the dairy operation here is not an option. These days, the farm makes up 10% of their dairy operation, with the bulk of their cows farmed in Canterbury.
But Nelson is home base, has that critical ingredient, sunshine, their kids are fourth generation on the farm and it's close to the airport for when Murray puts on his other hat as chairman of Livestock Improvement Corporation (LIC).
Venturing into a product such as ice cream is a way to generate better returns from their milk and enable them to continue dairy farming at Appleby into the future.
The Raines and Kings began tossing ideas around a few years ago to come up with a way to add value to their milk instead of being totally reliant on commodity pricing. Then a food technologist they both worked with, Kristy Giles, suggested ice cream.
Eight years with Tip Top ice cream production gave Kristy the hands-on experience to turn their milk into ice cream and with the help of a local management consultant, Andrew (Rew) Gray, a business was born that included all four parties.
Images on the processing facility at Stoke tells the story behind the Appleby brand; grass growing, cows grazing and the character Bedford farm truck taking the milk to the state-of-the-art facility to produce premium ice cream.
"I think we're the only ice cream manufacturer in New Zealand that can truly put hand on heart and say we grow the grass, nurture our herds, take our own milk to our own factory and convert it with our own recipes to our own ice cream. We call that ice cream with integrity," Rew says.
"Consumers want to know where their food is coming from these days which is why the pasture to plate movement around the world is pretty huge these days."
Pasture to plate – or cows to cone as the Appleby team call it – is based on the idea that food is best when fresh and encourages people to swap over-processed, modified foods for local, natural produce that has nutritional, economic and environmental benefits.
Appleby Farms' ice cream is aimed at the niche premium market and that's a growth area, expanding at about 10% a year, Rew says. Growth also means increasing competition and Rew says it's necessary to push their product hard in terms of promotion.
Because it's a premium ice cream chosen for special occasions and a bit of indulgence – $11.95 for 850ml – they've put a bit of fun into the flavours as well because they decided the names should sound as delicious as the ice cream.
Besides their Bedford Vanilla Bean, they have Brown-Eyed Girl, Doubleshot Ipanema, Bad Boys and Berries and Tangled Passion.
Boysenberries are sourced locally – from the Waimea Plains, the same as the milk – while the chocolate brownies in Brown-Eyed Girl are manufactured in Nelson and coffee beans come from the local supplier of Ipanema Brazil beans. At the ice cream awards in May where their vanilla was named the best in NZ, four of their flavours were awarded medals.
They introduced their ice cream to Nelsonians over summer, scooping it into cones from their silver retro Airstream caravan beside the beach and numerous events such as the one-day cricket international game, fairs, half marathons – you name it and the caravan was there.
"I've done a lot of supermarket tastings myself and what consumers love to hear is that you're involved right back at the grass roots. They love the cow-to-cone integrity."
Then AirNZ put a scooping freezer in its premium international lounge, followed by the domestic lounge, plus an article in its Kia Ora in-flight magazine, which gave them a captive market sitting in a seat for a period of time to see their brand and learn about their ice cream. Rew acknowledges that was a pretty handy promotion for a new business fresh out of the blocks.
It's the only A2 ice cream available in NZ which adds another dimension for marketing their brand, with both herds solely A2 cows now. Raines selected for A2 genetics years ago because, Julian says, it made common sense to produce milk that could be drunk by more people and it's proved worthwhile with their fresh milk sales.
"People have been able to drink milk again since drinking our milk. They've come back to milk again which I think is wonderful."
Branding, adding value and working closely with customers is nothing new for the Raines; they grow kiwifruit which is sold through NZ's biggest consumer food brand, Zespri, that has become a global leader of the fruit. They also grow apples which are marketed through three different exporters, depending on variety and including their joint venture with Freshco.
Every single export apple has to meet customers' expectations for taste and visual appeal and if not, well it's not exported. Boysenberries grown on the Waimea Plains are sold through a co-operative and their hops are sold through New Zealand Hops to craft breweries in the main that seek them for their range of aromas and spray-free production. The tiny NZ hop industry decided a decade ago to transform its crop from a commodity product to higher-value varieties for the craft beer market. Adding value to their milk seems like a natural progression for the Raines.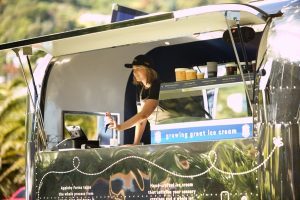 "Setting up our own brands is a way of telling our story better and not getting lost in a commodity product," he says. "We've been on the same piece of land for 175 years and we think what we're practising and what our forebears practised is pretty sustainable and will be for future generations.
"Each brand has a story and it allows us to tell a story. There has been a series of Aunt Jeans in the family for a number of generations so it has history and family values. With Appleby Farms, we all identify with Appleby here. It is uniquely Nelson and it's about our sense of place and who we are and why we stay here. It's a place that all the shareholders are passionate about, so keeping the region in the brand was important. We don't want to get to a certain size and shift to Auckland or Canterbury; we want to stay here."
Oakland's Milk and now Appleby Farms has brought them into close contact with their customers, either through the dairy where hundreds of people – teachers, parents and kids – have watched the cows milked and asked questions. Customers learn about dairy farming and the business can respond to their feedback. Their customers didn't want palm kernel used for their milk, so the farm no longer uses it.
After media reports on Mycoplasma bovis, Julian had about 50 phone calls from people who didn't understand the disease and wanted reassurance about the milk they were drinking.
"It gave us an opportunity to talk about what we do. For instance, we rear our calves because we're fortunate that we have enough land that we can rear them all. People have lost that inter-relationship with farmers and that's what we're trying to bring back.
"We need to get established in the New Zealand market first and get our systems sorted, but we think we've got something pretty special and our eyes are firmly on the export market."
Out on the plains, about half of the milk from Kings' A2 herd is now processed into ice cream which means winter milking has returned to the farm. Ten years ago they were split calving and winter milking for town milk supply and now they're milking 60 cows through winter. Fortunately, Nelson has a kind winter climate and Murray says it's actually easier to produce pasture in winter than in summer when they face irrigation restrictions.
Water shortage has long been a focus for production on the plains and Murray chairs Waimea Irrigators which has pushed for a large-scale community dam to sustain existing production, let alone grow it. At the same time it is aimed at enhancing urban water reliability and improving environmental wellbeing.
To achieve their side of the funding equation, the Kings and numerous other landowners oversubscribed when they bought shares in the company, because without a dam, there just isn't going to be enough water. Ironically, Murray says an irrigation dam will likely lift land prices on the plains beyond economic dairying as that land becomes even more sought-after for higher-value horticulture crops. That's just another reason for adding value to their milk.
Processing their own milk means considerably more regulations and recording, with more emphasis on what the customer wants, such as no palm kernel in the diet and a more diverse pasture for quality milk including chicory and plantain. Establishing an A2 herd ticks another box for customers and was easily achieved due to whole herd DNA parentage testing.
"The average dairy farmer forgets how easy it is to put the milk into the silo and forget it. You're so far removed from the market that you don't really understand the market. Which is a mistake.
"There's a lot more regulations and you have to be more thorough when you're closer to the end consumer. You have to be authentic and walk the walk (such as sustainability). It's all about being authentic."
To back the company's commitment to sustainability, it is in the process of setting up a charitable trust where it will contribute 10% of its annual profits that will be distributed by a board of independent directors to various sustainability projects.
Between marketing its local story, having a good product and proving they are authentic, the company aims to create another iconic brand, up there with others produced in the region such as Pics Peanut Butter and New Zealand King Salmon.
"We are effectively the food and beverage capital of New Zealand," Murray says. "You can leverage off the success of others, particularly in the domestic market."
So far, the processing facility has 10 staff working a single shift and because the plant was built with the capacity to export, Rew says it is just idling. But not for long, with plans to begin exporting early next year and markets yet to be decided. China may be one destination as it is the biggest consumer of ice cream due to its population and the speed it has westernised. Whereas here in NZ we eat the most per capita of the creamy milk product, which makes it a good home base for making ice cream.