By Jackie Harrigan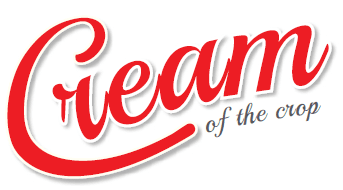 Jono and Kerri Robson are focused on growing their future in the dairy industry and are proud of the plans they have brought to fruition so far.
They say they are goal-focused, good at setting and monitoring budgets and Kerri is very capable at making sure they keep on track.
She has a Bachelor in Business Studies (completed by distance learning while she worked in kitchen design) and is studying towards a postgraduate qualification in Agribusiness from Massey University and Jono holds a Diploma of Agriculture from Telford after growing up in Milton, South Otago.
In the ten years they have been together Jono and Kerri have married, bought and sold a rental property for a profit, bought 20 in-calf heifers to sell later at a profit to finance their move into contract milking in Patoka, then spent time variable order sharemilking before looking around for a smaller farm, closer to town, to VO sharemilk for two years before moving into 50/50 herd-owning sharemilking.
Judges commended them for their business management prowess and Kerri's exemplary financial controller work by awarding them the Lawson Avery Ltd Business Performance Award.
The couple have goals as well – they plan to pay off their herd in three years and be in a position to buy a drystock block in the next five years without being too heavily geared. Before that they will be looking for a lease block to run their beef cattle business on. Both are giving back to their communities in governance positions, Jono as part of the

executive team of Hawke's Bay Federated Farmers and chair of the sharemilking section and he wants to do a Kellogg and Fonterra governance development programme next. Kerri is secretary of the local pony club and plans to get involved in school governance to support their two children Evie,7 and Thomas, 4. She also has led the Tararua Dairy Women's Network as regional leader for the past three years and has joined the FoodHQ Strategic thinking development group.
The farm they are milking is Dean Nikora and Alexandra Stewart's 119-hectare, 350-cow Waipukurau property, just 10 minutes from the central Hawke's Bay town.
Their highly fertile Kiwicross herd is also highly efficient – producing 460kg milksolids (MS), then 430kg MS and targeting 450kg MS for this season from the average 450kg liveweight (LW) cows.
The couple give the credit for the fertility of the herd to the previous owners who they say have invested in Premier Sires semen and used the Why Wait programme to successfully condense the calving to about nine weeks – achieving a six-week-incalf rate of 84% and an empty rate of 9% last season.
"This was a really great herd to buy, we are lucky to have had such a great opportunity," Jono says.
The plan to buy a drystock block is part of the couple's desire to move away from bobby calves. They have started the move this season, using sexed semen over the top 30% of their herd to generate good replacement heifers, with any other cows receiving Speckle Park semen then a few days of 'soup of the day' semen which will count only 12 bobby calves produced this season.
For the last week of AI they use Hereford short gestation semen and after that anything returning gets a low birthweight Angus bull (also used over the heifers).
Jono is organising calf rearers for the beef calves and will sell the calves between four days and two weeks, but is keen for the couple to rear and market them themselves in the near future.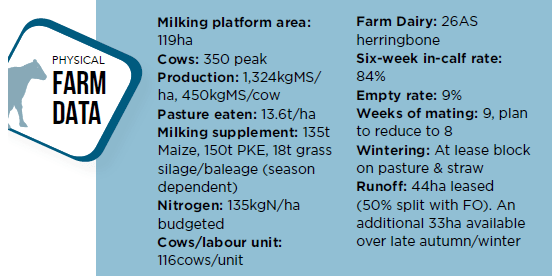 "We could rear and finish them through to 12 or 24 months to both minimise any bobby calf wastage and to capitalise on the possible margin on the beef cross calves."
"It's a robust mating plan and it worked well – we are looking forward to seeing how the calving goes," Jono laughs.
People have been a big focus for the couple, leading them to win the DairyNZ – People and Culture Award. When their previous staff member of six years left to go to a larger herd their relief milker asked to step up to a full time role. The Robsons invited her, a local mum, to choose her own roster and she asked for a 6:2 roster, but when they found that hard to plan around, it was moved to 5:2. When they employed another milker, also a mum from Waipukurau and new to the industry, she went on to the same roster.
"They are both loving the roles and the roster has been part of that – they get to have a normal life at the weekends," Jono says.
"Why should it be any different to any other industry? We all have kids, we all need the flexibility."

Jono and their relief manager (an ex-dairy farmer who lives in town and is on call) milk weekends about through the season, which Jono says is a traditional twice-a-day milking 270-280-day lactation.
At 80ha of pivot irrigation, long laterals and Easirainers, the farm is almost fully irrigated, as it lies in the summer dry belt and received an average of only 650mm annual rainfall in the past three years.
Irrigation is not just water though, it requires a whole other level of monitoring and measurement because the effluent water out of the two-stage pond system, mixed with effluent from the neighbouring piggery, is spread through the irrigators over 90% of the farm.
Jono says the 9.8kg nitrogen/ha applied through effluent comes directly off the N fertiliser budget (set at 135kg N/ha) giving lots of breathing room under the 190kg N/ ha cap.
However, the bigger saving comes from the high P and K (phosphate and potassium) levels in the piggery effluent water which supplements the capital P fertiliser, making it a bi-annual application and reducing the cost to about $10,000/ year.
"It's a great use of a nutrient resource," Jono says," but it requires a greater level of understanding of the application rates and ensuring no-go zones around drains and near neighbouring properties."
Timing is also important, as it is with the use of the composted piggery bedding material, applied as a soil conditioner after composting and processing through a solids separator.
"There is still a lot to be learned about the soil conditioner in terms of application to pasture – understanding rotations, measuring and recording the nutrient application and understanding which areas are best covered and how the interaction with sunlight kills bacteria."
"It's a great learning journey."