By Anne Lee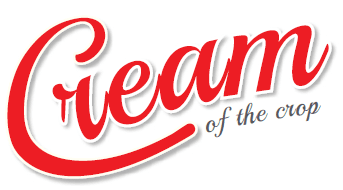 While Amarjeet Kamboj and his wife Mamta have their target destination firmly set at farm ownership, their journey to get there is dotted with waypoints they're just as focused on achieving.
"We have a plan with a lot of smaller goals so we can achieve the big goals," Amarjeet says.
He's this year's Hawke's Bay/Wairarapa dairy manager of the year and manages a 550-cow farm for Dairy Farm Investments at Mangatainoka, near Pahiatua.
Amarjeet says the couple's nearest term goal after the Dairy Industry Awards is to achieve New Zealand residency.
"Without it we can't become contract milkers or sharemilkers.
"Once we have residency, we want to step up to contract milking or variable order (sharemilking) and after two or three years of that, we want to become 50/50 sharemilkers on a 300-400-cow farm.
"We've done all our budgets and know exactly how much we need for each step."

Amarjeet has been dairying for seven years but first came to NZ as an international student to further his business management studies, having already graduated with both a bachelors and masters degree in commerce from his studies in India.
"After a year in Auckland studying, I found I wasn't enjoying big city life and a friend suggested dairying."
He's never looked back, he says.
Amarjeet has worked in both large and small-scale dairy operations and with just three years' experience, fast tracked his way into farm management.
He impressed the judges on a number of fronts – taking out four of the seven merit awards.
His current farm is flood-prone.
"I have good plans for that – we always graze the paddocks early that are most likely to flood if we're expecting heavy rain and we have a feedpad – that's here from previous owners – where we can safely feed cows because it doesn't flood there."
Supplement includes maize with palm kernel used over mating.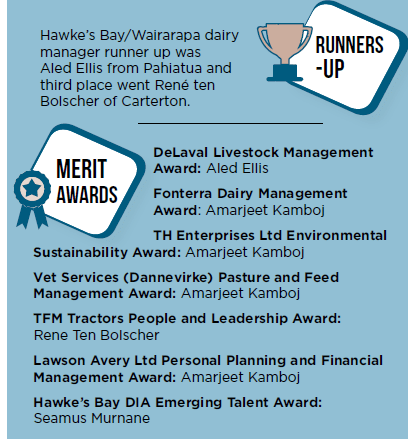 Amarjeet has worked on improving grazing management on the property since he took over in 2020 and has boosted pasture quality and pasture eaten.
He uses LIC's pastures from SPACE service to record pasture covers in combination with his own observations.
He's also managed to improve reproductive performance bringing empty rates after nine weeks mating down to 15% this year from more than 20% in previous seasons.
Good environmental management is a top priority and he's working with Horizons regional council staff, to protect river frontages from erosion through plantings.
He recycles and re-uses where-ever possible and recycles water as greenwash in the yard.
"We're monitoring water use closely – that means we can identify and fix water leaks straightaway."
Amarjeet was thrilled to win the Lawson Avery Ltd Personal Planning and Financial Management Award.
He takes a strong interest in the financial aspects of the dairy business and is involved in setting the budgets, putting some of his academic commercial knowledge into practice.
"I get the opportunity to offer my own analysis as we're setting the budget.
"Because I'm here, running the farm I can look at where we can get improvements and where we can get the best return on money spent."
His involvement at that level means he's strongly engaged in managing the farm to the budgets.
In terms of their personal financial positions, Amarjeet says Mamta is very much involved in monitoring and ensuring they achieve each month's goals for their family which includes 2.5-year-old Lovey and seven-year-old Aarzoo.
"We have a chart up on the wall with each month's income, our budgeted expenses and then our actual expenses.
"Each month we discuss how we are doing and each month we try and make some extra."