Sheryl Haitana
Having an agricultural degree has helped Daisy Higgs accelerate her farming career with people more willing to hire her into an advanced role onfarm.
The 2020 Waikato Dairy Manager of the Year will take on her first sole manager role this June, milking 180 cows at Rotorangi.
The 24-year-old has worked for the last three and a half seasons as herd manager for Aaron and Sarah Price, who sharemilk 300 cows on Gavin and Maree Hadden's farm at Morrinsville.
"Aaron hired me straight out of university, he went to Lincoln and wanted a graduate. The job was herd manager, I wasn't ready for that, but he was happy to teach me.
"I'm happy I did the degree, I met some great friends and it was a great experience. And if I went into farming at 16 with no qualifications I might have been stuck in a low position role for several years and be over farming by now, be burnt out."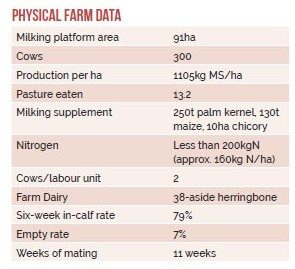 Daisy emigrated to New Zealand from England with her parents when she was nine. They family moved to Taranaki and lived in a rural area where the neighbours were all dairy farmers.
Daisy got involved with calf club and her love of animals grew. When she went to Massey University she initially started a degree in animal science.
Agriculture seemed like an attractive choice with there being so many job opportunities with most of them offering a lot of outdoor work.
"After the first semester I started worrying about the jobs that I would be able to get. I saw how many opportunities there were in agriculture so I changed to a Bachelor of Agricultural and Animal Science."
In the last year of university, Daisy applied for graduate roles, but didn't get any that she wanted and didn't feel ready to take on a farm consultancy role.
"I thought I should do an onfarm role and get some experience. Farmers don't need a young face out of university telling them what to do.
"At university they teach you about different pastures, you learn the theory side being techniques such as the three leaf stage, energy reserves and feed budgets but being able to put those skills into practice onfarm really gives you an in-depth understanding and more about the leaf stages, energy reserves – all those things you don't get from uni."
What seems like common knowledge now for a farmer is high level.
Daisy has continued to grow her farming knowledge, studying Level 4 and 5 through PrimaryITO and is completing her Diploma in Agriculture.
"The diploma has definitely given me skills my degree didn't offer, such as learning how to do a budget, pay staff, GST returns, completing a proposal and putting these skills in to practice on your farm.
You do different things in the diploma (to a degree), there is more recording and budgeting, and it's way more relevant when you're doing an assessment on the farm you're working on."
Farm consultancy is still in the long-term plan, but Daisy is happy farming for at least the next 20 years.
Daisy and her partner Charlie Matthews, who has an Agricultural Commerce Degree from Massey and works for Power Farming, have done a budget to get them to sharemilking 300 cows on Charlie's home farm in Taranaki in the next five years.
"We both want to end up back in Taranaki. If it doesn't work going on to the family farm, we will be happy as long as we're farming."
The couple have based their budget on using their salaries to save the equity for sharemilking in the next five years, with the possibility of investing in property or young stock along the way.
"I looked at a few contract milking jobs for this season. But at this stage of my life I like having a secure salary and time off."
She is looking forward to her managing role for Shaun and Steph Crofskey who farm a low-input system on rolling country.
"It's the type of system I want to be running long-term and I will get to monitor individual cows more closely. Shaun works off farm so won't be as hands on, so I will have more responsibility.
"I am looking forward to enhancing my the most efficient feed source."
Daisy entered the Dairy Industry Awards last year and was runner up in the Dairy Manager category.
Aaron won the Waikato ShareMilker/Equity Farmer of the Year in 2015 and encouraged her to enter.
"He didn't push it, but he said it was a great way to learn more about the farm and set goals."
This year Daisy knew what to expect, what the judges were looking for and felt she was better prepared.
"It's a lot around evidence, so I was able to collect data during the season rather than trying to go back and look for it.
Every point you make needs to be backed up with evidence – this prepares you for sharemilking/ownership when it comes to filing, paying bills etc ."
Daisy also had more structured financial goals and was able to able to show she was progressing with a manager's role lined up for next season. She won two merit awards, the Westpac Personal Planning & Financial Management Award and the FarmRight Leadership Award.
"I was really happy to win the Westpac award because doing a science degree I never took much interest in the numbers. But I've learnt so much about how important it is to know the financial side of the business."
The leadership award reflected the work Daisy does off farm in the industry, including Dairy Women's Network courses, discussion groups, and getting off farm to play sport.
"I think a lot of young people get put off farming because of the horror stories of calving and the hours worked. But during the quieter times of the season farming offers the flexibility to get off farm during the day to pop into town, go to the gym or get some extra training in."
Farming has so much to teach the current and up in up-coming generation, Daisy says.
"It teaches us good work ethics, to celebrate the small successes as part of a long-term goal. There is nothing sweeter than watching the down cow get up.
It teaches us responsibility, to be selfless – no farmer ever has breakfast before the calves, the value of money.
"And the most important one for me – is fix a small problem before it becomes a big one. That really translates to every part of life whether it be that broken wire or figuring out how to make that budget balance."
Runner-up in the Waikato Dairy Manager was Sam Guise, and Aidan Drake was third.
Dairy manager merit awards:
Baker Tilly Staples Rodway Waikato Most Promising Entrant Award – Alex Colquhoun
Waikato Farmers Trust Encouragement Award – Gursimran Singh Jhalli
Blackman Spargo Rural Law Ltd Employee Engagement Award – Aidan Drake
FarmRight Leadership Award – Daisy Higgs
ADM Feed Management Award – Sam Guise
DeLaval Livestock Management Award – Aidan Drake
Fonterra Dairy Management Award – Aidan Drake
Primary ITO Power Play Award – Sam Guise
Westpac Personal Planning & Financial Management Award – Daisy Higgs