A change to their grazing ideologies has been the gift that keeps on giving after years of uncertainty for Bay of Plenty farmers Tony and Chantel Hanham, Alex Lond writes. Photos by Alan Gibson.
Tony Hanham admits that he was the last person anyone would expect, least of all his partner Chantel, to convert to a regenerative system on their dairy farm in Rerewhakaaitu. But after years of exhausting more traditional farming methods, he knew something had to change.
Moving from a DairyNZ System 4-5 to a system 1-2 four years ago was just the beginning, but Tony and Chantel were determined to make as many changes as were needed to improve their soil and animal health.
"None of the 'traditional' methods were working for us. The harder we tried, the worse things got, and we weren't seeing the changes we wanted. So, we took matters, and all the research, into our own hands."
They became addicted to researching where they needed to start with the process of converting to a more regenerative system. After seeing their neighbour making changes to his fertiliser usage, Tony hand dug holes on his own farm and then jumped the fence and did the same next door.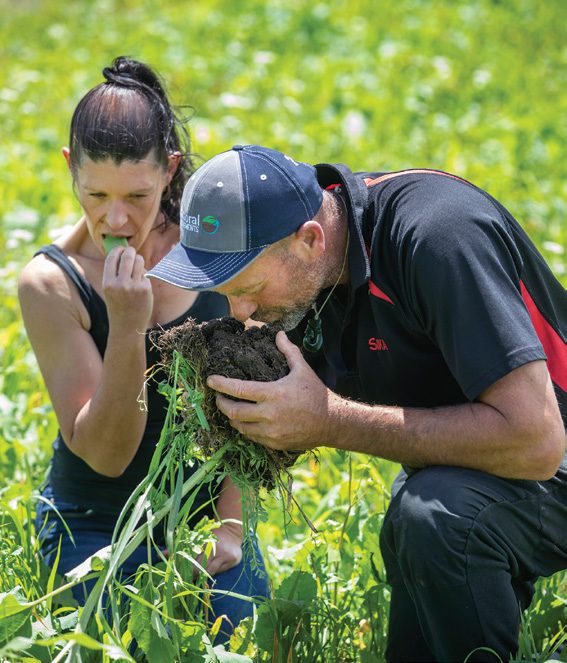 The amount of life on his neighbour's biological farm was unbelievable, he says, particularly as the pumice soil should've been unforgiving on both sides of the fence. It was enough to convince Tony, and after a low payout from Fonterra, he decided to cut back on fertiliser usage.
First, he removed phosphate to save money, however, it didn't take him long to realise that most of his fertiliser bill was from his N usage. With little previous knowledge on soil, Tony cut out the middleman and learned how to read and understand his own soil tests.
Working with his neighbour, Jason, he began assessing his soil with a spade in each paddock. As a result of this, they drastically reduced their N usage from 350 units of N in 2016/17 by converting to foliar application in 2017 and reducing to 27 units last year.
"The result was amplified when adding a carbon source with the urea. From there we developed a formula called 'Revive' to activate nutrients by using bio-stimulants like fish and seaweed to boost microbial life. The results made it a no-brainer for us."
After more research Tony and Jason realised a diverse multi-species seed mix along with nature's synergy would help replenish and reboot soil health. They approached Canterbury-based seed company Pastoral Improvements Ltd with their research and ideas, and between them developed the Reboot Seed Mix, a long rotation grazing mix made up of over 30 species. Reboot is a high-yielding, high-performing mix providing strong soil and animal remedial benefits without compromising profit, Tony says. It consists of five plant groups; cereals, brassicas, legumes, grasses and chenopods, all providing a symbiosis of life from edible flowers and seeds to an abundance of predatory insects, negating the need for pesticides and herbicides.
Trialling the Reboot seed mix on his own farm, Tony realised that he was now able to shift his feed wedge into farm deficits on his summer dry property, without harvesting and associated costs. When grazing Reboot, he left adequate residual to protect soil moisture, and provided the perfect environment to have the next rotational grazing of six to eight tonnes within 30-60 days. The added bonus was that as the season developed into cooler months, the perennial species were already there so there was no need to redrill grasses. While reiterating that soil health is the most important thing, Tony explained how diversity is also key; together, they produced an impressive result that his farm had not seen before.
"We have disillusioned ourselves by the instant gratification we receive by applying soluble nutrients, especially urea. Nitrogen is freely abundant in the atmosphere; we just need to learn the process of the soil biome and receive it for free."
Last year, Tony sowed 25 hectares out of his 130ha farm with Reboot; he expects the mix to produce 18-22t/ha annually. He says a big contributor to the success of a multispecies mix is consistent monitoring of carbon, and he gets biological and total nutrient testing done to tell him how much the soil is producing before any inputs. While he never expected such a high yield from the crop so early in the experiment, Tony says that you could see how a diversity of plants were working together to increase the yield. He successfully shifted his excess growth from October/November to early the following year, when growth rates normally plummet during the drier months.
"It's the opposite to the Darwinism ideology whereas each species ultimately aids each other rather than the belief that everything is in competition."
Tony and Chantel have seen a huge increase in soil nitrogen, fungal activity, and bacterial activity since cutting down the use of fertiliser and relying on Reboot and Revive to regenerate their soil. But it's not just the soil that has benefited from the changes they have made over the past four years, Tony explains. The cows are thriving off the change, with an obvious increase in animal health as well as production; milk urea notably reduced, with protein/fat and litres up.
"There's no other feeling quite like it, when you can see the change every day because you're on farm and you're watching it happen. I look out at my cows and see them sitting down contentedly, they get variety in their diet and eat nutrient-dense forage as opposed to urea-driven grass." So, how can people who haven't tried a multispecies system like Reboot slip it into their own system without too much risk?
Tony advises doing a trial paddock, start small and increase the number of hectares you sow as you start to see results. A mentor is very important for confidence and management at the start, so talk to people who have already succeeded with the process.
"Soil testing is also essential but doing it yourself is easier than you think. Using your results, you can monitor your carbon more accurately and the nutrient density in your soil will rise as carbon rises," he says.
While Tony does annual soil tests, he says that now they just back up what he can already visually see.
"You need at least 12 species but preferably more to get the process going. It might appear scary at first, but you just have to be brave and prepared for change, because it is coming whether we like it or not. Nature is smarter than all of us, it has already provided the solution, and now we must work with it."