Elaine Fisher
Paul Mercer understands the value of making fact-based decisions and loves delving into the detail of dairy farming to make farm systems and businesses run more profitably.
The winner of the Manawatu Dairy Manager of the year for 2020, Paul has recently embarked on an extra-mural Bachelor of Agricultural Commerce at Massey University with the five-year plan of becoming a farm consultant.
The 27-year-old has been dairy manager for Robert Ervine and Colleen Sheldon on their 147 hectare, 370-cow property near Palmerston North for the past two seasons and his methodical and fact-based approach to problems has seen some great advances for the business.
His philosophy for dairy farming is to always have well-fed cows and to feed them at the peak of what they can eat so that there is no BCS loss throughout the season – with no associated negative effects on animal health and production.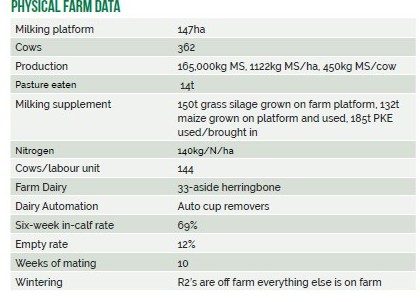 Entering the Dairy Business of the Year competition for the past few years has enabled Robert, Colleen and Paul to review all their animal and business metrics and benchmark against others.
Now the team are setting about resolving some of the issues they identified.
"When we benchmarked our animal health bill we realised we were having an issue with high levels of metabolic problems – milk fever and ketosis levels were high and that was causing poor in-calf rates in the herd – the incidence was very noticeable in my first season as manager – so we needed to sort it out," Paul said.
In winning the DeLaval Livestock Management Award Paul outlined how he was able to investigate the issue and based on research and consultation with vets, recommended a transition diet to Robert and Colleen, along with an economic cost/benefit analysis to back up his recommendation.
The DCAD diet recommended by the vet was fed to all cows three weeks before calving (based on pregnancy diagnosis cows were drafted out three weeks before calving and fed separately) along with the colostrum herd also being targeted for the mineral-rich diet. During calving the incidence of milk fever and ketosis halved and the not-in-calf rate dropped from 18% to 12% while boosting the six-week in-calf rate from 62% to 69%.
The effect was less metabolic cows and lower expenses, higher peak production, better breeding outcomes, less replacement costs, higher production across the season and very happy owners and manager.
'There were other initiatives we employed like using Flash mates and staff training around picking cycling cows, but it really showed the power of making decisions based on facts and data."
His farm owners are also very data-driven, Paul says,
"If I go to them and say I have identified a problem, I have researched a solution and done a cost benefit analysis, they are very keen to go through it and come up with the solution and help me to put it in place."
That's what I love about farming – the ability to help people identify problems and develop solutions that are fact-based – that's the kind of higher-level stuff I love."
Paul says that's why the challenge of becoming a farm advisor suits him better than milking cows for the rest of his career.
"Farmers don't just have to be good at the grass and cows stuff, they need to be good business managers, because the margins are getting very slim and the costs keep going up – eventually I want to help farmers develop those strategies and skills."
Paul has started regular weighing of the replacement heifer calves on the Ervine's farm, so that he can pull heifers out of the mob if their growth rate drops and feed them extra.
"Once again it's just having the information and being able to make a difference."
The farm straddles the stopbank along the Manawatu river and the 50% of pastures on the river side (on leasehold land) are prone to flooding at least once each year, with consequences for the pastures.
Undersowing the flood-prone paddocks with Tabu short rotation ryegrass fills in the gaps and tops up pasture production between pasture renewal.
"The flood-prone land does need to be renewed more often, but that's expensive and stitching in some Tabu can give the pastures a boost in the meantime."
Paul has moved the contractor on from direct drilling in new pastures where the plants come up in rows (he thinks the plants were a bit sparse) to roller drilling which given them a much denser sward.
"When you roller it in it the seed seems to find its own space and it works really well in our silt loams, sowing is expensive when you are coming out of a chicory crop because you need to establish a seed bed, but we have been getting great results from the technique," he says.
Embarking on a five-year upskilling programme will entail three papers each year for three or four years followed by a year's full-time study to complete the degree, Paul says, which will not be easy for a man who is involved in facilitating discussion groups, Fitzherbert Young Farmers club and has a busy farm and family life with wife Laura and baby Charlotte. But it's programme that will lead to a great near-farm career suited to his personality type, he says.
"Every decision I make is fact-based and I really want to help other farmers with problem solving and business growth."
Shane True from Palmerston North placed second in the Dairy Manager category and Joshua Millard from Foxton was third.
Dairy manager merit awards
Naylor Lawrence and Associates Most Promising Entrant Award – Nicholas Reid
Fitzherbert Rowe Lawyers Employee Engagement Award – Josh Millard
Totally Vets Ltd Leadership Award – Paul Mercer
Hopkins Farming Group Feed Management Award – Paul Mercer
DeLaval Livestock Management Award – Paul Mercer
Fonterra Dairy Management Award – Shane True
PrimaryITO Power Play Award – Josh Millard
Westpac Personal Planning and Financial Management Award – Shane True