A common interest in food and fibre is the catalyst for a group of young primary sector advocates. Anne Lee reports.
Finn Ross and Aimee Blake – founding co-chairs of Future Farmers New Zealand championing a new generation of farming.
A bold new group of energised, primary sector advocates is seeking a seat at this country's policy and decision-making tables.
They're smart and they're fuelled, not deflated by challenges of sustainability.
While they value the efforts and knowledge of past generations, and they're aiming to attract more young people into the primary sector by opening their eyes to the breadth of meaningful career opportunities, they're also unashamedly calling for some changes to the way land is managed.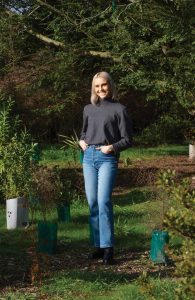 Future Farmers New Zealand is a group of more than 30 mostly twentysomethings from a range of backgrounds – scientists, researchers, farmers and consultants.
They're also entrepreneurs involved in an array of businesses from tech to fashion.
Aimee Blake is co-chair of what she describes as an amazing network and collective of young people.
"We describe ourselves as a united youth, reimagining society to heal our world with food and fibre," she says.
"We came together about two years ago, after Finn Ross and I realised we were having similar conversations with young people at various events.
"We saw the opportunity to bring people together and try and really articulate what a united vision for the food and fibre sector could look like – a vision with a youth voice.
"We wanted to show agriculture could be part of the solution to some of the big issues our planet and society is facing and not the culprit."
Aimee is the sixth generation in a dairy farming family from Waiau Pa, just south of Auckland and has just completed her second masters degree at Lincoln University.
She's worked for food giant Mars as a marketer and is also a co-founder of an educational organisation Girls Who Grow.
Finn is co-chair and is from Hawea Station, which notably became the first certified zero carbon farm in Australasia. He's completing a PhD looking at seaweed as a climate solution.
Having diversity of thought and background to inform a united vision was important to them.
"We have people with a range of political views and backgrounds. We're also not all farmers and don't all come from farming backgrounds but we do share a common interest in the primary sector, in food and fibre," Aimee says.
Over the past two years the group has met, discussed, researched and debated – often rigorously until they could achieve consensus in their vision.
"We believe that if we can come together and agree on the vision then the rest of New Zealand can too," she says.
"What unites us is so much more important than what divides us and if we're focused on what we all want and the outcomes we all want, we can work together to get that."
The work has culminated in a detailed manifesto with key policy recommendations to share with policy makers and political parties.
"We have created something comprehensive and robust in the context of leading science and policy frameworks to build a future that is healthy, resilient and profitable. 
"We understand there is no silver bullet to the challenges we face, which is why our manifesto highlights seven key themes we believe are essential to address in unison."
Land use and design

Knowledge and education

Forestry and carbon credits

Farm management

Hauora – holistic wellness

Supply chain and innovation

Markets and finance    
While the manifesto was posted to the group's website early this year the full launch for the group and the manifesto came at Fieldays and E Tipu the Boma Agri Summit held in Christchurch in June.
There Finn and Aimee presented a precis of the Future Farmers NZ movement, backed by a short but impressive video.
The audience, members of the food and fibre value and supply chain, were receptive to the cause and Aimee says they've had overwhelmingly positive feedback from both the Fieldays and E Tipu conference.
In an election year they've also managed to catch the ear of some of the political parties.
Aimee told the E Tipu Boma Agri Summit the group that in terms of land use and design the group wants to see an ongoing strategic land use modelling exercise that takes into account future market trends, climatic conditions and environmental limits to ensure the right land use practices are carried out in the right places. 
"Land use in New Zealand has for too long been pushed forward on a one size fits all approach – for example the significant expansion of intensive dairy systems on unsuitable land over the past 30 years and productive fertile soils in different regions being buried under housing."
As well as a farm environment plan for every farm of more than 20 hectares, they want an online dashboard for all farm compliance and reporting to be built in consultation with existing farm management and software companies and industry so that farmers can enter data once.
Spatial mapping and digitisation of land use management at a catchment level should be encouraged to assist with future decision making.
The group's farm management theme underscores freshwater reforms endorsing the maximum 1mg/litre nitrate level and a limit of 190kg nitrogen (N)/ha/year.
They want increased funding for research on multi-species winter crops and data made available on cost and yield.
They're calling for restrictions on winter grazing to be both practical and ambitious.
In line with several of their other policies they want to see a regenerative agriculture certification programme established.
He Waka Eke Noa is cited as a vehicle for promoting and incentivising sustainable reductions in greenhouse gas emissions as well as other environmental emissions.
Finn told the conference forestry is the largest lever NZ has to mitigate and adapt to climate change, with significant opportunity to turn the country's farms into a net carbon sink.
"Farmers can be our best allies in the climate and biodiversity fight.
"The way we price emissions and sequestration are critical elements that will define our landscapes for generations to come.
"We want to see more incentives available to farmers for enhancing biodiversity and increasing carbon sequestration, alongside the requirement for a native forestry transition plan or harvest plan," Finn says.
Regulations should be changed in increments over the next decade to unlock the ability to selectively fell new plantings of natives.
In terms of markets and finance, Finn says many Kiwi farmers carry high loads of debt and changing land use can be financially risky. 
"Mechanisms need to be in place to support farmers to diversify and innovate. We need to align market mechanisms to account for environmental costs and benefits."
The manifesto calls for financial markets for ecosystem services as well as the development of appropriate markets for externalities, emissions and nitrates which generate liability on farms, so they happen in harmony with markets that generate revenue.
Finn says that as part of the supply chain and innovation policies the group wants to see the creation of a national food strategy that embraces increasing localisation to sit alongside the country's export system.
Girls who Grow community to explore agriculture
Education and reconnecting youth with the land, food and the primary sector is of keen interest to Aimee.
The knowledge and education theme within the manifesto ties in closely to another group she has co-founded alongside Catherine van der Meulen, originally from Australia but now living in the Awatere Valley.
Last year the pair took their ideas through a GovTech Accelerator programme through CreativeHQ in Wellington and looked at how they could enable the next generation of change makers in the primary sector.
Aimee says their research revealed the number of school leavers entering primary industries has been decreasing since 2009 with just 6% of school leavers coming into agriculture.
"We found a big gap in the 15–17-year-old age group where they were disconnected from agriculture.
"They're highly concerned about the climate crisis, but have confused perceptions about agriculture with little or no understanding that it can be part of the solution.
"There weren't any clear narratives about meaningful career pathways in agriculture especially for young women yet there are so many opportunities to make a difference whether working directly on the land or in associated businesses – in the agritech space, the supply chain or in research."
Aimee says Girls Who Grow aims to create a safe and welcoming community for young women to explore agriculture.
It's already hosted in-school workshops alongside Future Farmers NZ – bringing together students from three Otago high schools – Dunstan, Wakatipu and Mt Aspiring College.
They're also planning on hosting a "lunch and learn" where students attend a panel discussion with farmers as well as holding one and three-day immersion experiences where students can spend time on farm.
"We want to help inspire them and spark their imagination as to what a better future could look like with agriculture as a vehicle towards that.
"You can't create a better world without first seeing it.
"What we need is a new story – a story about a future we want rather than a dystopian future that's not hopeful.
"We know fear and shame don't work – we need to get people engaged and get them inspired. It's the hopeful story that gets us there."
Aimee has just completed a second masters degree study looking at the role of information in land use decision making from a farmers' perspective.
It's been supported by the Our Land and Water National Science Challenge.
Misinformation and information overload are both big problems farmers are grappling with.
She warns people to be critical of where they are sourcing information from and to build digital literacy by cross-referencing information.
Use trusted intermediaries or knowledge brokers.
"No one can be an expert on everything, but farmers are expected to have pretty in-depth knowledge of a huge range of things.
"Find the people who can connect you with the expertise you need and can curate the information flow for you.
"It's important to have a strong foundation in your purpose so you know where you are going and what is relevant to you.
"Integrated farm planning has an important role too because, when done well, it will inform you of where your knowledge gaps are and where your risks are.
"Surround yourself with a network and community to feel supported. It's important to look after mental health because it's hard to engage with complex issues when we're not feeling mentally well."
Catchment groups offer connections with community and experts and help break down issues into manageable bites.
"They can break down sector barriers too, bring communities together and build social capital that goes far beyond the waterway."