Karen Trebilcock
Terry and Maegan Legg were sitting on the couch at home in their pyjamas when they were announced as the winners of the 2020 Manawatu Dairy Industry Awards Share Farmers of the Year.
Not the usual attire for the awards but then they were watching via video link on Facebook, as were all the other entrants that night due to the Covid-19 lockdown.
"To be perfectly honest we didn't expect to win," Maegan said.
"We didn't even tell many of our friends to watch."
Their kids – six-year-old Conrad and four-year-old Jackson – were both asleep in bed and didn't find out until the next day.
"Although we were making a fair amount of noise when we won. It's amazing they didn't wake up."
The couple, Terry (35) and Maegan (31) are both from dairying families but Maegan worked as a public servant for StudyLink and Terry as an engineer until Conrad was born in 2013. It was then that they decided their fast-paced city life needed to slow down.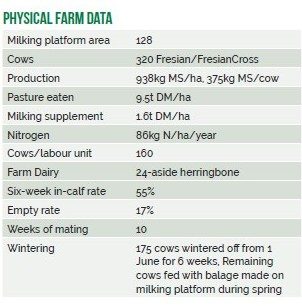 They had met at a Young Farmer's Ball in Opiki although neither was farming at the time. However, all their friends in the district were so they had both gone along.
Now they are passionate about the dairy industry after starting contract milking in the 2017/2018 season.
They rented out their house, used savings to buy the two motorbikes and the other equipment they needed and instantly loved it.
"We didn't have farm debt back then. Now, this year going sharemilking, we have plenty of debt."
They started the 50:50 position in June last year milking 320 cows on a 128-hectare Shannon property owned by Spall Farms Ltd, a second-generation dairying family.
To finance the herd they sold their house and took on the three-year contract which they hope will continue for many years after that.
"We're really close to both of our families living here and we haven't had to change schools for Conrad so it really suits us."
Having the kids home with the lockdown has been fun, they said, and both are getting plenty of time outside on their new motorbikes which they got for Christmas.
"It was probably one of the best presents we could have got them with what's happened.
"They're still not tall enough to milk."
The farm is a DairyNZ system three with palm kernel, maize and grass silage used to extend the lactation at the beginning and at the end.
The 128ha milking platform has another 22ha of non-effective area and they hope to start growing the maize themselves for silage this coming season.
"I'm passionate about utilising the grass grown onfarm as this is his best and cheapest form of feed for us," Terry said.
Half the herd is wintered off, and the young stock go to a grazier at Christmas returning in time for calving.
Building the BW of the herd is one of their aims. It's a LIC sire proving herd with AI for six weeks and then bulls for another four weeks.
The couple managed to buy a Friesian, Friesian/crossbred herd locally to go sharemilking, topping up the numbers with in-calf heifers from another farm.
"We were lucky we could source the cows from just two farms. There was a dairy farmer finishing up so his herd was for sale. It was just good timing for us."
They say the strength of their farming business lies in their passion for the dairy industry.
"When we started in 2017 we just felt straight away that we had found our place. That this was us," Maegan said.
The two years contract milking gave them the knowledge and the confidence to give sharemilking a go.
Although dairy farm ownership was once their goal, they now want to instead lease a farm.
"We definitely want to keep dairying and we want to own our own land, but probably just not a dairy farm.
"That's something the competition has made us really think about. When we started contract milking we had the goal to go sharemilking and we went as hard and as a fast as we could to get it but we didn't have a goal after that.
"Now we want to reduce our debt and build equity so we can purchase land," Maegan said.
"We love the life we live and want to continue to grow great kids, great cows and great grass."
Onfarm they play to their strengths with Maegan's experience as a public servant helping her with payroll, GST, farm budgets and planning while Terry is hands-on outside.
"We try not to cross over into what each other does too much and finds that works really well."
"Plus I'm not a morning person," Maegan said. "A 4am start is definitely not my thing. Terry is the morning person."
With them sharemilking is 2IC Cole Gibson (28) from the Waikato and he and Terry make a good team with two needed in the 24-aside herring bone dairy during calving and mating.
"The rest of the year it is easy to milk with just one person."
Their small team has meant they haven't needed to register with MPI for the Covid-19 lockdown but they are still making sure they all stay healthy.
The couple have plans to encourage Cole to enter in the manager's awards next year.
"What we have learned through the industry awards would have taken us years and years to learn if we hadn't entered."
"It has really helped us so we are keen to see him experience it as well."
Maegan and Terry also won the Federated Farmers leadership award, the Honda farm safety, health and biosecurity award and the LIC recording and productivity award.
Second in the competition was Renae Flett who was also the winner in 2016 of the dairy manager category. The 33-year-old contract milks for Brian and Geoff Hill and their Hill Bros Ltd 70ha, 180-cow Palmerston North property. Third place went to Quentin and Stephanie Bruntlett who contract milk for John and Janine Bartlett on their 220ha, 600-cow property in Kiwitea.
Share farmer merit awards:
DairyNZ Human Resources Award – Quentin and Stephanie Bruntlett
Ecolab Farm Dairy Hygiene Award – James Dillon
Federated Farmers Leadership Award – Maegan and Terry Legg
Honda Farm Safety and Health Award – Maegan and Terry Legg
LIC Recording and Productivity Award – Maegan and Terry Legg
Meridian Energy Farm Environment Award – Quentin and Stephanie Bruntlett
Ravensdown Pasture Performance Award – Quentin and Stephanie Bruntlett
Westpac Business Performance Award – Renae Flett