Uruwhenua Farms is the Sowman's family business in Takaka, Golden Bay. Two brothers, Corrigan and Sam, with their wives Ruth and Cara, manage the 500ha operation consisting of a partially irrigated 268ha dairy platform, dairy support, and a recently established dairy beef operation.
The family has always tried to have an environmental focus, but a series of events triggered a farm system review that has resulted in a lower cost structure and reduced environmental footprint (see table).
Historically it was a System 3-4 farm with imported supplement of PKE, grain, silage and winter grazing. Over the years this business model allowed them to invest in significant capital development and repairs, as well as providing regular rostered time off and away from the farm – while repaying debt.
However, when the milk price fell in 2014, the Sowmans felt it was time to create an even more financially resilient system. At the same time, there was increasing community interest in local farming because they are in a recharge area for an aquifer for the Te Waikoropupu Springs. These factors triggered the brothers to consider change as they wanted to reduce their business risk, both for the environment and their balance sheet. They knew that adapting their system now would make their business more bankable in the future.
To start their onfarm change journey, they first considered their current farm situation and measured their performance through KPIs. After understanding these, they decided to focus on having a cash surplus business goal.
Now their target is to have $1/kg MS of free cash after capital reinvestment, while also focusing on protecting the environment and creating a simpler farm system. This included having a key goal to stop using PKE onfarm, which they have done.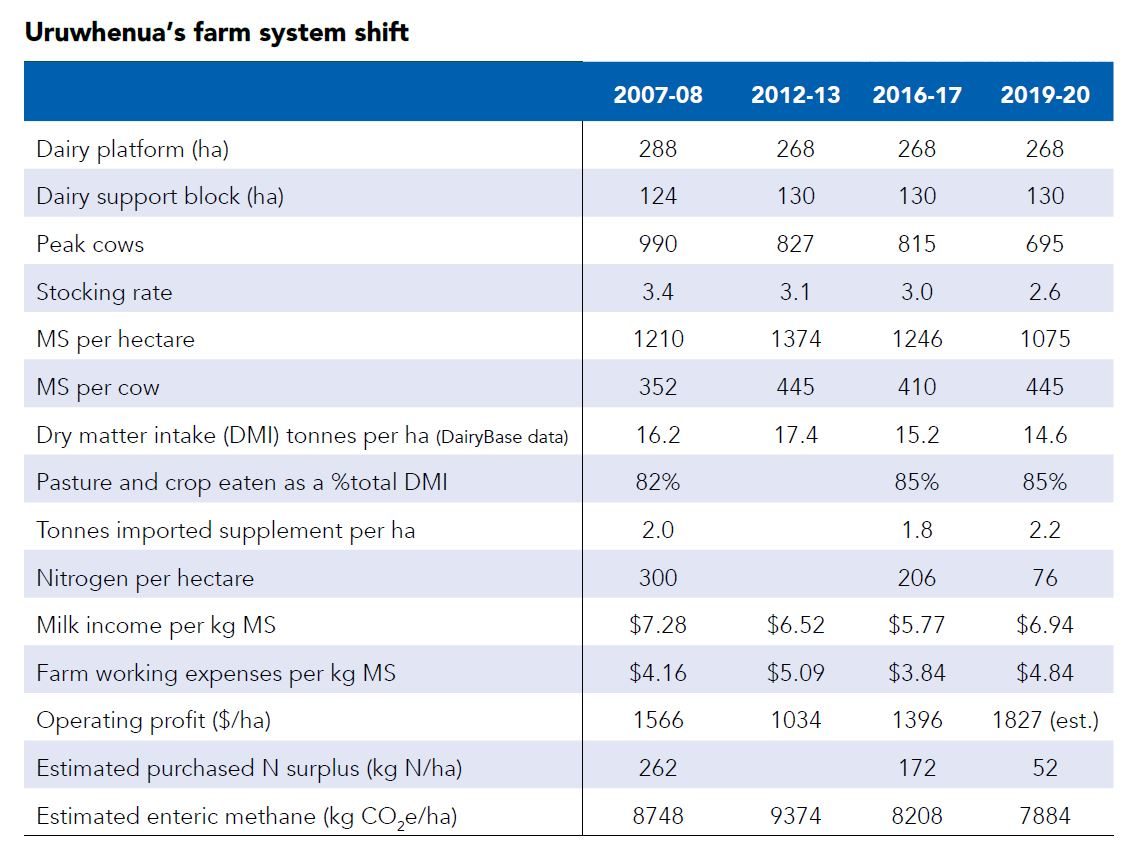 Before they started assessing their situation, Corrigan suspected the farm system was possibly inefficient with feed in relation to their cow numbers and N use. After realising that was the case, they dropped their N fertiliser use in half over the course of a year, and the positive results emphasised they had indeed been operating inefficiently.
The farm system changes they adopted were based on the results sifted from the Resource Efficient Dairy (RED) trial, the Lincoln University Dairy Farm system, and Pastoral 21 (P21).
Cow numbers have been reduced to 700 milking cows, down from 830 previously. A total of 20 tonnes of grain is fed during spring as a mineral carrier, with grass and maize silage brought in from the runoffs.
After their shift in farm system, there were a few key changes they noticed on-farm:
Total production has dropped, although free cash has increased
Purchased N surplus has dropped by more than 100 units, and therefore N2O emissions and N loss to water have decreased
Estimated enteric methane emissions between the two systems is down compared with previous years
Per cow production is similar in both systems, but less feed is required with the new system. Even as summer droughts have worsened, they have been able to maintain the amount of imported feed, excluding PKE.
Corrigan believes that some farmers would say they have failed since their milk production has declined over the years. However, it had essentially been propped up by their inputs and high stocking rate. His view is: "I am more interested in measuring our business on its ability to produce the protein the world wants, with the environmental footprint New Zealand needs." As with any system there are still opportunities to evolve. Farm working expenses rose in the 2019-20 season, with $0.58/kg MS associated with setting up a new dairy beef block and calf rearing, another dry summer and additional labour support.
Reproduced with permission from The Journal, official publication of the NZ Institute of Primary Industry Management Inc.