The time frame for reducing greenhouse gas emissions may be years away, but Anne Lee says farmers need to have a better understanding of their GHG emissions and start planning ways to mitigate them on their farms.
If last year was the year of fresh water policy, then 2021 is the year of climate change and emissions reduction.
It's started with the fanfare of the Climate Change Commission's report, which is now open for submissions, but in the background there's already been a lot of work and progress made on what's likely to be in store for farmers to bring the sector's greenhouse gas (GHG) emissions down.
If you think it's all years away, think again, because from this year on farmers will be expected to have a better understanding of what their GHG emissions are onfarm and to start including actions to mitigate those emissions in farm plans.
By the end of this year 25% of all farmers – sheep, beef and dairy – will be expected to know their number when it comes to GHG emissions.
By the same time a quarter of farmers must also have a farm environment plan that includes a climate change section on how they can manage their emissions.
All farmers must know their number by the end of next year and all must have a written plan to measure and manage emissions by December 2024.
The good news is, the dairy sector is already ahead of the game, with most dairy farmers already receiving an indication of their GHG emissions from their milk processor.
Fonterra farmers receive a report to show their onfarm GHG emissions per hectare and per kilogram of milksolids (MS).
The methane component of their GHG emissions is estimated and broken down to its sources such as enteric methane (the methane belched from cows), dung and urine methane, and methane from effluent.
By far the biggest contribution to total emissions is from enteric methane.
'There are actions we can and should do as a sector now that will reduce our emissions, but to reach longer term targets, we and the government have to keep investing in new technologies.'
It's important to know that, because methane, being a short-lived gas, is being treated differently in New Zealand policy with a 10% reduction required by 2030 and a 22-47% reduction required by 2050 under current recommendations. Unlike freshwater policies, the actions farmers are expected to take aren't coming directly from government policymakers.
Back in 2019 the government agreed to work with the primary sector in a partnership to find ways to reduce agricultural emissions, giving farmers sector groups and Maori the opportunity to be involved.
That partnership is an organisation called He Waka Eke Noa – the Primary Sector Climate Action Partnership.
He Waka Eke Noa programme director Kelly Forster says the partnership was one of two options for agriculture.
The other was to put a price on emissions and charge that at a processor level – essentially an emissions levy, with the next step to transition that down to a farmer level.
Effectively it would have resulted in a set carbon tax on agriculture.
While the collaborative process has taken that flat tax scenario off the table, it doesn't mean the carbon cost aspect has gone away.
Kelly says that as well as coming up with practical ways farmers can reduce emissions – helping farmers know their emissions numbers and supporting them with advice on actions they could take – He Waka Eke Noa is also charged with developing a pricing mechanism that will incentivise farmers into taking those actions. Expect to hear more about the options for farm level pricing next month as the partnership starts discussions with farmers to get their input. In February next year, He Waka Eke Noa will put forward its recommendation to the government for the pricing mechanism, which will include recognition of onfarm sequestration.
Work on how onfarm sequestration will be recognised is currently under way.
The principles behind the pricing policy will be to ensure farmers can respond in a way that suits their farm, that it incentivises change but doesn't 'dent' the primary sector's international competitiveness, she says.

In December 2023 a pilot project, testing a system for farm level emissions accounting and reporting, is to be completed, and in 2025 all farms in New Zealand will be using a system for farm level accounting and reporting for their 2024 agricultural emissions.
Kelly says GHG emission reductions are better managed through a pricing mechanism rather than a Resource Management Act (RMA) style regulation used in water quality policy because it offers more flexibility for farmers with what actions they choose for their situation.
"I think we'd be fooling ourselves though if we thought by information alone we could drive enough change to see the emission reductions we need in order for New Zealand to play its part," she says.
But she's also very clear that price alone wouldn't achieve the outcomes necessary either, and education and information will be a big part of the overall process.
That's why one of the first milestones completed for He Waka Eke Noa late last year was to release a guide for how a GHG emissions section can be included in farm plans, how farmers can recognise where their GHG emissions are coming from, and options they can consider for reducing them, (p50).
Both Kelly and DairyNZ chief executive Dr Tim Mackle say there's an acute awareness over the risk of 'emissions leakage' – where policies here could cause a drop in milk production that's then picked up by dairy sectors in other, less emissions efficient countries, thereby negating the ultimate goal of reducing emissions at a planet scale.
While farmers may be able to reduce emissions and maintain profitability by cutting cow numbers, maintaining per hectare production and therefore New Zealand export volumes will be tougher.
DairyNZ has made the carbon leakage argument to the government and that's why it's imperative the government's budgets for reductions, due to be finalised later this year, are based on science and economics, Tim says.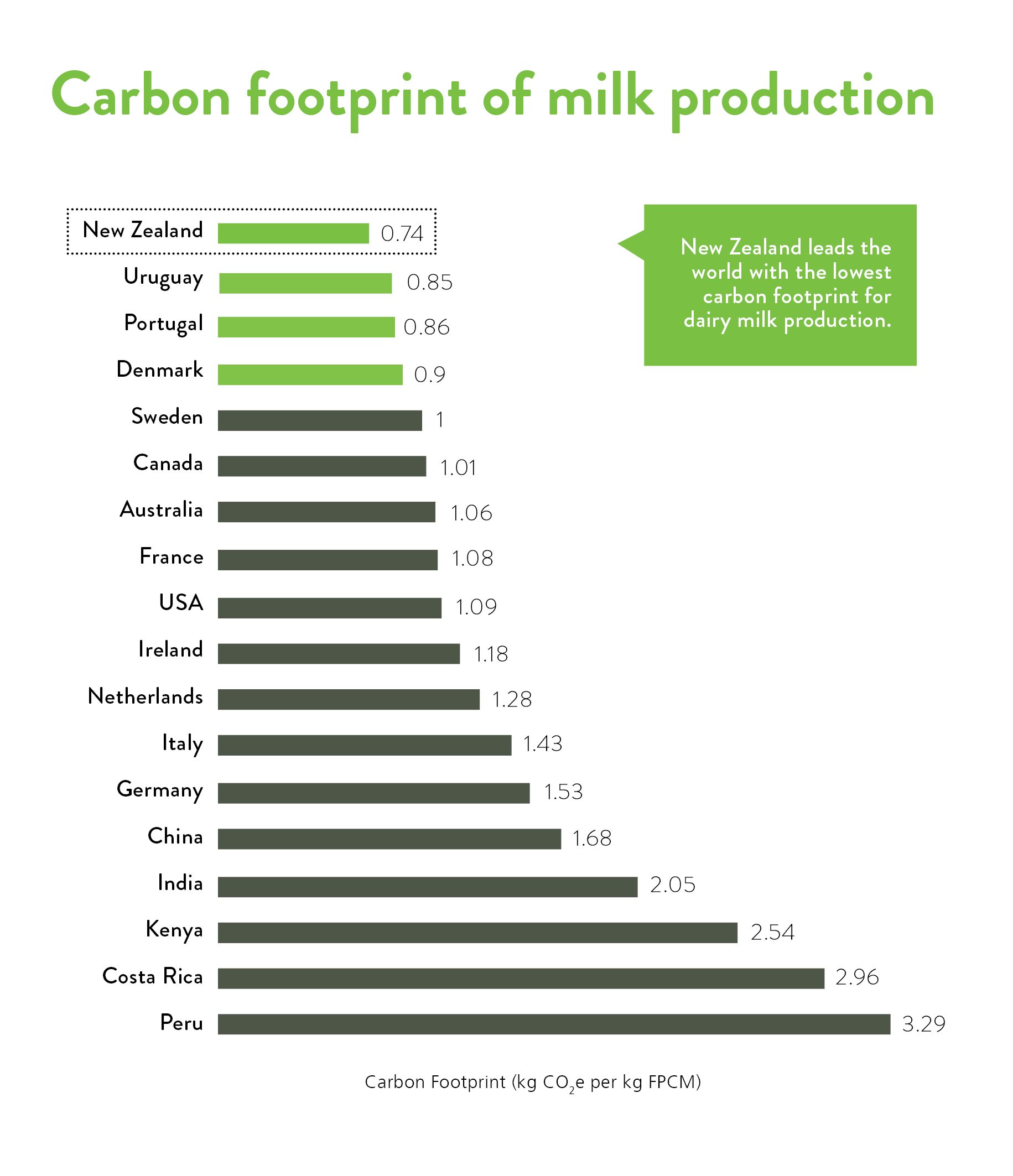 He doesn't believe all other countries will always ignore agricultural emissions either, and one of the risks for New Zealand is that new technologies, such as methane-reducing feed additives, could soon knock this country off its number one ranking in terms of emissions efficiency.
"Doing nothing isn't an option," Kelly says.
New Zealand exports dairy to 140 countries and customers and consumers are becoming increasingly concerned about the carbon footprint of the food they consume, Tim says.
"New Zealand has made a commitment to reduce emissions and because agriculture is such a big part of our emissions profile, we are part of that," he says.
But DairyNZ has farmers' backs in carrying out and funding research to check and ensure targets are fair and realistic.
"We, along with Fonterra and other processors, accepted the 10% reduction in methane by 2030 but we did not and still don't support the upper limit of a 47% reduction as being fair or rationally based," he says.
"There are actions we can and should do as a sector now that will reduce our emissions, but to reach longer term targets, we and the government have to keep investing in new technologies," he says.
With an emissions pricing mechanism likely to bring a new cost to farm businesses there's also a need to lift returns for sustainably produced product.
"There's two parts to that – customers are going to expect us to be sustainable so it's about doing these things to just stay in the game, but we also need to be monetising our efforts, so extracting a premium.
"We need to make sure the world knows we are committed and keep moving forward."
DairyNZ is analysing the workings and reports behind the Climate Change Commission's latest advice and will be making a submission.
Farmers are also invited to make submissions.
---
Climate commission advice
At current rates of change biogenic methane emissions (emissions from ruminant animal burps) will fall by 7% from 2017 levels by 2030 and 12% by 2050 so won't meet the 10% (2030) or 24-47% (2050) targets.
The Climate Change Commission's predicted methane reductions from following its advice would achieve 24% by 2050 and does not assume adoption of new technologies such as methane inhibitors or vaccines.
But it does call on further investment from government to develop and find technologies and will include them in future budgets if they become available.
The commission's pathway includes:
Dairy, sheep and beef animal numbers are each reduced by 15% from 2018 levels by 2030.
From 2025 it expects 2000ha/year of dairy land is converted to horticulture.
By 2030 progress in breeding for lower emissions sheep will contribute a 1.5% emissions reduction by 2030 and 3% by 2035 but no assumption has been made for dairy cattle by 2035 as this technology is still new.
In its supporting evidence the commission outlines a range of farm management opportunities farmers can consider including adjusting stocking rate, using lower nitrogen feed, once-a-day milking, creating a diversified landscape, further integration of dairy and beef industry,
practices to improve soil carbon and regenerative agriculture.
But it notes the complexity of farm systems and need for careful analysis of any change in farm system or management practice.
---
The targets and timelines
Emission reduction targets
10% reduction in methane emissions by 2030
24-47% reduction in methane emissions by 2050
Nitrous oxide and carbon dioxide emissions net zero by 2050
---
Some internet reading for you…
Climatechangecommission. govt.nz/get-involved/ our-advice-and-evidence